Pictured above (l-r): Michael "Mike" Buscetto III, Michael Buscetto, Jr., and Michael "Mikey" Buscetto IV
In 1960 Michael Buscetto, Jr., proudly posed for a photograph with the Mitchell College Men's Soccer team. But he wasn't a player on the team.
"I was the mascot," he said with a laugh. "They didn't know my last name and listed me as 'Mike Michaels' in the caption in the Thamesana [Mitchell's school newspaper]. They didn't know who I was! I was a 12-year-old kid running around the campus. It was my backyard, and Mitchell College was a welcoming group. It always took care of the kids in the neighborhood."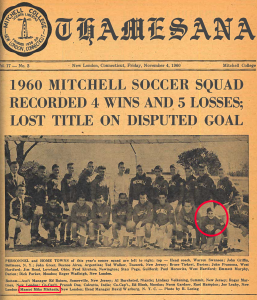 Buscetto, whose father, Michael Buscetto, Sr., owned the much-loved Michael's Dairy, grew up in a house across from the dairy.
"My father worked as the dairy manager in the 1930s, when it was known as Mumford Dairy. The Mitchell family owned two dairies — Mumford, here in New London, and Mitchell Dairy in Salem. In 1936, they were going to close up Mumford Dairy and only operate from the Salem farm on Route 82. My father took over then and rented Mumford Dairy, changing its name to Michael's Dairy. In 1943, he bought the property for $11,000. It was in our family for 70 years." (Michael's Dairy was purchased by Mitchell College from the Buscetto family in 2006.)
At first, the dairy only produced milk and cream, but then the eldest Buscetto filled a demand in the community.
"In the 1940s, my father started to make ice cream with one little machine. Everybody kept wanting it, and he couldn't keep up with it. He added the ice cream plant in 1949 and opened the store in 1950."
The rest is history.
Michael Jr. took over the operation in 1983, and his son Michael "Mike" Buscetto III pitched in from an early age (along with other son Bill).
"This was my first job at 7 years old," Mike said. "We didn't have a lot of options!"
Michael, Jr., added that grandson Mikey, now a senior at Mitchell College, was just 4 years old when he started working.
"I put in a new lawn in the front with sprinklers set up to keep the lawn damp," he said. "I had to turn on the valves on the sprinklers for 15 minutes at a time. Mikey helped me turn the valves but after 15 minutes, he said he was thirsty and went in and got a milkshake. After working the next 15 minutes turning valves, he said 'Gotta go home now!' because he got his milkshake."
"We showed no mercy here," he said jokingly. "If you can walk, you can work!"
Mike said, "So many people who I see in the community tell me that working at Michael's was their first job. They say, 'Your family taught us so much about work ethic, showing up on time and being clean.' Little stuff that made a big impact on them.'"
The celebrated sock hops – started by Michael, Jr., who invited DJ Billy Wronowski to play music and lead games throughout the summers – also made a big impact in the community.
 "Michael's was a safe place from the daily grind. People could come here and relax. They didn't necessarily buy anything either. At the sock hops, you would bring your lawn chair and see a bunch of people from the community. It was the social heartbeat of New London. You can't replicate a Michael's Dairy. You just can't." —Mike Buscetto