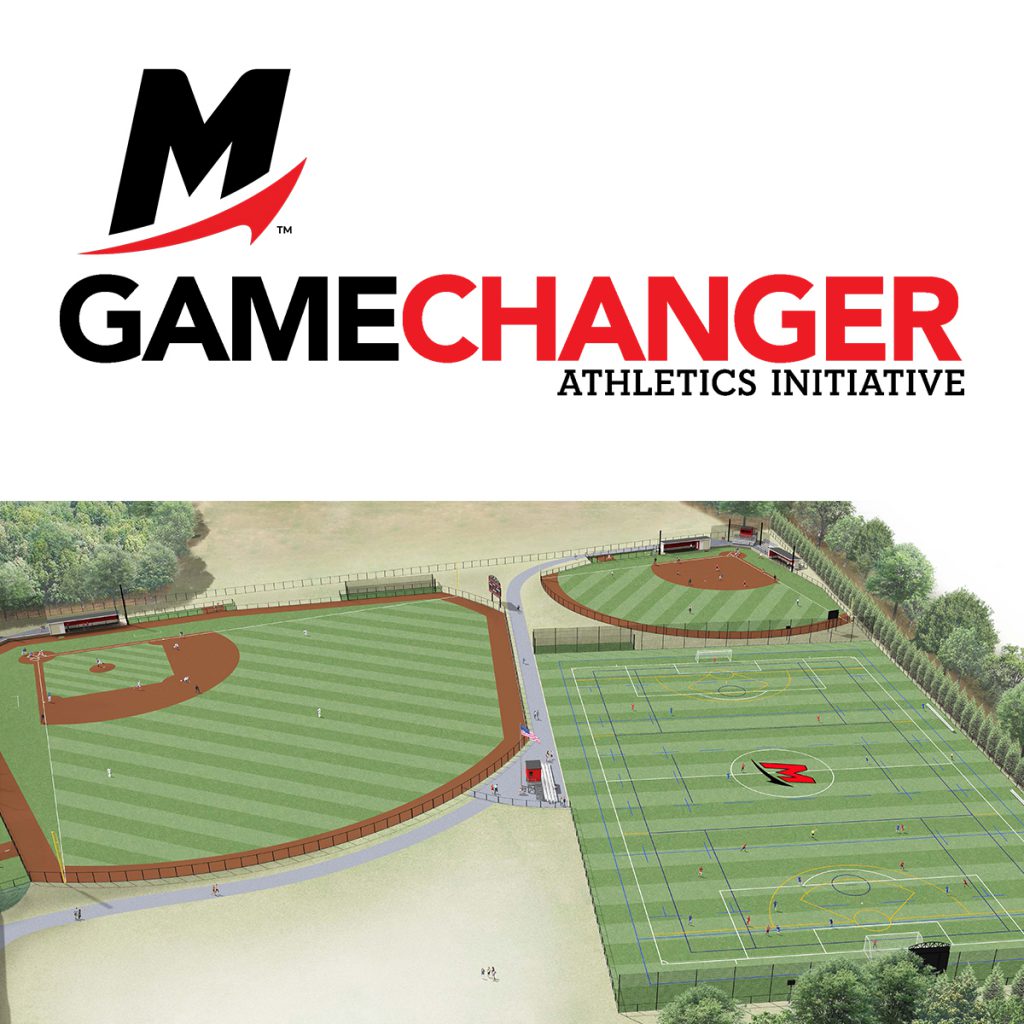 Published by The Day | April 11. 2020 4:54PM

By Gavin Keefe
Construction is underway on a new Mitchell College outdoor athletic complex, weeks earlier than expected due to the cancellation of the spring sports season and students leaving campus.
It's a welcomed piece of good news for the college.
"It's a glimmer of hope in a dark time," baseball coach Travis Beausoleil said.
There's been a buzz throughout the Mitchell community for months about the complex.
The state-of-the-art complex will replace the existing grass fields with artificial turf multi-sport, baseball and softball fields, each complete with a scoreboard, bleachers and elevated press box as well as dugouts for the latter two. The project cost is approximately $3.5 million.
About 37 percent of the student body participates in the school's 12 NCAA Division III programs. The complex also will be utilized by intramural, club and recreational programs.
"We're very, very excited about this 'Game Changer,' as we've identified it," assistant athletic director Todd Peretz said. "It's an exciting time. Something we've talked about for a long time and to get on par with some of the other institutions that we compete against. First and foremost, it will give our student-athletes the best experience."
The plan to renovate the athletic fields has been years in the makings.
Beausoleil remembers discussions about it when he was hired as baseball coach roughly 10 years ago.
"At first, it wasn't supposed to be turf," Beausoleil said. "We were going to redo the field, move the softball field. Over 10 years here, we've had a ton of different plans. It was really (athletic director) Dana (Fulmer Garfield) when she was here pushing the envelope and Janet Steinmayer, the president, she was really gung-ho about it.
"It's exciting that Janet was able to get it through. Mary-Jane (McLaughlin) and Catherine (Wright), the interim presidents, stayed on course with it. And it's happening."
The impact of the new athletic complex will be far-reaching.
It will aid in everything from recruiting to helping better weather the typical unpredictable New England spring season. It will also erase some competitive disadvantages that come with practicing on a grass field and then playing road games against opponents with turf.
Baseball, softball, men's and women's lacrosse and men's and women's soccer are the sports that will benefit the most.
"We could be in a very select company with teams that have a full turf baseball, full turf softball at the NCAA DIvision III level here in New England," Peretz said. "It also will be a huge boost for soccer and lacrosse. They've played on grass fields here for a number of years. Now just about everybody else has turf, so sometimes they're at somewhat of a disadvantage when they go on the road. It's going to put them on par with everyone else.
"And from a recruiting standpoint, kids can make a really, really good educated decision, choose Mitchell College because it's the right fit for them academically and athletically and socially, and not have to say that they don't want to go to this school because they don't have this facility. We're on par with everyone else and now we'll just let our individualized approach and our coaches be the ones that shine through and attract potential student athletes."
The complex will especially benefit spring coaches because the turf fields will eliminate days practice needs to be moved indoors or to a parking lot because of unplayable conditions.
It also will mean having fewer games postponed. Mitchell baseball and softball teams usually have to scramble to complete all the games before the regular season ends.
"Spring time is always very, very difficult," Peretz said. "It's demanding on the coaches and student-athletes. It's a big demand on the campus in general because our student-athletes comprise a large number percentage of our student population, So it impacts us across the board. Students would miss classes and stuff like that.
"We want to hold true to our Division III philosophy of the student-athlete. If we can alleviate crazy schedules which allows us to keep students in classes and engage in the college community a little bit more, then we're definitely going to take advantage of that."
Erin Miller, a first-year softball coach, grew up playing on grass fields in Waterford and at Eastern Connecticut State University. She's looking forward to all the benefits of a turf field.
"We're going to have a lot of people that are going to want to play us," Miller said. "A lot of people have dirt and I've always played on dirt. Just coaching in New England and knowing how many games we lose because the field is under water or rain or whatever it is, and knowing that we'll be able to have a field where we can still go out and practice is going to be so great.
"We'll definitely be able to get outside more. Even if it is a little cold, we at least know our field won't be frozen. We'll be able to take ground balls and fly balls or just throw. It's going to be really nice."
The project is expected to be completed by the end of September, in time for at least some of the fall season.
"It's going to be a game changer for us," Beausoleil said. "I really think it's going to be huge for us."
Learn more at mitchell.edu/game-changer-athletics-initiative