Senior Brian Martin began Mitchell College as a communication major with an interest in radio broadcasting. He had a radio show on Radio Mitchell for a year, but as he researched the industry, he realized radio wasn't his calling.
Blind since birth, Brian had been taught over the years by a few people who were also blind or visually impaired, and he recognized their positive impact on him.
"That got me thinking that I would love working with and helping others like myself. Halfway through my time at Mitchell, I changed my major to early childhood studies. I discovered that this is my calling."
Brian plans to continue on to graduate school, pursuing a master's degree in special education, with the goal of working in a large public school system, perhaps Boston, either in a middle school or high school. One of the graduate programs he is looking at also offers a dual certification to be an orientation mobility specialist, teaching blind or visually impaired people how to use a cane and travel on buses or trains, allowing him to work in the field as well.
"A dual degree will open up more opportunities and help me get a job faster. Over the years, I have realized that some people are not getting the proper services they need. They are taught by people who are sighted, but a blind person helping another blind person is a big go-to and really helpful for the individual."
As part of his degree requirement, Brian is doing a practicum at the Children's Learning Center at Mitchell College (CLC) for the entire academic year. For the fall semester he is working with the youngest preschoolers in the CLC community, and in the spring he will work with older preschoolers and kindergarteners.
"The CLC is my first real experience working in a children's classroom with all sighted people. Claudia Murphy, the director, asked how to make the classroom more accessible for me, and I said we could learn as we go. We're all learning things, and it has been an amazing experience so far."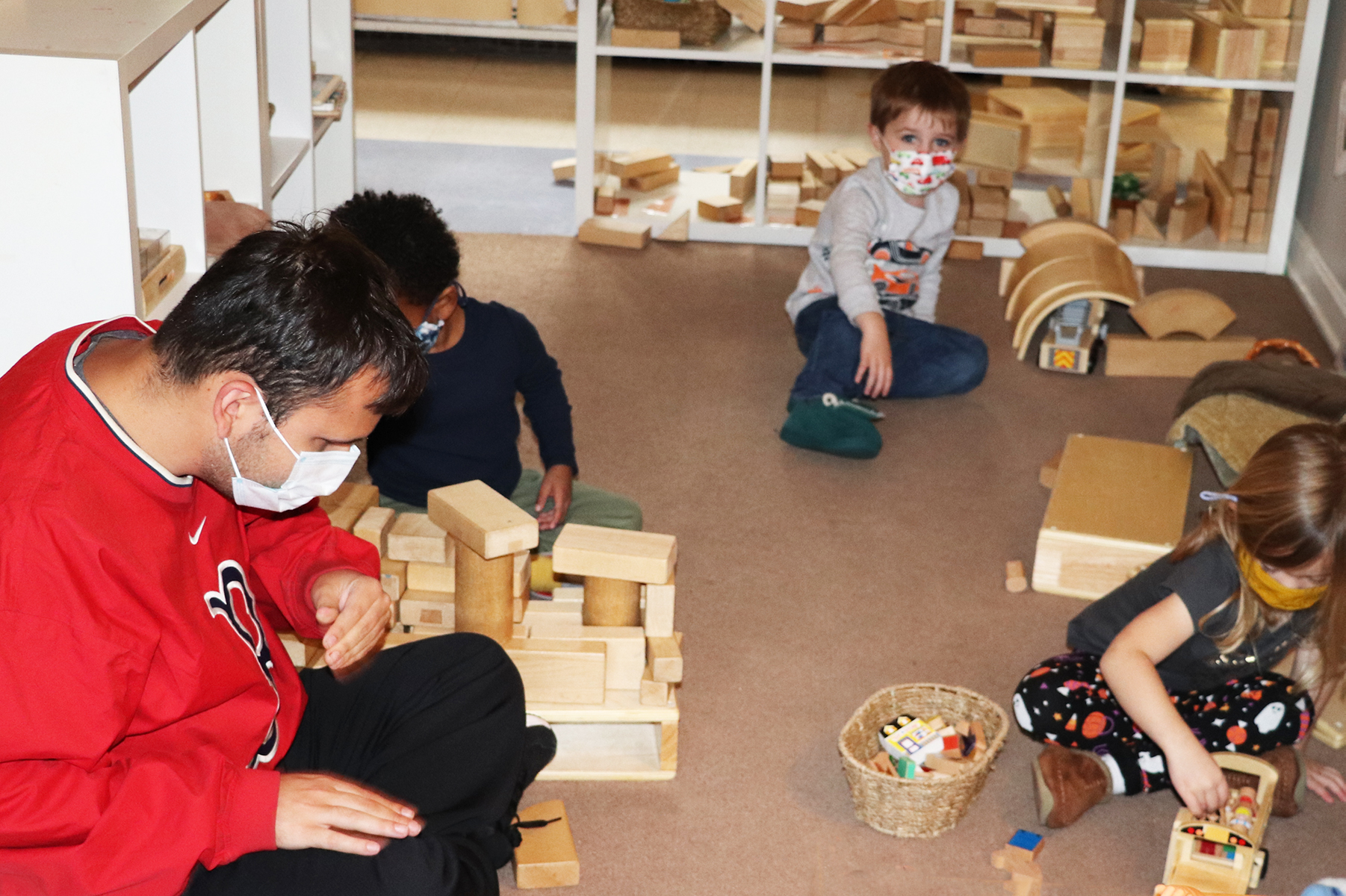 Brian has planned several lessons for the students focusing on every sense but sight.
"When I do my lessons I show the students how to use their other senses. That's how they understand that I can't see. I did one lesson guessing the object with eyes closed and another uses shaving cream to describe texture and smell."
When Brian is working with the class, he wants to be sure to interact with every child, which, as a blind person, can have some limitations.
"My challenge right now has been how to know that I have played with every kid in the room. I can be in one area, but because of their age, the kids move on quickly to another area. I think this will be easier when I work with the older kids, because they tend to stay and play in one area."
"The thing for me, though, is I go in motivated to inspire. I'd like to see the kids happy. The inspiration is the kids and the teachers and that puts a smile on my face. People are liking and understanding what I do, and it doesn't matter how I was born. It shows that anybody can do anything."
Showing that anybody can do anything is part of the advocacy work that Brian is also involved in as a board member of the National Federation of the Blind of Connecticut. Through the organization, his work has included travel to Washington, D.C. (or virtually during the pandemic) to talk with members of the Senate and Congress about issues and bills related to blindness. He has also served on the board of the Connecticut Association of Blind Students. "It is amazing to be involved in these organizations and to know there are a lot of people locally who understand what I am going through. I have learned a ton about advocacy and even had the opportunity to present information about the Blindness Accessibility Act during a virtual event. Congressman Joe Courtney was on the call and congratulated me on my presentation and remembered my connection to Mitchell College, which he spoke very highly of." (Brian had met Courtney at the Red Barn opening a few years ago.)
Brian relishes his advocacy work, but wishes that he had an advocate when he was in high school.
"I have learned so much about advocacy. Now, if I see people struggling, it hits me and I say, 'What do you need?' We can do a lot of good for people. In high school I was told that I wasn't college material. The school just wanted to get me through. When I learned about advocacy, through a post-high school program that I attended to get my life skills on track, I was like 'Whoa! I wish I knew about this before' and had the understanding to speak up for proper accommodations and ways to succeed in my life."
He researched colleges and landed at Mitchell, which he loves for the academic support and for the inclusiveness of "different people with different disabilities."
"I've visited other schools that are huge. Someone like me or someone with another disability probably won't get the same support that I get at Mitchell. For instance, I know people who go to bigger schools whose books are not accessible. They are stuck and don't know what to do. Here, Antaya Lee [accessibility services coordinator] and I work it out right away. My psychology professor also noticed that I do better with verbalization for quizzes. So he offered for me to take my quizzes that way. Not many people can say that. People say to me, 'I wish I knew about your school.' It's amazing to hear that."
Brian knows that Mitchell has put him on a path to success.
"If I weren't at Mitchell, I might not have the opportunities I am getting now."