Amber Lopez '21
Psychology
Amber Lopez '21 recently completed an internship with Dr. Melissa Root and Root Success Solutions, giving her a glimpse of the career path she plans to follow. She said she became interested in studying psychology from the time she began as a student at Mitchell and plans for a career in experimental and research psychology, after completing graduate school.
"As a sophomore I decided I wanted to pursue a career in research and examine why and how things happen."
During her 11-week internship, Amber worked with Dr. Root on various initiatives, including planning and conducting a two-week study around the use of Calmpak placards, a system of relaxation recordings designed by Dr. Root to manage stress. The goal of the study was to find out how two variables – placement and introduction of the placards in residence halls – influenced their use.
"Placards were hung in all four of the upper campus dorms. Two dorms received an introduction to the Calmpak placard via a paper flyer that outlined the benefits of breathing techniques and how to scan a QR code. To see how placement affected use, two dorms had placards hung in the lobby and laundry room, while the other two had posters hung in the dorm halls and bathrooms. We tracked whether or not someone used the Calmpak placard by assigning unique websites for each placard. For example, if someone in Simpson Hall scanned the QR code on the placard, they'd be sent to a version of the Calmpak website designed specifically for Simpson. The placards were hung for a total of two weeks and we logged the data daily."
Mitchell College's Institutional Review Board and the Office of Residence Life assisted with the study by approving the research to be done on campus and, because COVID restrictions limited non-resident access to campus housing, by distributing the placards in the residence halls.
"Throughout my internship I had the pleasure of working with a number of departments. I was amazed by their support, especially that of Katrina Feyerherm, director of residence life. She volunteered a lot of her time to help me get the Calmpak placards in the dorms and asked for nothing in return. I also worked with Dr. Daniel Kresge and Dr. Tara Broccoli in order to get approval to do research on campus. Both professors were very helpful throughout the process and offered advice and feedback that shaped the study in meaningful ways. Their guidance was a valuable part of my experience and helped me realize how the Mitchell community is built around supporting and helping each other."
In addition to the study, Amber conducted a literary review on a number of topics, including new breathing techniques and progressive muscle relaxation activities. She also researched the benefits of guided meditation and relaxation.
Read The Calmpak Study findings here.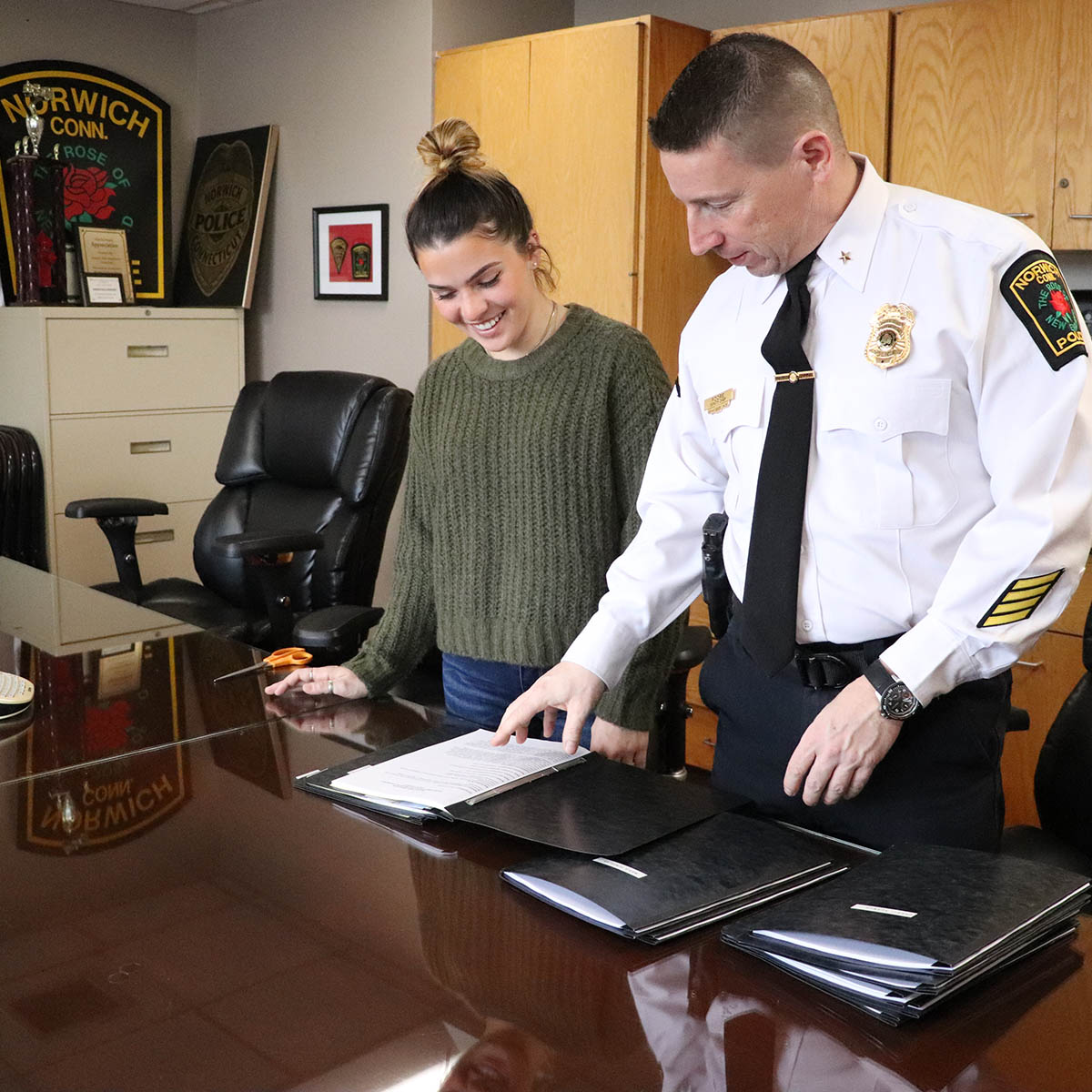 Relying on your Team.
Lindsey Fairbank, Senior
Academics: Criminal Process
When Lindsey Fairbank decided what she wanted to study in college, it wasn't at the suggestion of a school advisor or even a parent. A favorite television show inspired her. "In high school, I watched a lot of Criminal Minds, and I wanted to do the kind of law enforcement work they were doing. I couldn't see myself doing anything else…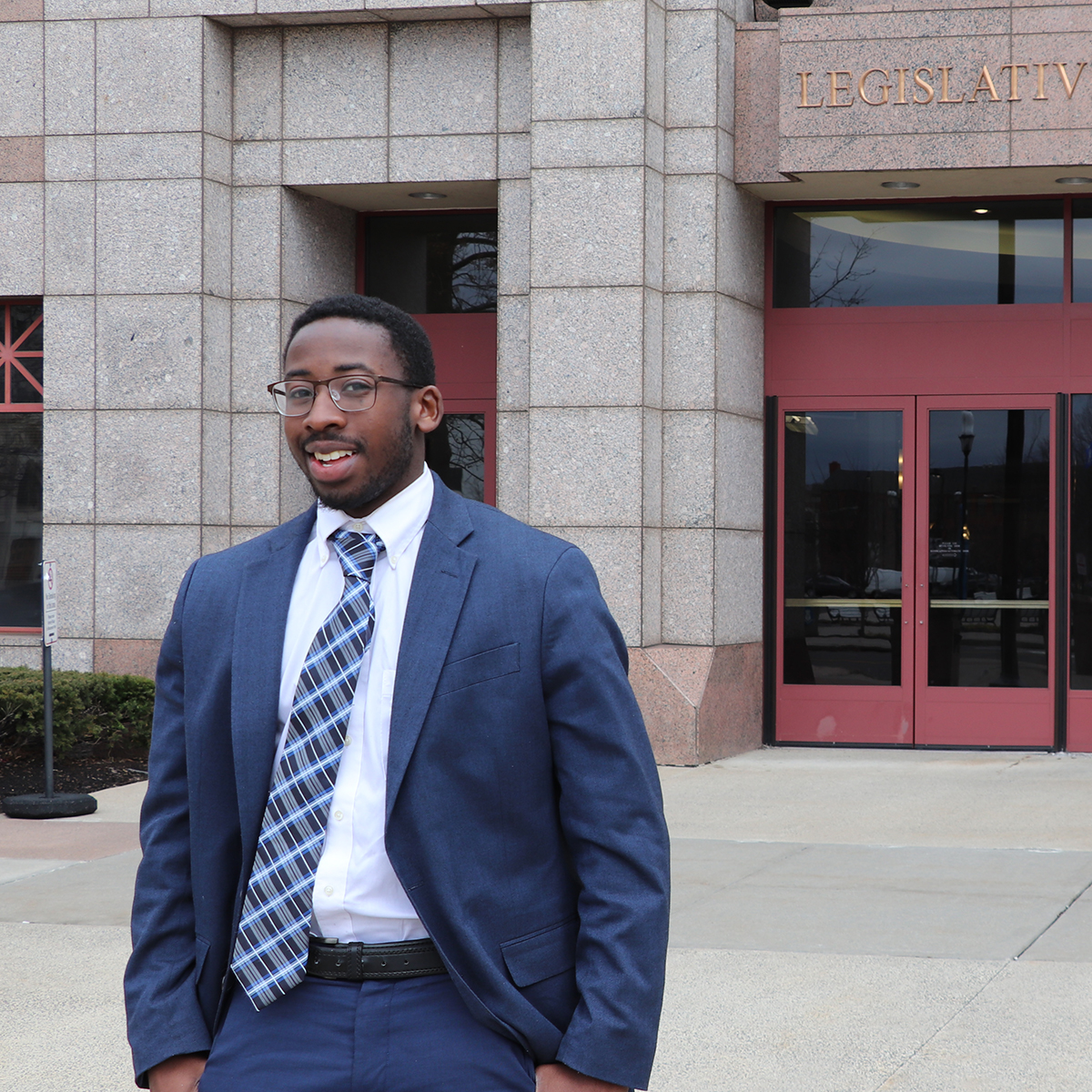 A Fresh Perspective.
Desmond Knowles, Senior
Academics: Homeland Security
Desmond Knowles has a perception of the Connecticut General Assembly (CGA) that is both hopeful and heartening. "One of the things that stands out to me from both sides is that they all work together. No matter what party or background they're from, everybody there wants to help Connecticut." Desmond's observation comes from first-hand experience through his recent internship with the CGA. Cut short because of COVID-19…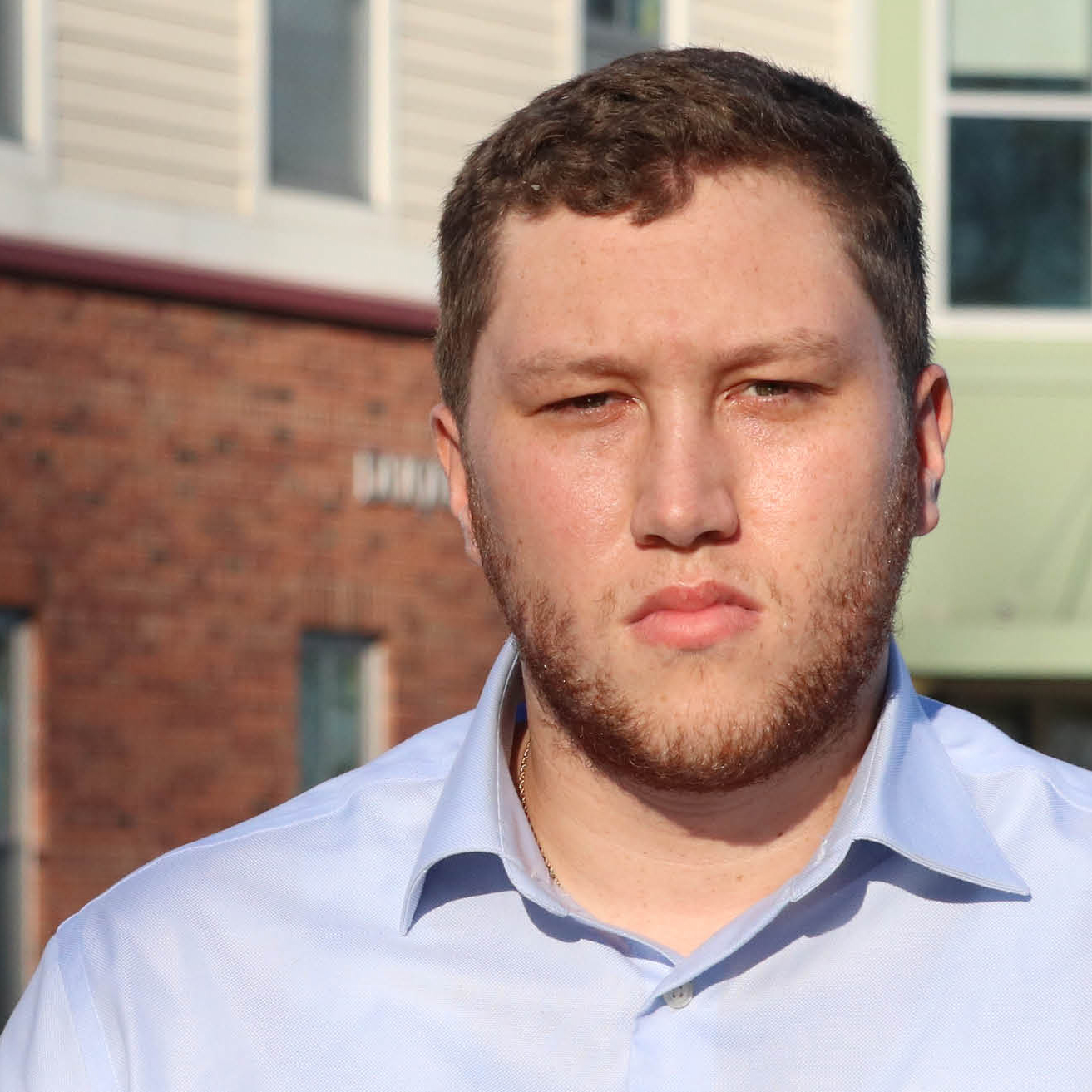 Paying it Forward.
Academics: Criminal Justice/PreLaw
Senior Justice Ford's long-term plan after he graduates from Mitchell is to come full circle, thanks in part to what he discovered at his internship at New London City Hall, working with the Chief Administrative Officer in the Office of the Mayor…