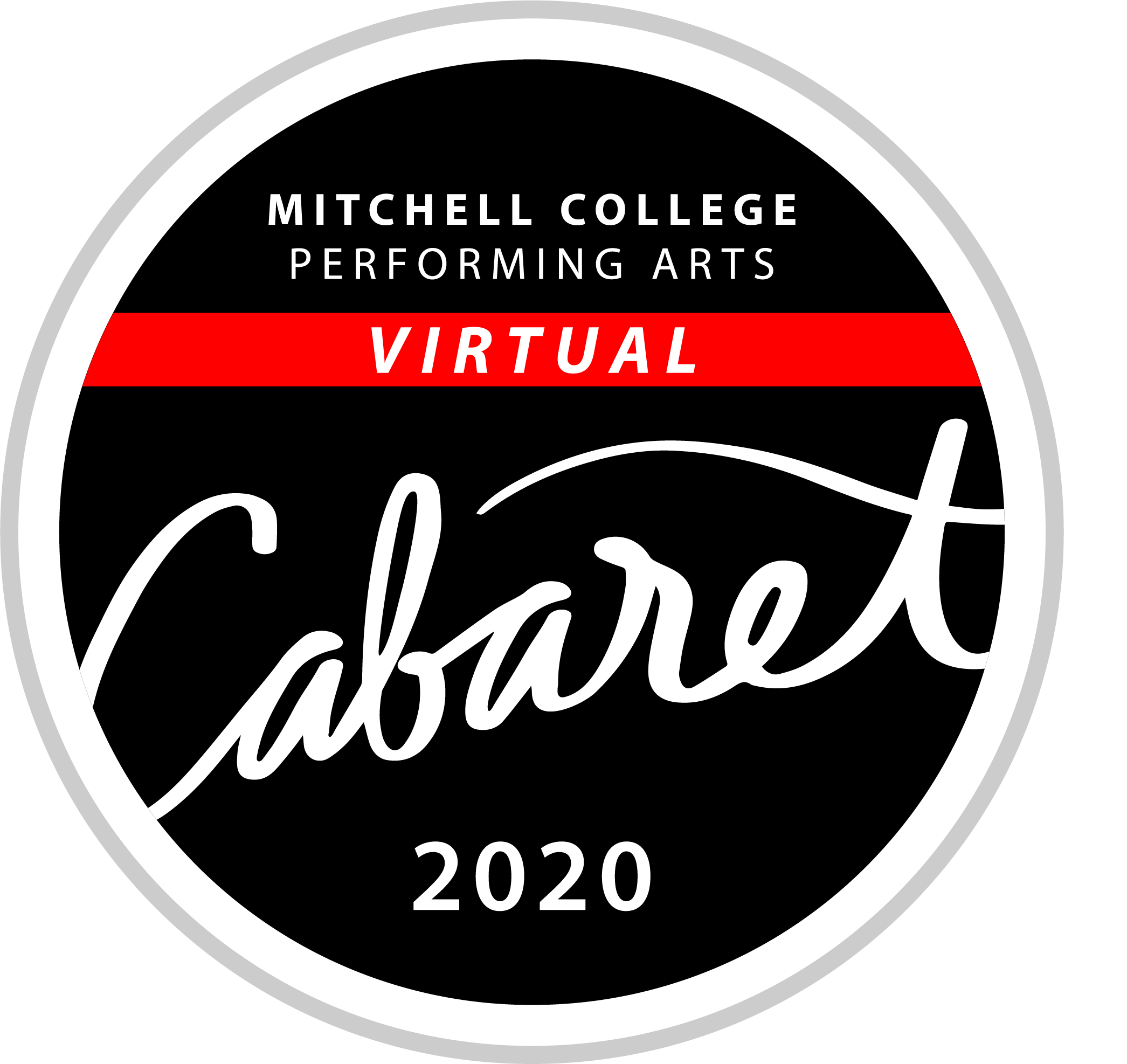 Reserve your in-person* or virtual seat here.
Come virtually to the Cabaret on Wednesday, November 11 at 8pm (eastern)! 
At this rollicking artistic collaboration, talented student, faculty and staff performers from Mitchell and Thames will delight attendees of all ages and across the miles, as the performance will be livestreamed right into your home! The evening will feature the Mitchell College Select Chorus, Mitchell College Players and the Mitchell Dance/Cheer team. This event is free and is suitable for all ages.
Reservations for this event open soon!
*NOTE: Limited, in-person, reserved seating will be available through online reservation, but is restricted to an audience of 75. *In alignment with current College travel and campus visit policies during the pandemic, we ask that unless you are a current student, faculty or staff member cleared to be on campus, please do not visit campus for this event; instead, reserve your virtual seat to the Cabaret through our online reservation system and join us for the livestream! 
Face coverings/masks required on campus and in all campus buildings at all times.
Interested in Performing? Auditions are November 2-6.
How to Audition:
Do you have a song, dance, dramatic, comedic or other act the world simply must experience? All members of the Mitchell and Thames community – current students, faculty, and staff cleared to be physically on campus – are invited to audition. Submit your act proposal to Jonathan Babbitt at mitchell.edu/cabaret-act-form. Due to performance time limitations, not all acts will be included in the Cabaret.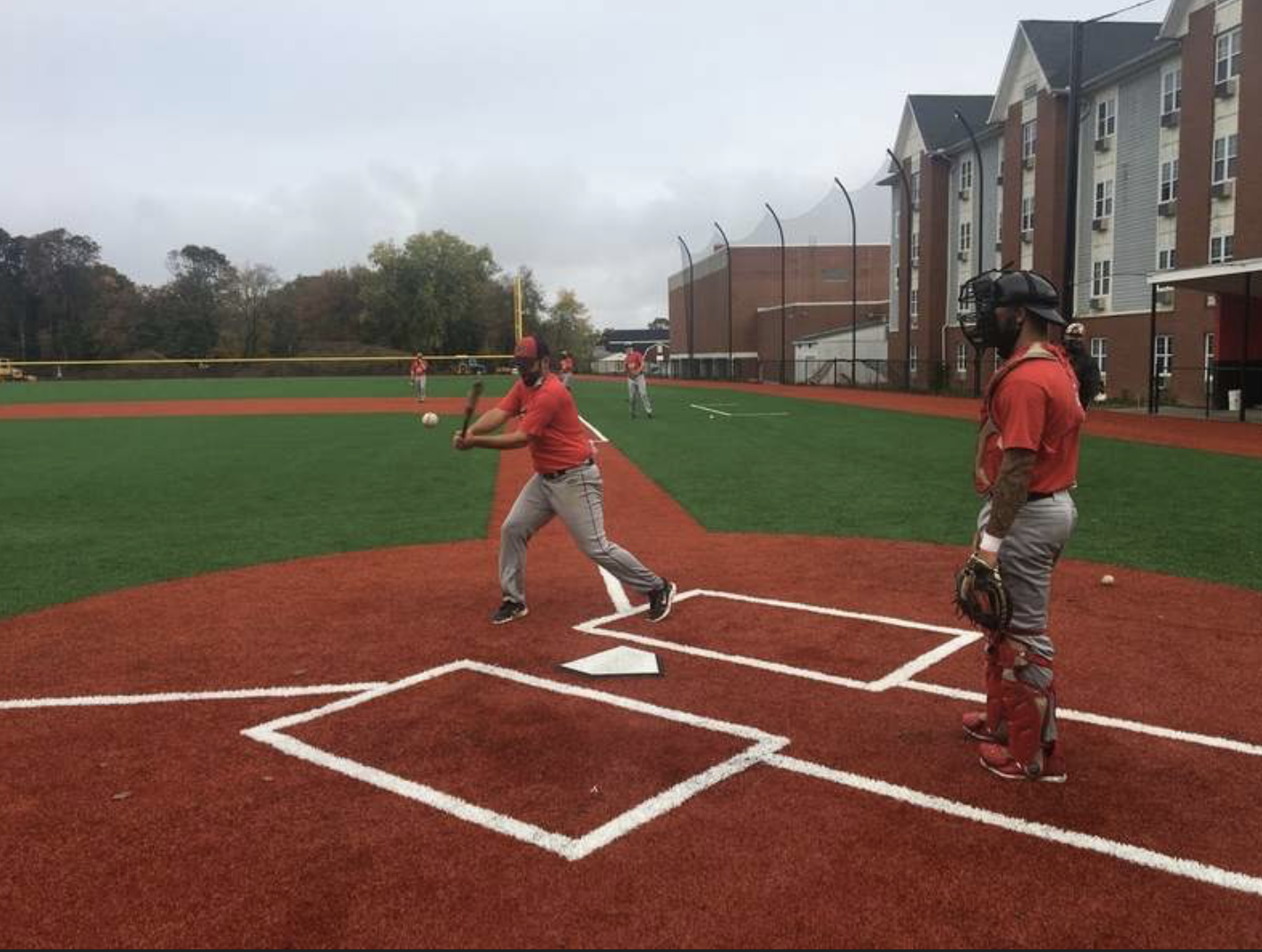 Mitchell College's new turf field is a game-changer
New London — Hunter Yaworski's Mariner Hall fourth floor dorm room window overlooks the new Mitchell College athletic complex.
In fact, Yaworski lives just a short foul ball away from the baseball turf field where the junior outfielder practices with his team.
A Killingly High School graduate, Yaworski and his teammates are relishing every minute breaking in their new home.
"It's nice because not a lot of teams get the opportunity to play on turf," Yaworski said on Tuesday standing near the first base dugout. "To play on it every day is pretty special. … Coming out here every day, it still feels new. I think it's going to feel like that for the whole year."
The athletic complex, which only needs a few finishing touches, is a significant upgrade for Mitchell and replaces the school's heavily used grass fields.
On Tuesday afternoon, the baseball team held a workout and intra-squad scrimmage while the men's and women's soccer team ran practice beyond the outfield fence on their new turf field, which also is used by the two lacrosse programs. The softball program also has a new home.
"It was more than I expected," baseball coach Travis Beausoleil said. "Every bit of it has come out almost perfectly. It's incredible. … We have one of the best complexes in New England. The soccer/lacrosse field, the softball field, are all just as great."
The Mitchell athletic community is thoroughly enjoying their own Fields of Dreams.
"Everyone is hyped," Yaworski said. "You can definitely feel a different energy. I think we're going to get a lot more better athletes attracted to the school now. It's definitely a different feel for everyone. Everyone is probably going to be really excited for a while."
Beausoleil recalled his team's reaction the first time the Mariners worked out there on Oct. 1.
They had just returned to campus after practicing at Washington Park in Groton. And Beausoleil told his players they could work out on the field.
"The infielders must have stayed out here for four hours taking ground balls," Beausoleil said.
Norwich Tech graduate Bryce Bedard, who's serving as a volunteer assistant this fall and returning for his final season of eligibility in the spring, never thought he'd see the day during his Mitchell career where he'd get to play on such a "beautiful field."
"It was pretty near euphoric," Bedard said of first stepping on the field. "We went to a couple of turf fields to play games and it is always a cool feeling to play there. But the fact that this is our home field and we get to call this place home now, it's amazing."
Now Beausoleil has one very minor problem.
He can't keep his players off the field.
During their free time, the Mariners are taking infield or hitting there, sometimes until dark. Pitchers are throwing in the new bullpen beside the new home dugout. There's also a batting cage down the left field line.
"It really has rejuvenated them," Beausoleil said.
Another advantage is wet weather will be far less of a factor. Heavy showers on Tuesday morning didn't delay the afternoon workout.
When it rained last year, Beausoleil would trade his fungo bat for a rake. He won't miss being a groundskeeper.
"On Saturday, it had rained Friday night into Saturday morning," Beausoleil said. "We were practicing at 9:30. Normally, I would have been here at 5 (a.m.) working on the field and getting everything set and making sure the mound was good.
"But everything was good. My alarm clock went off at 6:30 and I hit the snooze button because there was no field work to do."
Beausoleil isn't the only happy Mariner coach.
Women's soccer coach Marc Davis is finding workouts are more productive on the turf.
"It's a quality surface and the standard of the play is that much better," Davis said. "I get a good sense of where they're at playing amongst themselves. Obviously the true test is getting to play against real competition. But the difference in quality of the sessions this year compared to last year has been huge."
With the fall season canceled, it will be at least until the spring season before any Mitchell team will play the first official game at the athletic complex.
Until then, the Mariners will just enjoy their Fields of Dreams.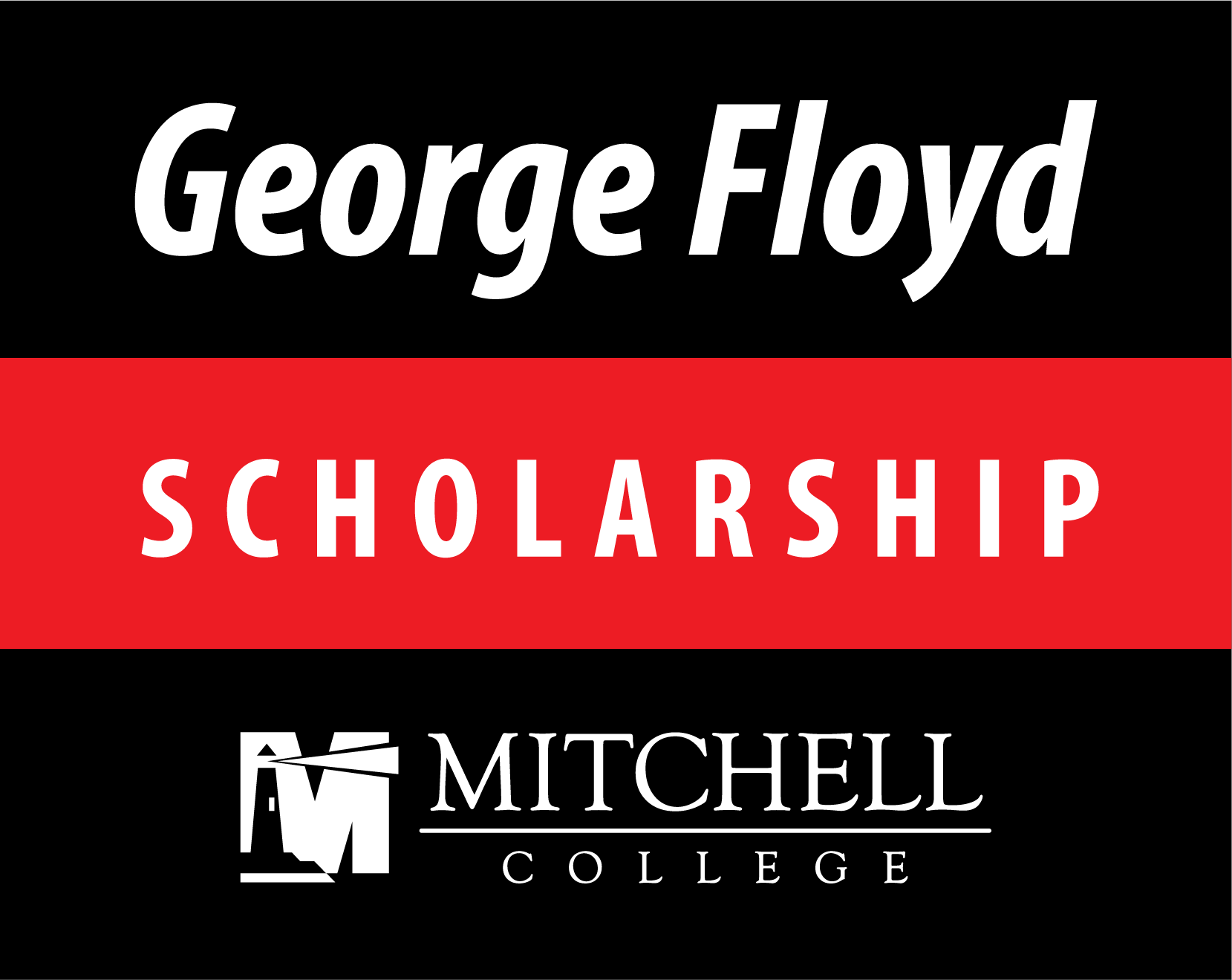 College Establishes George Floyd Scholarship
September 11, 2020
In memory of George Floyd – who died during an arrest by Minneapolis police, sparking protests in this nation and around the world – Mitchell College has established the George Floyd Scholarship. The College stands in solidarity with numerous other institutions of higher education around the country that are establishing scholarships to address racial inequity, promote social justice and work purposefully toward societal change.
 Mitchell College Trustee Peggy Flood initiated the scholarship, with support from Trustee Luci Arango. The concept and criteria for the scholarship were developed by Human Services faculty members Tara Broccoli (head of core), Jenna Curren, Nancy Parent and Jen Mauro, as well as Dan Brewer, director of Strategic Enrollment Management/Student Financial Services.
We are grateful to our Trustees for their timely and generous donations to initiate this scholarship at Mitchell College in memory of George Floyd. It reinforces the College's mission and offers further support and motivation for students who are inspired to make change in the world.
Tara Broccoli, professor of behavioral sciences, said that students who are considered for the scholarship are those whose positive impact on the classroom suggest that they will continue to effect change in their community. In addition, she said strong candidates are those who demonstrate leadership ability by clearly communicating their positions on various issues while practicing empathy for others.
The scholarship will provide financial support to junior or senior students of color in the Mitchell College Human Services Core, who are seeking to effect social change. The core includes:
Behavioral Sciences/Psychology
Criminal Process
Human Development and Family Studies
Priority will be given to students working toward professional roles in the criminal justice system, but students from other Human Services Core areas will be considered. A GPA of at least a 3.0 is required for eligibility.
The faculty have already nominated students for the 2020-21 academic year. Watch for more news, coming soon, about student recipients.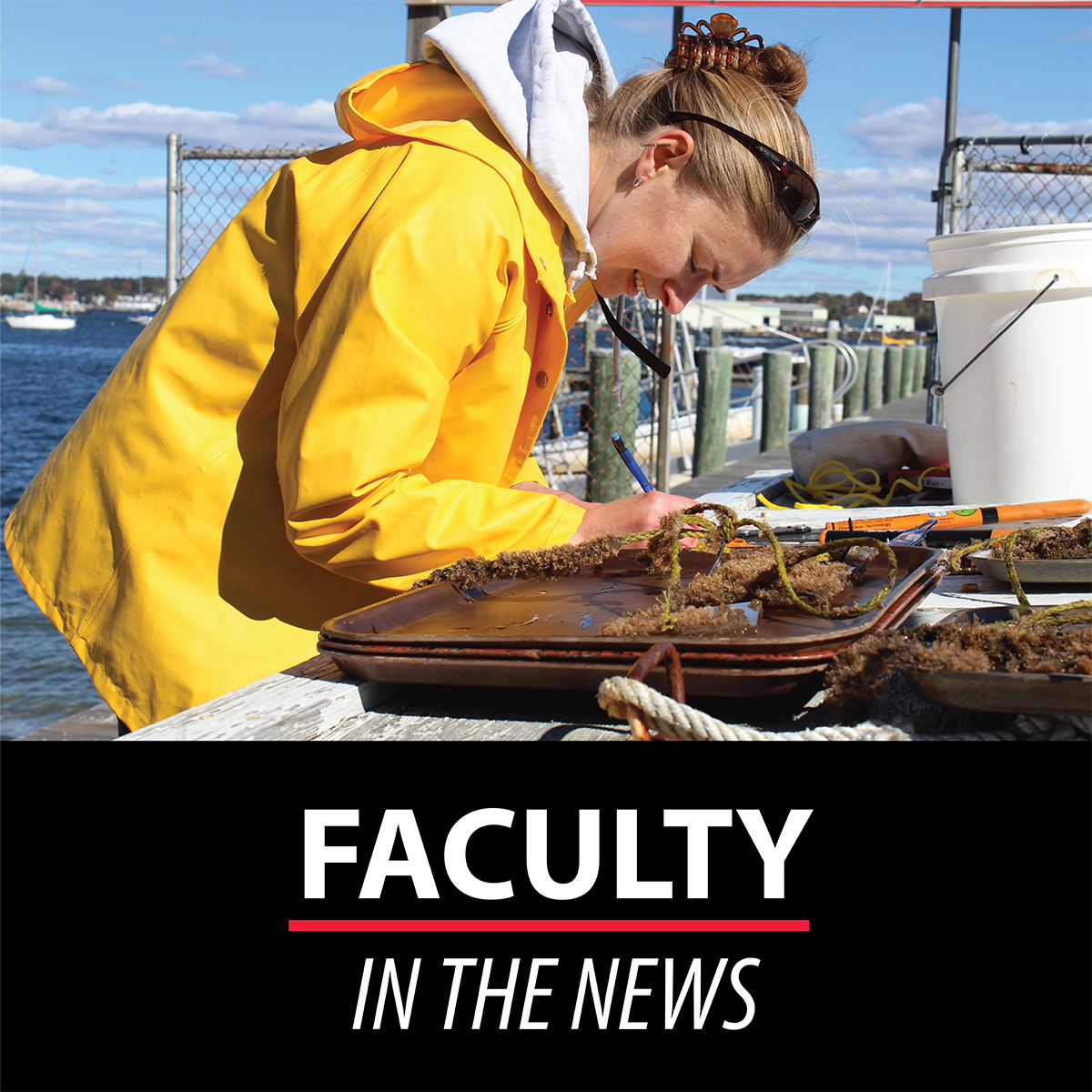 College Awarded Grants for Marine Research Program
Updated September 21, 2020
Dr. Christine Ramsay, Mitchell College life sciences professor, recently secured more than $44,000 in grants from the Southeastern New England Educational and Charitable (SNEC) Foundation. The award will fund three separate projects for Mitchell's marine research program, including a laboratory upgrade, research on marine invasive species, and a beach restoration project – to the benefit of the college's student researchers and the local environment. Dr. Ramsay plans to incorporate additional science students into her lab as student research assistants this year.
Founded in 2016 through a gift from the estate of Richard A. Grills of Ashaway, Rhode Island, with target giving areas of historical restoration and environmental conservation, the SNEC Foundation is led by daughter Sharon Grills Jackson, MAT, foundation president. Her husband Stephen Leal Jackson, PhD, is the director of the foundation. The Jacksons' commitment to Mitchell continues from their time spent as members of the campus community – both worked as adjunct professors and Sharon worked in the Bentsen Learning Center.
Mitchell College, also awarded a grant from the SNEC Foundation in 2018, is grateful for its continuing support of student engagement in learning.
Students will benefit from the laboratory upgrade, creating a new aquarium room in Bingham Hall with bigger tanks and upgraded tank systems to facilitate larger research projects, as well as in-class learning.
Research on the impact of marine invasive species, specifically marine fouling organisms, is part of an ongoing project that Dr. Ramsay conducts with student researchers each year. While the overarching project remains the same, the questions studied each year change.
"We are continuously investigating new questions, but these individual student research projects are designed to be completed before students graduate so they have the opportunity to write up and present their research in a formal scientific setting. For example, two years ago, I took one of my research students to present his research at the Society for Integrative and Comparative Biology's annual meeting in Florida. This is a national conference that allows students to be recognized and gives them opportunities to network with professionals who may be able to help them in grad school and/or industry. Additionally, this student (Peter Abate '19) and I have submitted this paper to a peer reviewed scientific journal for publication," said Dr. Ramsay.
The beach restoration project using discarded Christmas trees, started in 2014 by two Life Science students under the direction of Dr. Victoria Brennan, has already yielded noteworthy results.
"I took over the project from Dr. Brennan and since then have established plots and documented that these Christmas trees have successfully increased dune heights by 15cm only 3.5 years after the trees were installed. Remember, this is a significant increase when we are talking about sand dunes, if you think about the size of sand particles!" Dr. Ramsay said.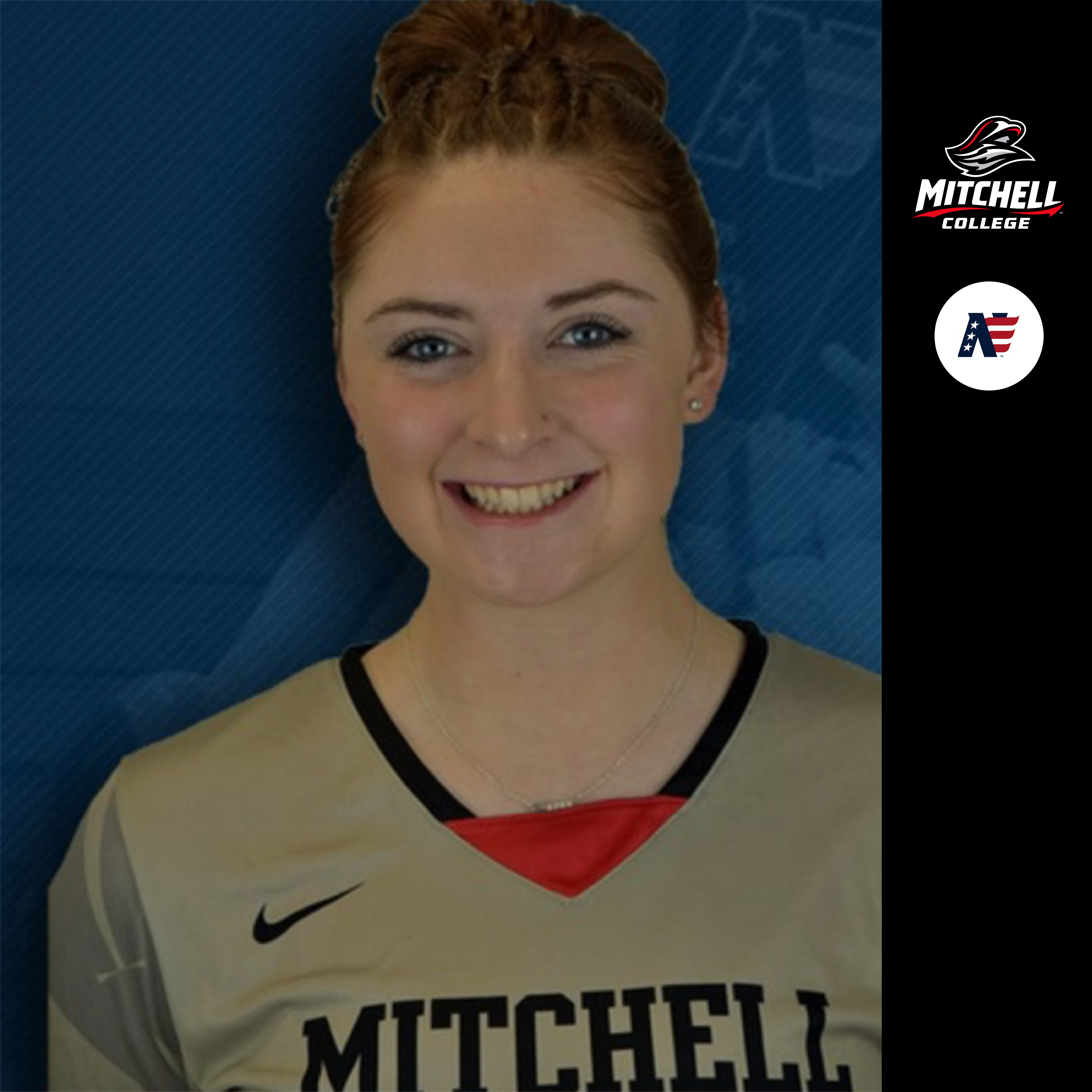 Hannah Corrigan Named President of NECC SAAC
September 2, 2020
MANSFIELD, Mass. – Mitchell College's Hannah Corrigan and Elms College's Evelyn DeVaux have been named the President and Vice President, respectively, of the New England Collegiate Conference's Student Athlete Advisory Committee for the 2020-21 academic year.
Corrigan, a senior member of the women's soccer and lacrosse programs, replaces Bay Path's Jo Orrick who served in the role last year. DeVaux served as an intern for the NECC during the 2019-20 school year and contributed greatly to a number of the conference's initiatives and leadership efforts.
Both are extremely active on their respective campuses and each of them is excited about the opportunity. "I'm looking forward to getting to know more representatives within the NECC and and I am eager to make a positive contribution to our conference," said Corrigan, who hails from Fairfax, Vermont.
"Let me start this off by saying congratulations to Hannah on being elected as the NECC SAAC President! I am very excited for this academic year and am looking forward to meeting and working with you Hannah, as well as working with you again Jacob!," said DeVaux, who hails from Wethersfield, Connecticut.
Name: Hannah Corrigan
School: Mitchell College
Class: 2021
Major(s): Sports and Fitness Management with a minor in marketing
Sport(s): Women's Soccer & Lacrosse
Career Goals: Acquire a master's degree, and then hopefully work with a professional sports team
One Sentence About You: I'm from Vermont, but I really love the ocean. One thing on my bucket list is to go diving with sharks.
Name: Evelyn DeVaux
School: Elms College
Class: 2021
Major(s): Sports Management with a double in Marketing and a minor in Coaching
Sport: Field Hockey
Career Goals: To work within college athletics as the Sports Information Director!
One Sentence About Me: I am a hard working and very dedicated student athlete, RA and President of SAAC here at Elms College! And I am very excited to bring some of my ideas to the conference as a whole!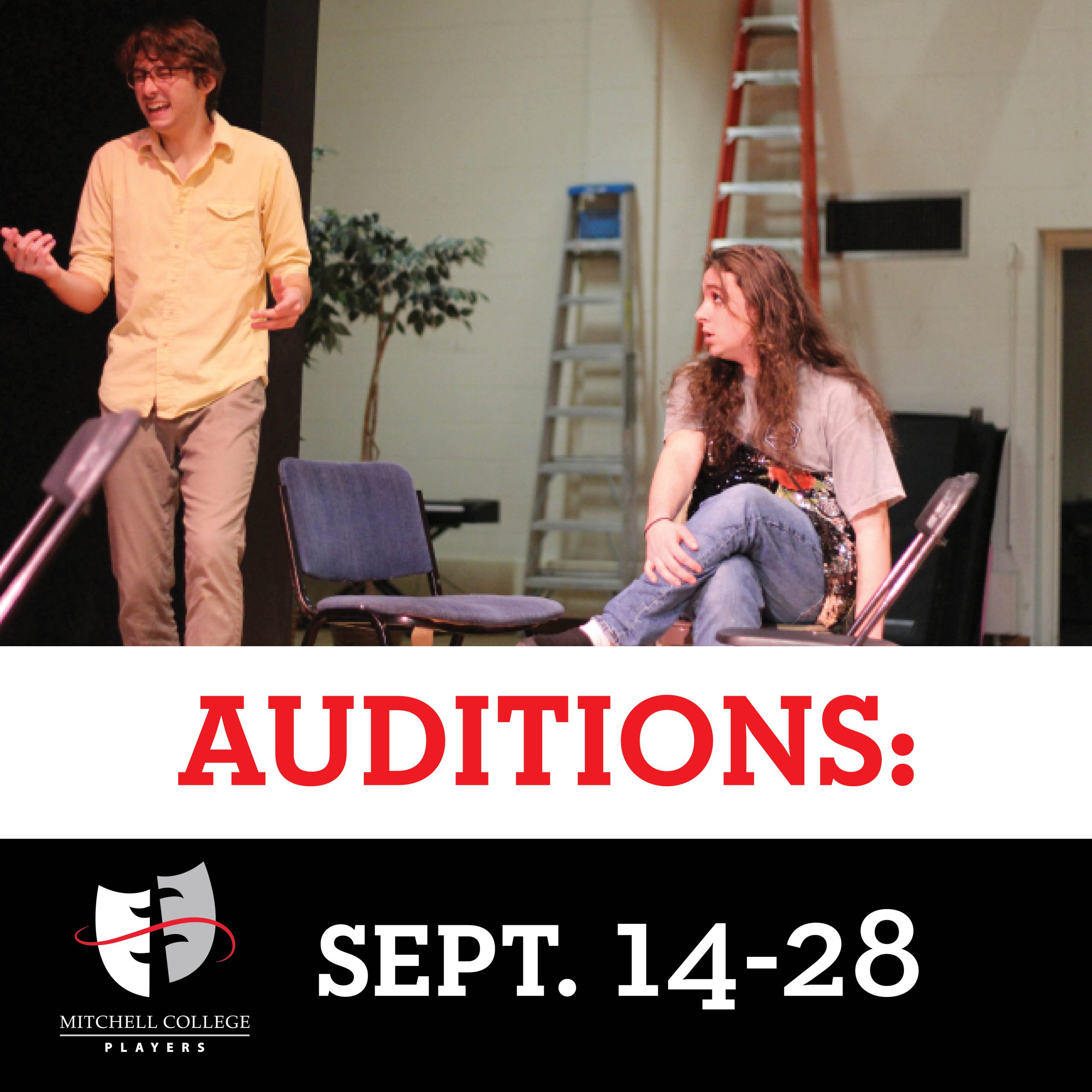 Fall plays
will consist of one or more one-act plays, each with 3 or fewer characters in order to provide the safest experience possible for our actors. No prior acting experience is required. To secure an audition, please complete 
this form
,
and we'll be in contact about an audition date/time!
Fall performances will be November 13-15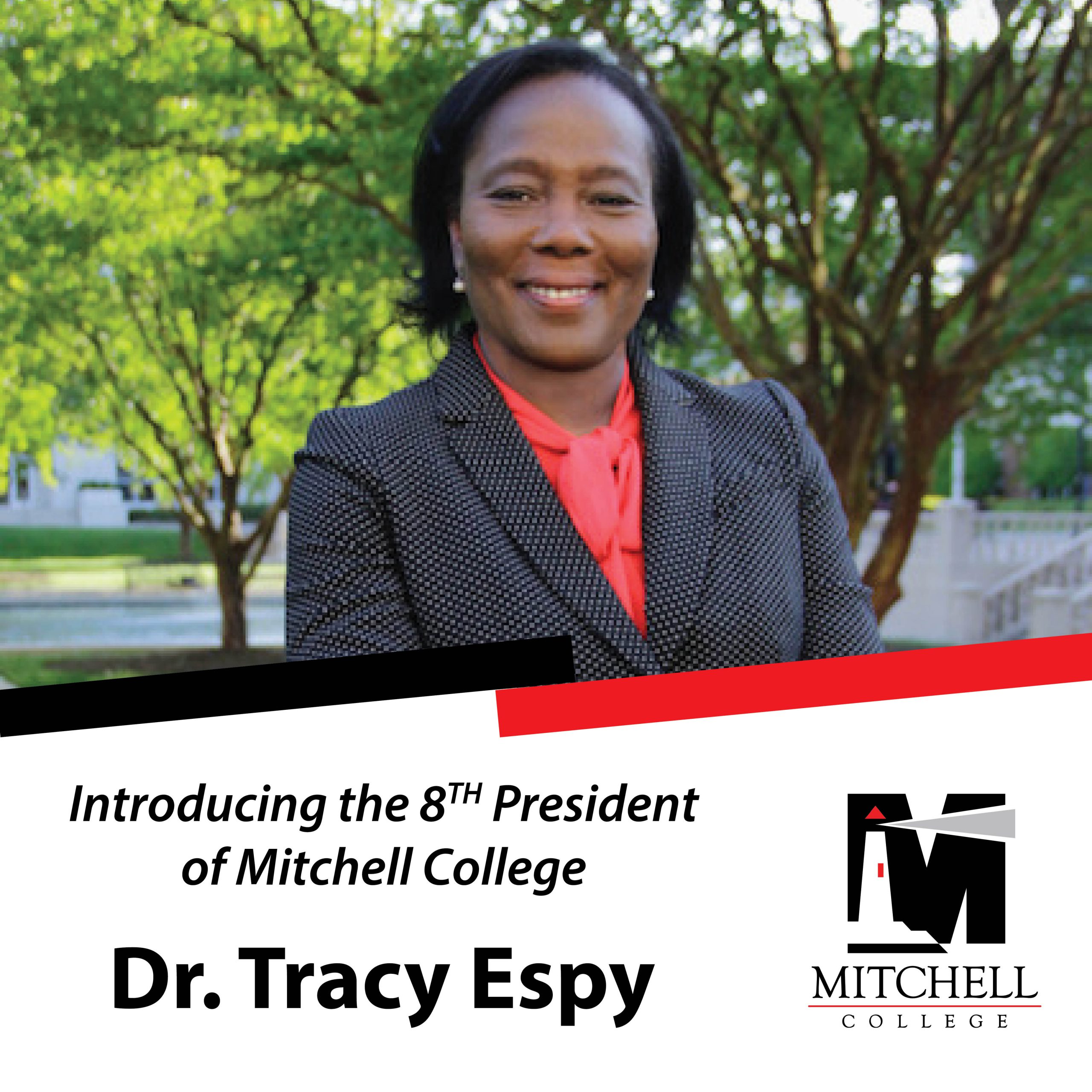 Mitchell College Announces Eighth President
April 29, 2020
To the Mitchell College Community:
It is my privilege to share with you the exciting news that the Board of Trustees has named Dr. Tracy Y. Espy to be the eighth President of Mitchell College.
Dr. Espy, an expert in human development and family therapy, brings 23 years of higher education experience, including 15 years in executive leadership, to Mitchell College. Most recently, she has served as Provost and Vice President of Academic Affairs at Pfeiffer University in North Carolina. Dr. Espy has the skills and experience to work with all constituencies to lead Mitchell going forward. She is especially grounded in the desire to serve others and adept at forging partnerships with the larger community. 
The Board is extremely grateful to the Presidential Search Committee for their thoughtful and thorough process, which engaged the full Mitchell College community and led to the selection of such a passionate and dedicated leader. Tracy's teaching and research expertise in service-learning and student engagement complements the Mitchell Ability Model, which highlights adaptability and provides students with multi-layered experiences – preparing them to succeed in the ever-changing future.
You can learn more about Tracy at
mitchell.edu/tracy-espy
and join in future listening tours with faculty, staff, students and key community stakeholders that will be conducted by the incoming president. Tracy will begin her presidency on July 1 and will be working closely with the Presidential Transition Team to ensure a smooth transition. 
Catherine Wright will continue as Vice President of Academic Affairs and Dean of the College, and Mary-Jane McLaughlin accepted a position at Lesley University. The entire Mitchell College Board of Trustees thanks both Catherine and Mary-Jane for their invaluable service as interim co-presidents during the last academic year. They enabled Mitchell College to transition seamlessly to Dr. Espy's presidency. We owe them both a debt of gratitude.
In my ten years on the Board, I have never been more excited about the future of Mitchell College. We have a dynamic new leader, a committed faculty and staff and terrific students. I would like to thank each one of you for the important role you play in making Mitchell College so special. I cannot wait to see what we accomplish together.
Sincerely,
Chair, Mitchell College Board of Trustees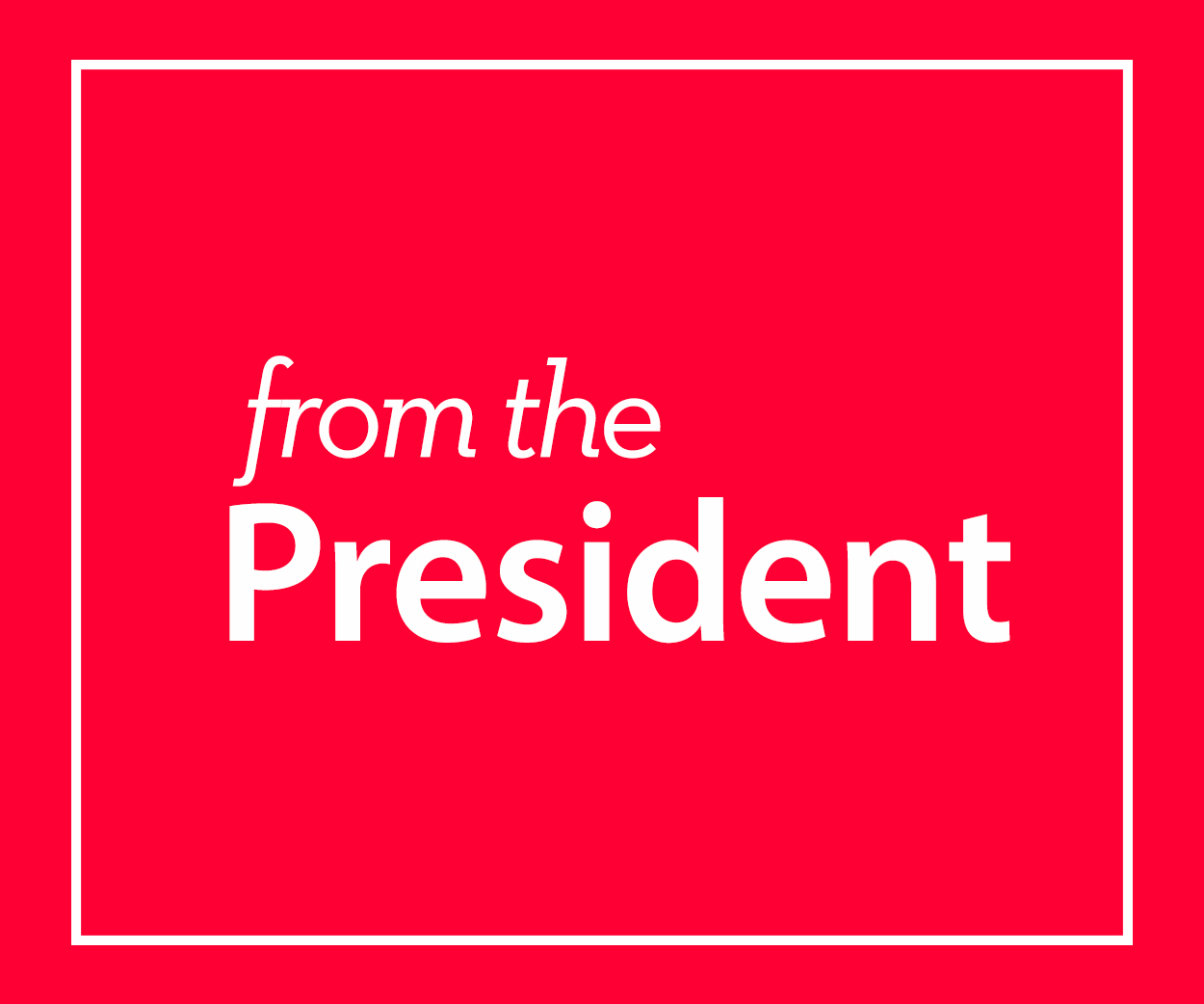 Mitchell College Statement on Racial Equality and Justice.
June 3, 2020
The Mitchell community grieves and stands in solidarity with those who are oppressed. We embrace equality, value all human lives, and denounce acts of racism, discrimination, harassment and hate. Mitchell works purposefully to create a culture of diversity and inclusion on campus. We seek open dialogue among our students, faculty and staff about the most meaningful approaches to mitigate racial injustice and inequality in our society, whether on campus, in one's hometown, or across the country. Read full statement from Dr. Catherine Wright, Interim President…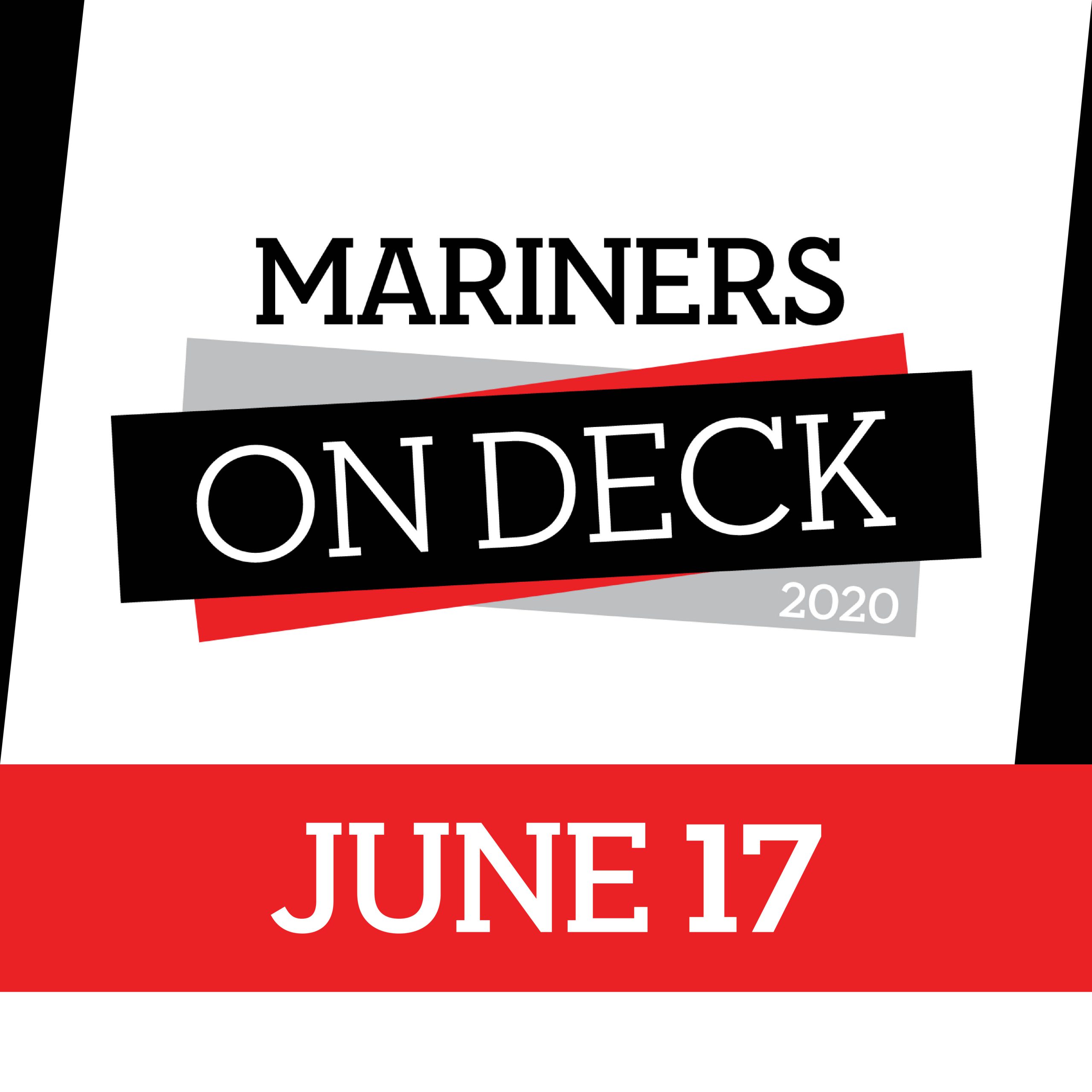 Mariners on Deck for Deposited Mitchell and Thames Students!
We're so excited you're going to be a Mariner! Mariners On Deck is YOUR online pre-orientation, and we can't wait to see you there to start getting you enrolled for Fall 2020!
Mitchell Mariners On Deck: For students who have made your deposit to Mitchell College:
Friday June 17 from 11-12:35pm | (eastern standard time) Register Now! 
Thames Mariners On Deck: For students who have made your deposit to Thames at Mitchell College:
Friday June 17 from 1-2:35pm | (eastern standard time) Register Now!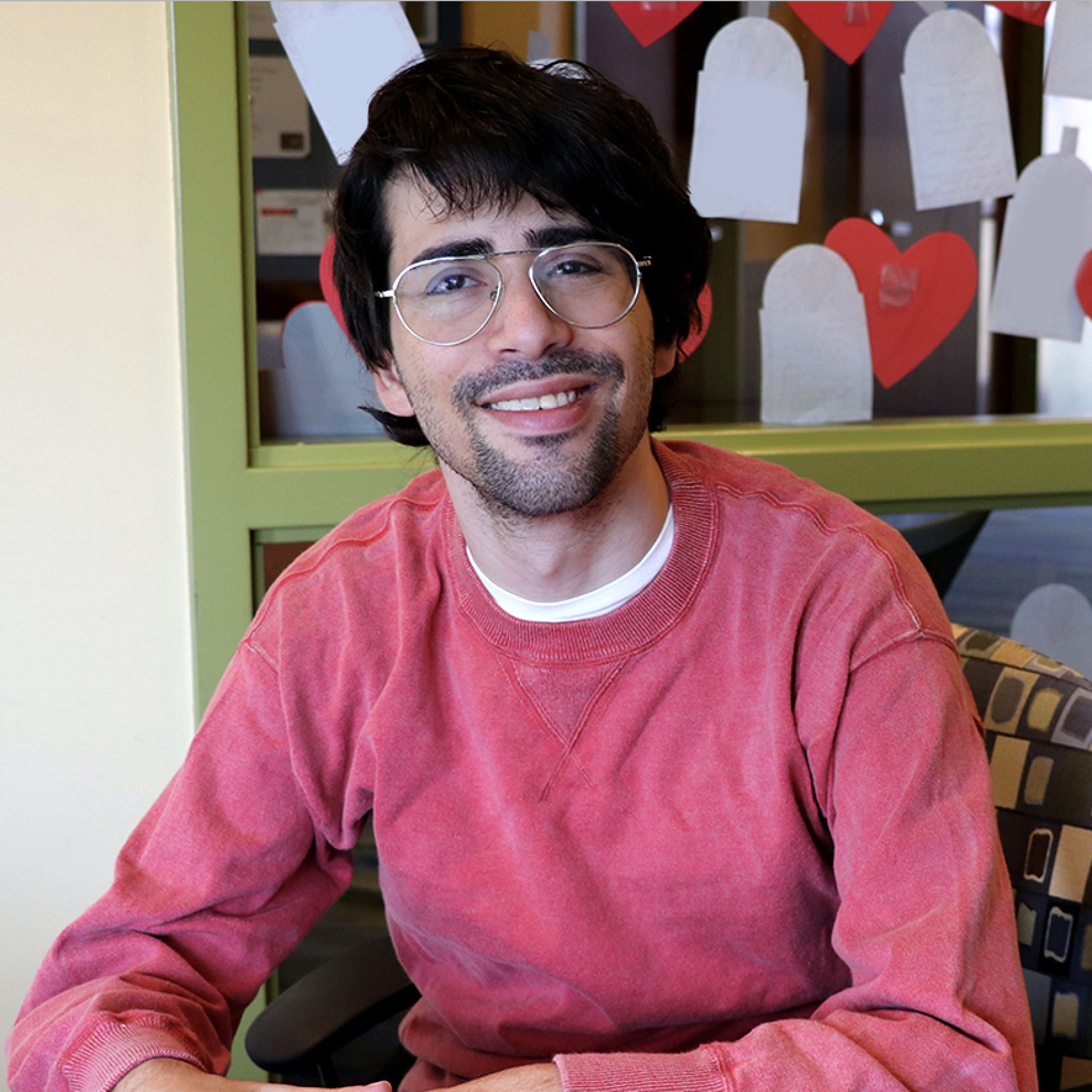 Senior Spotlight: Jake April
Jake April's hard work and determination has paid off. The soon to be Mitchell College graduate from Long Island, NY, will begin graduate studies in broadcast journalism at Hofstra University this fall. An aspiring sportscaster, Jake also hopes to be a public speaker one day, motivating others to find their passion and live their best life. When asked about what has encouraged him most during his time at Thames and Mitchell, Jake points to the people…
"The faculty and staff inspired me because, when I was feeling stressed, their words and confidence would remind me that with a little hard work and determination, I could do anything I put my mind to."
⚓️ Read Jake's story at mitchell.edu/stories-jake-april.
#congrats #mitchellcollege #marinerpride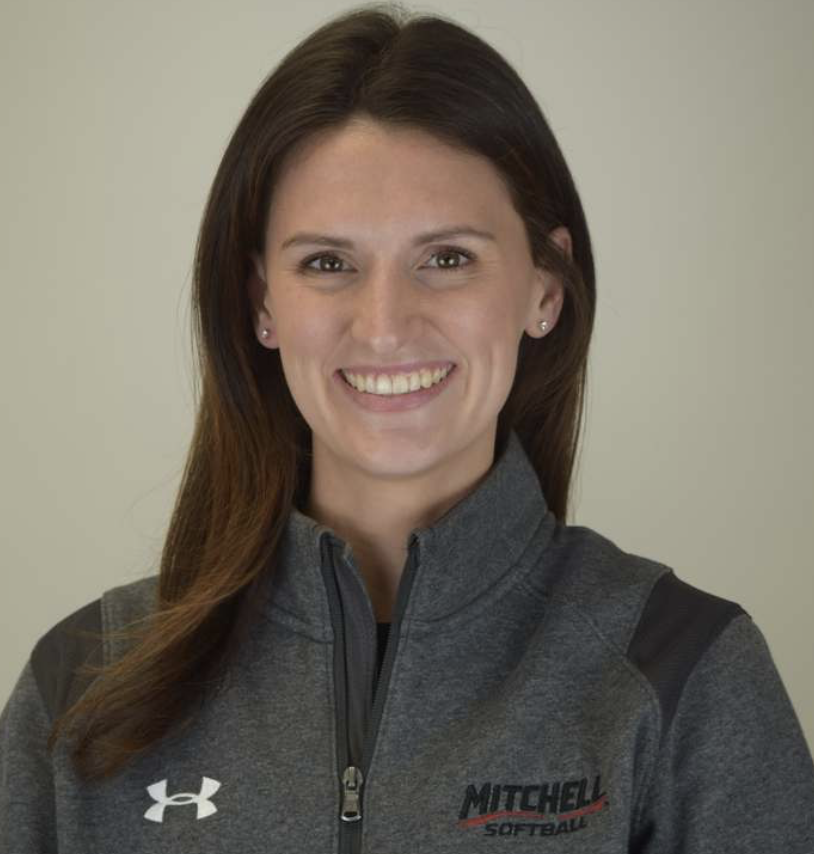 Softball Coach Erin Miller Featured in The Day
Published by The Day | March 24. 2020 3:53PM | Updated March 24. 2020 6:10PM

By Gavin Keefe
Fond memories of her first victory as a college head coach are still fresh in Erin Miller's mind.
Almost a month ago, Miller stepped on the field with her Mitchell College softball team for the season opener against Cabrini University in Clermont, Fla.
A former standout at Waterford High School and Eastern Connecticut State University, Miller experienced a variety of emotions that day before, during and after the game.
"I was excited because I knew my team was excited about me being there, too, which made it even better," Miller said. "I definitely think I had a little bit of nerves. But I trusted the work that we put in in the preseason. Not that I didn't know what to expect, but it was the first time I had ever seen any of them play against someone other than us.
"Then they made me a little more nervous as the game went on and we were battling back."
The Mariners took Miller on a thrill ride, rallying from a two-run deficit in the bottom of the seventh inning to post a dramatic 6-5 victory. She loved her team's fighting spirit.
"They were funny afterward," Miller said. "They were like, 'I swear we won't give you a heart attack every game.' "
Miller would gladly coach a few more heart thumping games. After returning to New London from the spring trip, Mitchell's season was put on the shelf after eight games due to the coronavirus pandemic. She's staying connected with her team from afar.
Quite a time to be running your own program for the first time.
"When we came back from Florida, I was so ready to go, ready to start working on the things that we need to work on," Miller said. "I was just so focused on what we had to do right in this moment to get ourselves better for the season. Then when we got the news they were sending everyone home, I was like, 'Okay, now what?'
"I know that I'm supposed to be with my team. It just feels so weird to be home and not with them when I know that this is the heart of my season."
For a large chunk of her life, the 26-year-old Miller has spent her spring on the softball diamond.
At Waterford High School, Miller helped the Lancers win two Class L titles. She was the 2014 Little East Conference pitcher of the year at Eastern and part of four conference regular season championship and two league tournament title teams.
After graduating from Eastern, Miller wasn't ready to give up softball. She took a position as pitching coach on Donna Koczjawoski's staff at Coast Guard.
"Just going to that first practice and being with a team again, I was like, 'Wow. I don't want to ever give this up.' Probably my favorite part of coaching is the relationships I get to have with the team. I know how great those relationships are. I just want to give every team I'm with that same experience."
Miller spent two seasons at Coast Guard before heading to Smith where she earned a Master's degree in exercise and sports studies and served as a graduate assistant and pitching coach.
After leaving Smith, Miller applied for softball jobs as an assistant and pitching coach. She turned down a few offers because she wanted to stay in the area. Then the Mitchell job opened up last fall and she was hired in November.
Miller called it a perfect situation.
She's thoroughly enjoying her new job. She's attempting to build a successful program at Mitchell, which has been competitive in the New England Collegiate Conference but had four straight losing seasons overall.
She is tapping into her vast experience from previous stops as a coach and player. She's using some things that she learned from her high school coach, Liz Sutman.
"She was huge on keeping us together as a team and doing fun activities that would break up practices a little bit…," Miller said. "The little things that she did really made an impact on us. So I try to carry that with me. Every Friday we do a game or competition just to keep them engaged."
Miller makes it a point to always show up at practice with a positive, upbeat attitude. She gives her players room to make mistakes and grow.
"Coming into practice, I love to show how excited I am to be there," Miller said. "Because if they don't see that from me, then they're not going to be excited to be there. When I got into this job, they just wanted me to be passionate…
That's exactly what I am."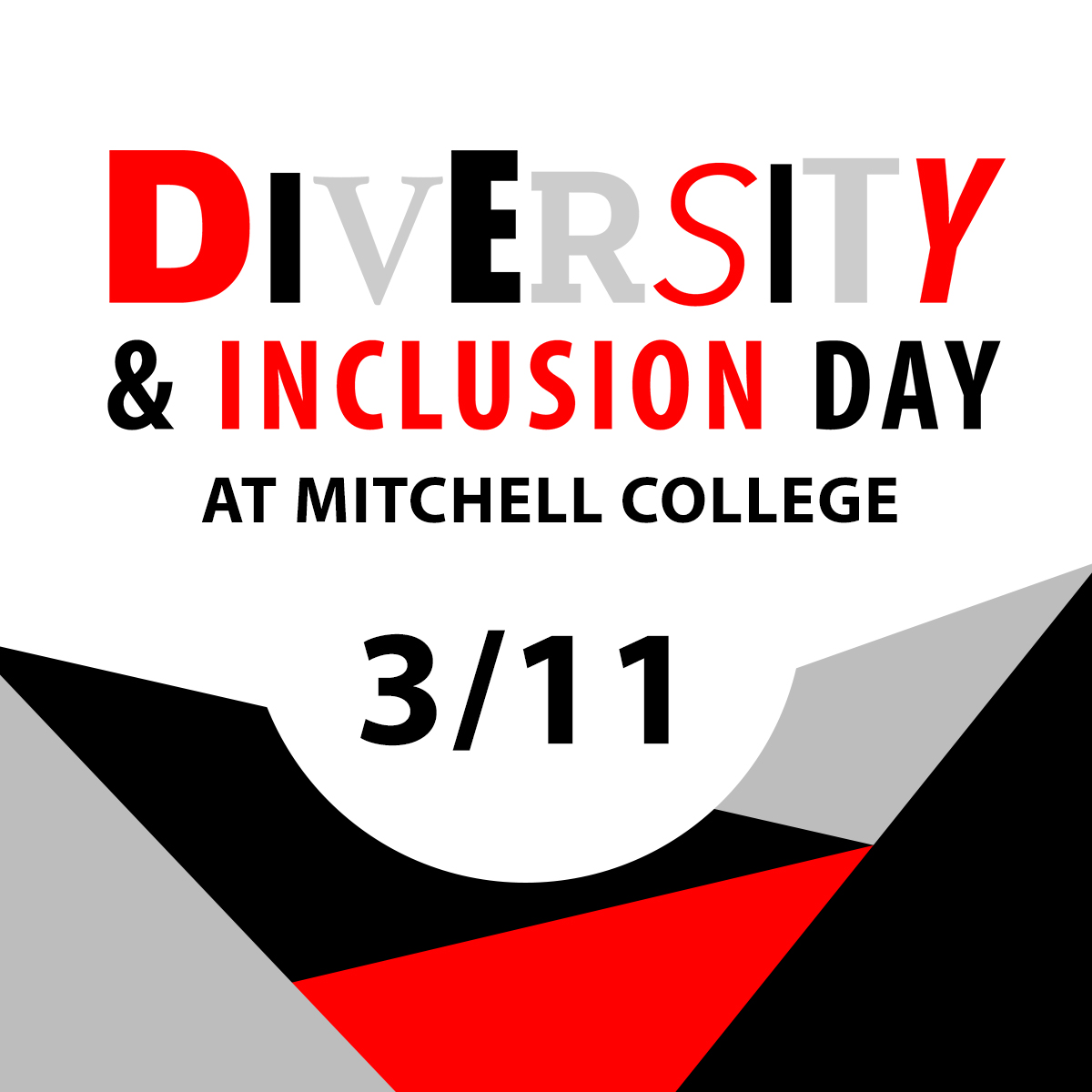 Diversity & Inclusion Day
Wednesday, March 11  |  All Day
The Mitchell College community is coming together to share our stories and learn from each other in an effort to deepen our understanding of diversity and inclusion! The day includes:
Workshops with Muji Karim
Muji A. Karim is a successful entrepreneur and world-class adaptive athlete who survived a horrific automobile accident, sustaining burns over 30% of his body, loss of a hand, and loss of much of both legs. Muji healed, trained and is currently among the top 3 sprinters in his class in the nation and will 
compete in the Paralympic Games in Tokyo in 2020.
10:30-11:30am Weller Center
– Open to First Year Experience Students/Leadership Development Program
11:30am-12:30pm Weller Center
– Open to
Thames at Mitchell Students
1:30pm Red Barn
–
Open to all Mitchell Student Athletes
Open Info Sessions, 12-2pm, Milner/Market Cafe
Student groups & clubs including the Multicultural Student Union, Pride Alliance, Hillel, and Thames SGA will host info tables in Milner/Market Café.
All Day, Around Campus
Look for projects around campus to express yourself!
Multi-cultural Dinner, Milner Dining Hall
Cuisines including Italian, Soul Food/Southern, Hispanic, and Jewish Deli.
Speaker, 7-8:30pm, the Red Barn
Disability advocate Hallie Hovey-Murray will present
The Inclusion Solution,
addressing the need to foster inclusion for Americans of all-abilities.
Poetry Slam! A Night of Spoken Word, 9-10pm, the Red Barn
Hosted by the Mitchell College Multicultural Student Union and Pride Alliance, the theme of the evening will be
social justice and equality.
 This event will be facilitated by a moderator; to participate as a speaker, please sign up in the Milner Dining Hall on March 11 (day of event) from 12:00-2:00pm. 
DJ, pizza, snacks, soda, and coffee/tea!
#mitchelldiversityandinclusion
Poetry Slam! A Night of Spoken Word
Wednesday, March 11  |  9-10pm in the Red Barn
Hosted by the Mitchell College Multicultural Student Union and Pride Alliance, the themes of the evening will be
social justice and equality.
 This event will be facilitated by a moderator; to participate as a speaker, please sign up in the Milner Dining Hall on March 11 (day of event) from 12:00-2:00pm.
Bonus:
DJ, pizza, snacks, soda, and coffee/tea!
#mitchelldiversityandinclusion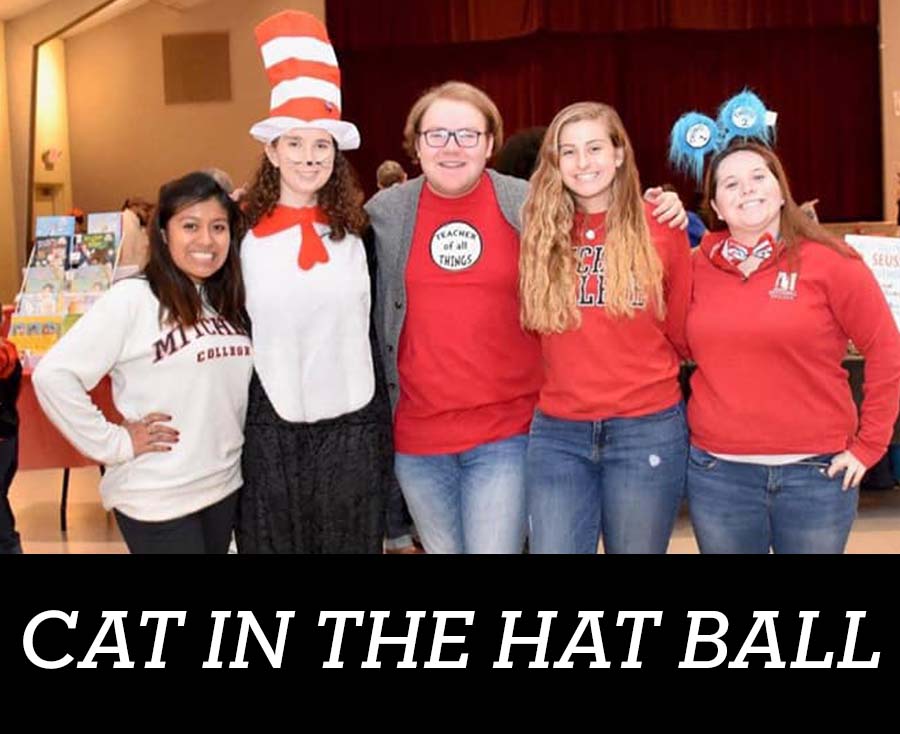 The Mitchell College Department of Education Presents the
19th Annual Cat in the Hat Ball
Saturday, February 29 | 10am-2pm at the Clarke and Weller Centers
Join us for the Cat in the Hat Ball – a  family celebration of Dr. Seuss's birthday, on Saturday, February 29, 2020! This event is open to the public and free with a donation of one new children's book or $5 per family. All books from the event will be donated to local schools and early childcare centers. You and your family will enjoy children's games, crafts, music, and story times. Music will be provided by Radio Mitchell, and the Community Dance Ensemble performs at 11am and 12:30pm. Local authors join in the fun, sharing their books with young readers. A special highlight of the day will be a reading and book signing with local author Tish Rabe, the best-selling author of  "The Cat in the Hat's Learning Library," a series of rhyming science books for early readers.
For more information, please contact the Mitchell College Education Department at catinthehatball@mitchell.edu.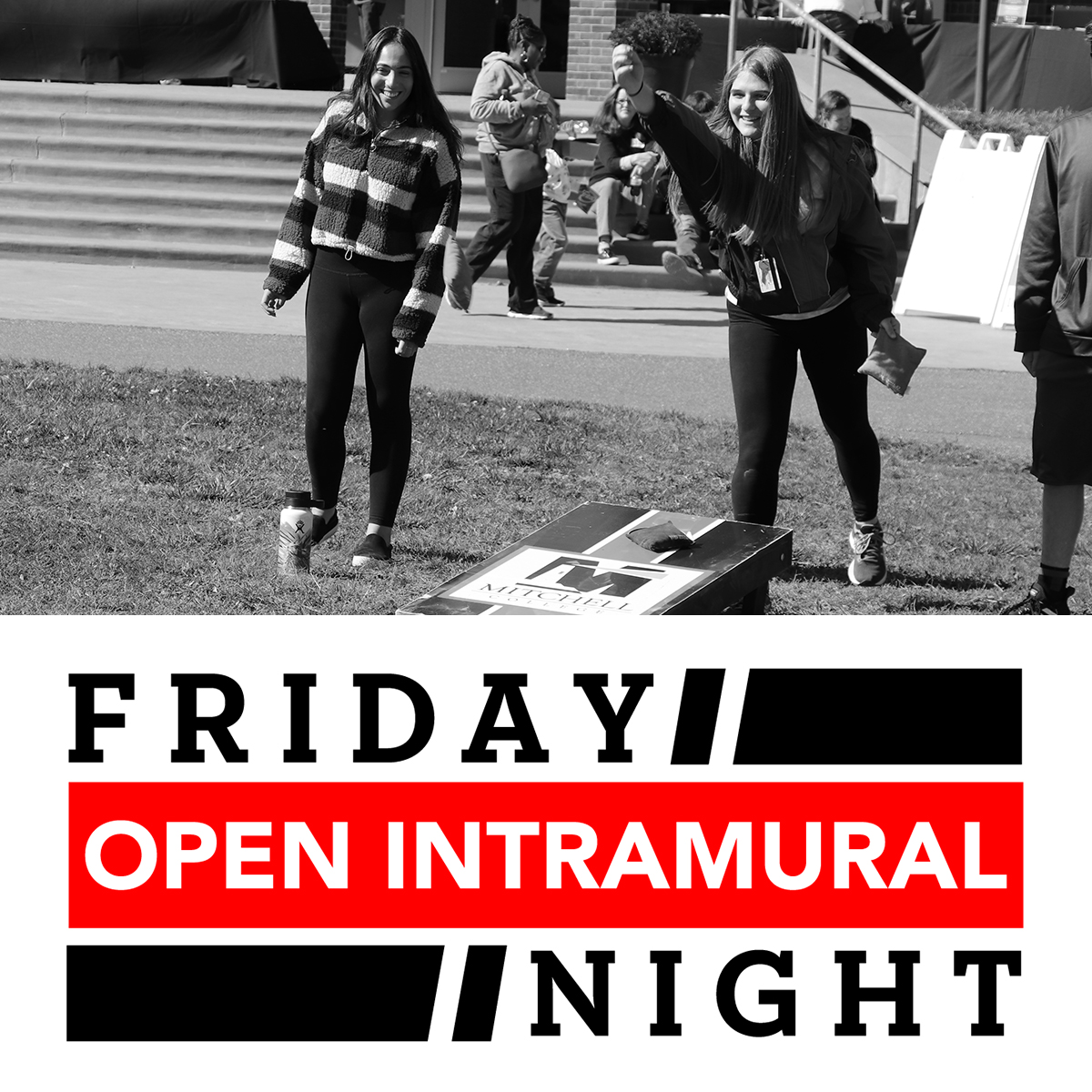 Open Intramural Nights
Friday, Feb.  21  |  7-9pm in Clarke Center
All Mitchell and Thames students are invited to come hang out and enjoy some casual games: dodgeball, badminton, four square, corn hole, connect four, giant jenga and KanJam! 
Drinks and snacks provided.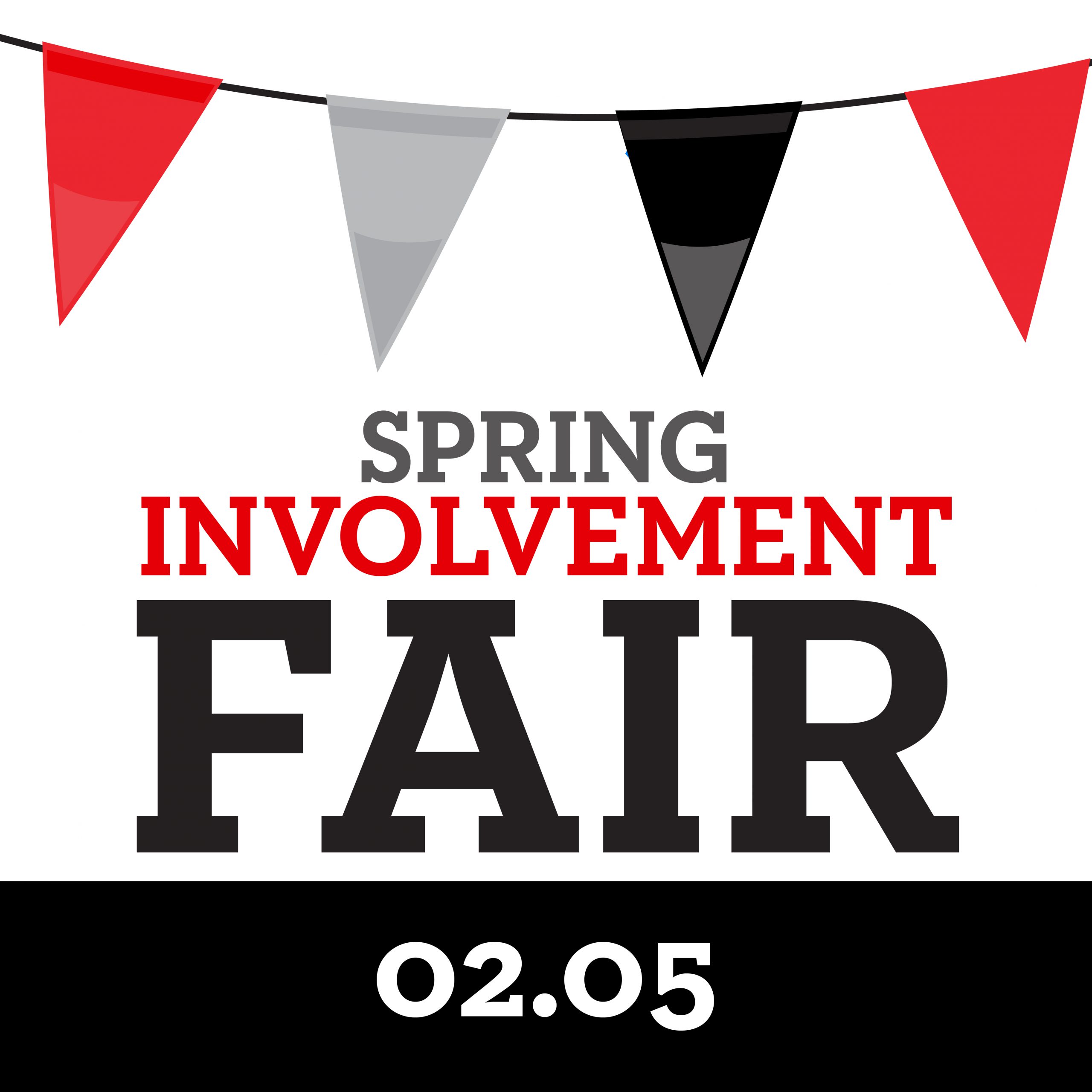 Spring Involvement Fair
Wednesday, February 5  |  3-6pm in Market Cafe
Mitchell and Thames students…are you interested in getting more involved on campus? Do you want to start your own club on campus? Come to the Spring Involvement Fair at the Market Cafe on Wednesday, February 5 from 3-6 pm to see how you can get involved!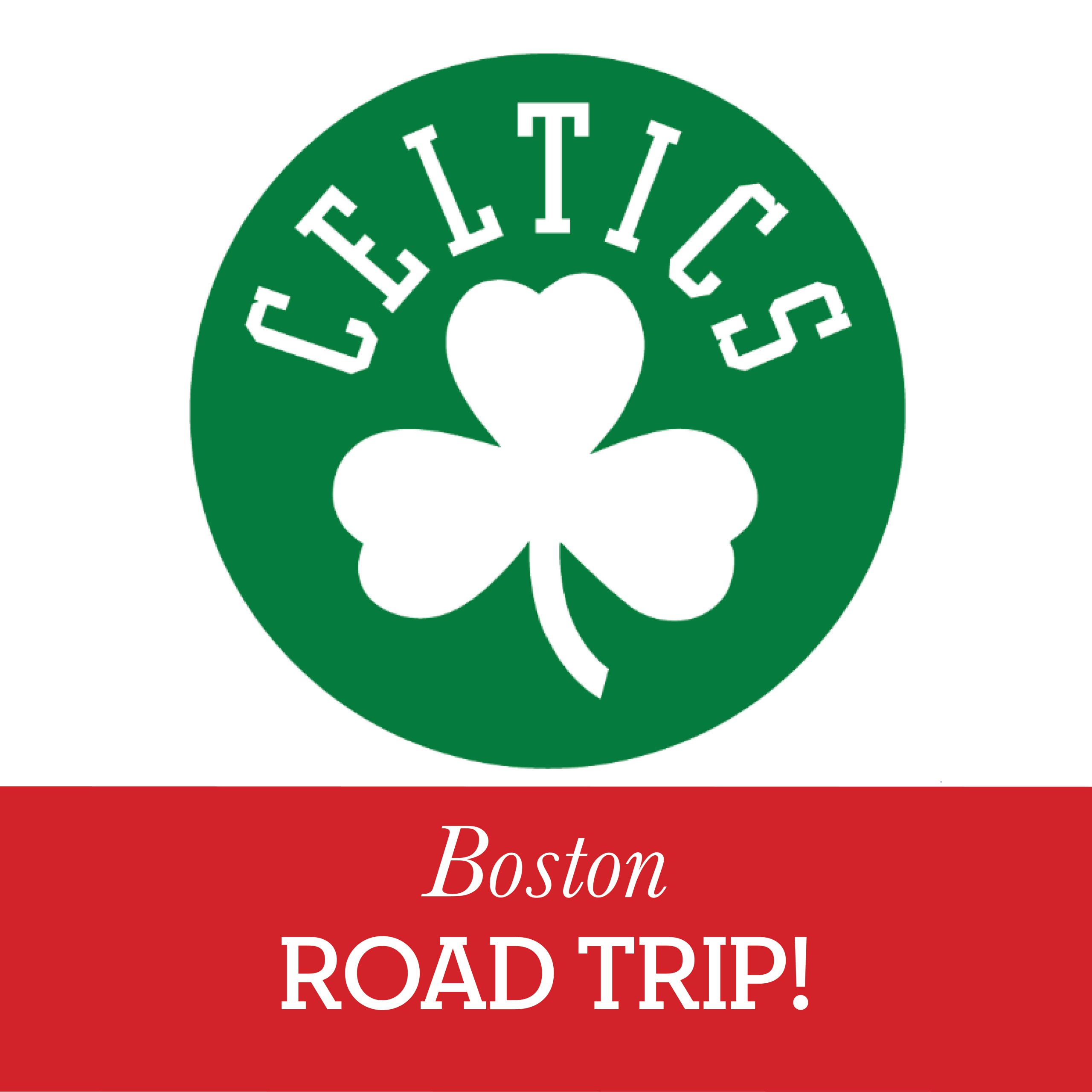 Boston Celtics Game
Wednesday, January 22 
Mitchell College Campus Life
 is offering Mitchell and Thames students a great opportunity to attend a Celtics game in Boston on January 22, 2020! 
Tickets are $50 which includes the game ticket and Coach bus transportation to the game. For details and tickets, visit 
Ticket Leap
.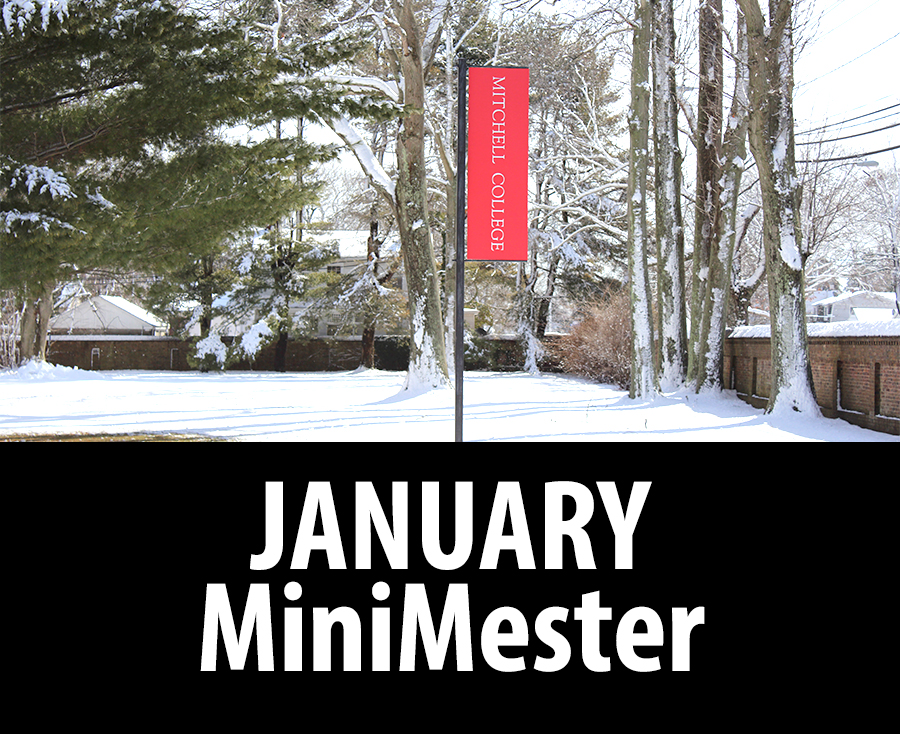 January MiniMester Courses & Internships
Earn 3-4 credits in just 2 weeks with courses like:
Citizen Scientist

Intro to Astronomy

Film Genre: Comedy

Sp Topic: Theatrical Production – Orwell's

Animal Farm
January MiniMester courses are open to current Mitchell and Thames students and the public. Students should consult with their advisor prior to registering for a course online.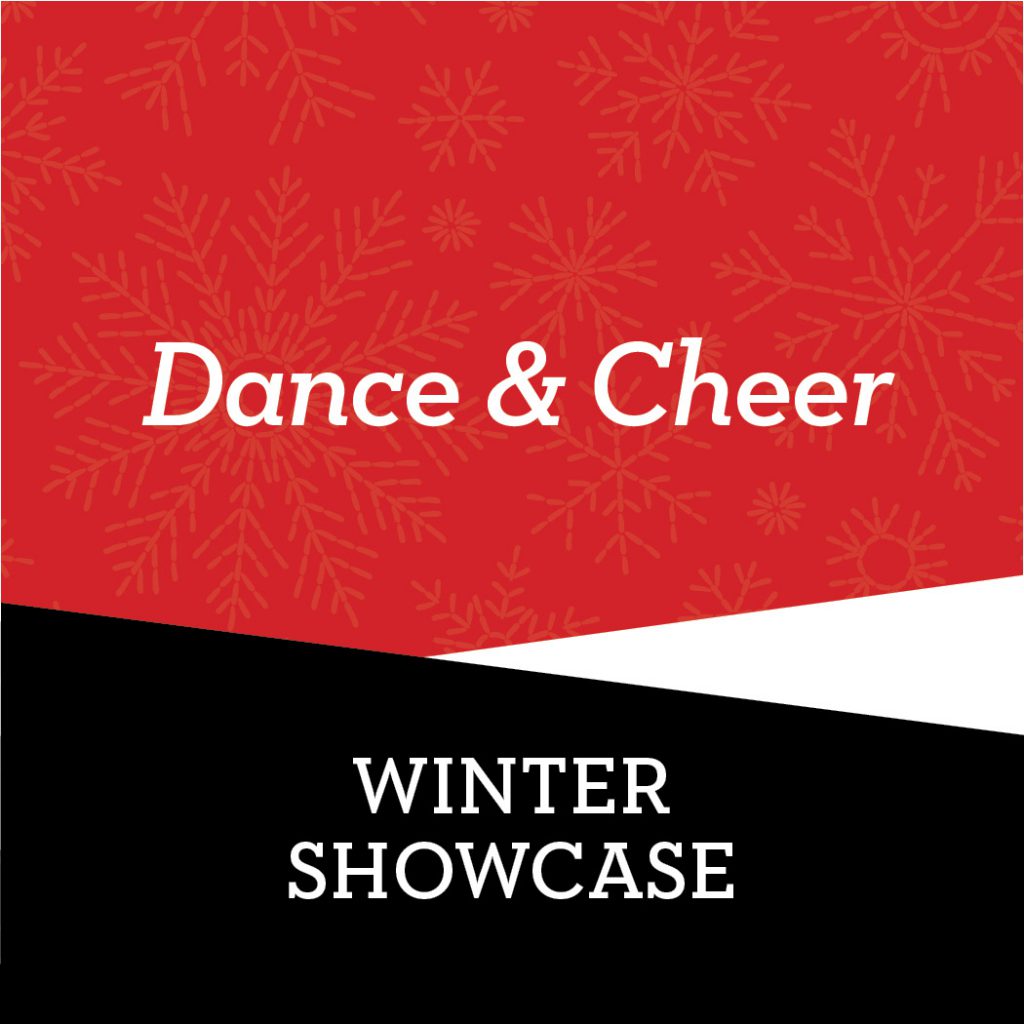 Dance & Cheer Winter Showcase
Thursday, December 12 at 8pm
Clarke Center Stage
All are invited to see what the Mitchell College Dance and Cheer Team has been
UP
to this fall at their
Winter Showcase! 
Free admission; raffle available.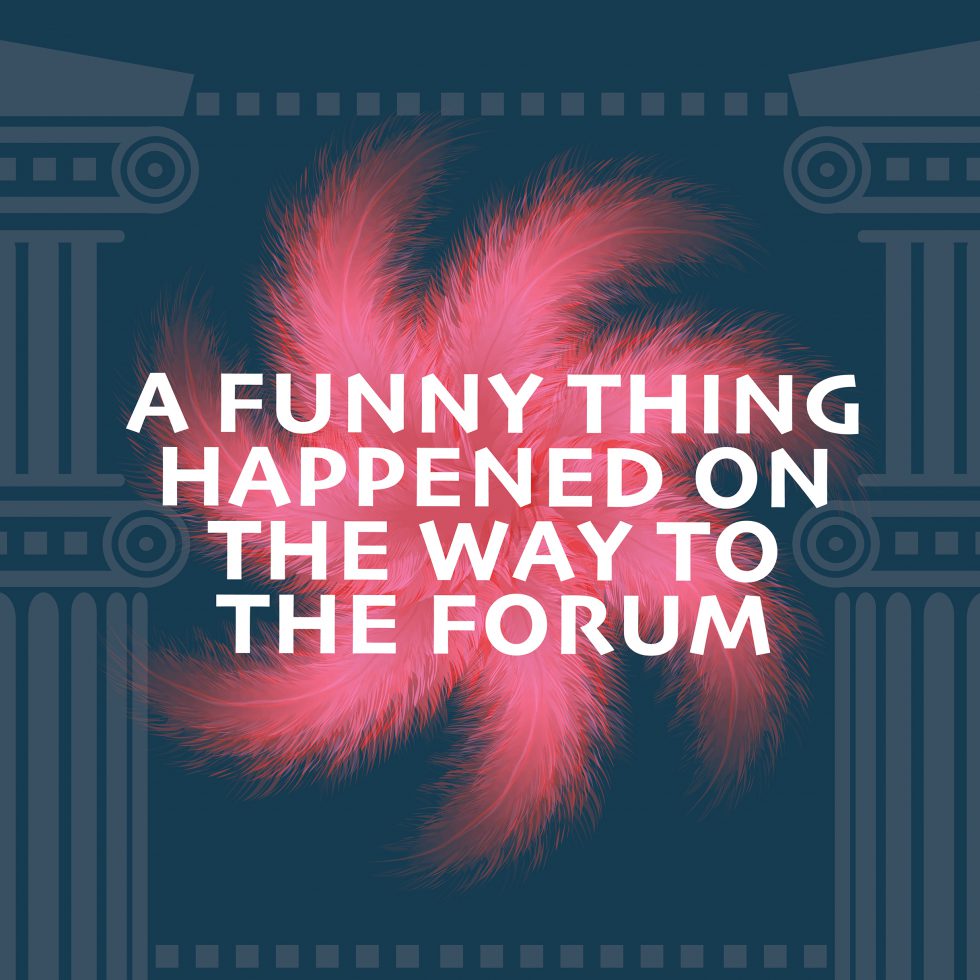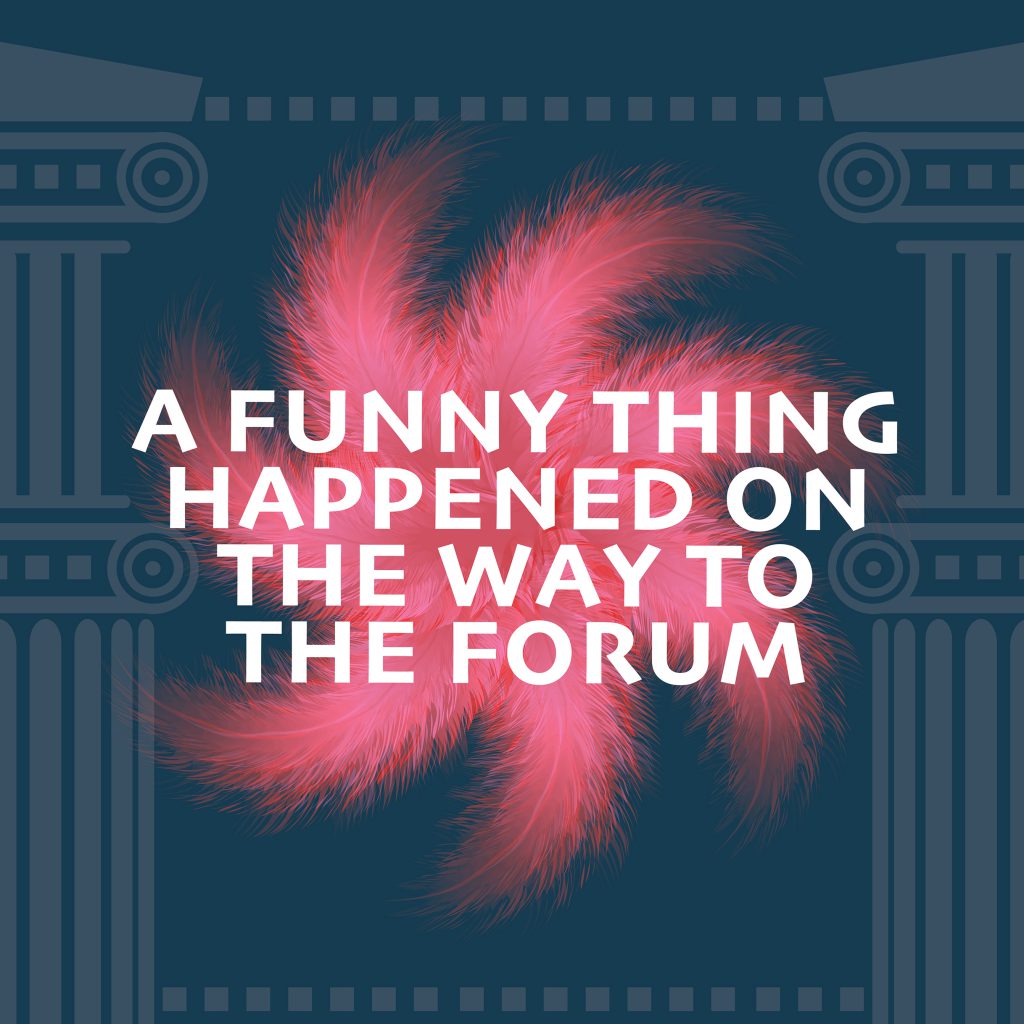 Spring Musical Auditions Announced!
Auditions are open through December 18 for dancers ONLY
for Stephen Sondheim's
"A Funny Thing Happened on the way to the Forum". Sign up for an audition online
here
.
Performances April 23, 24, 25, 26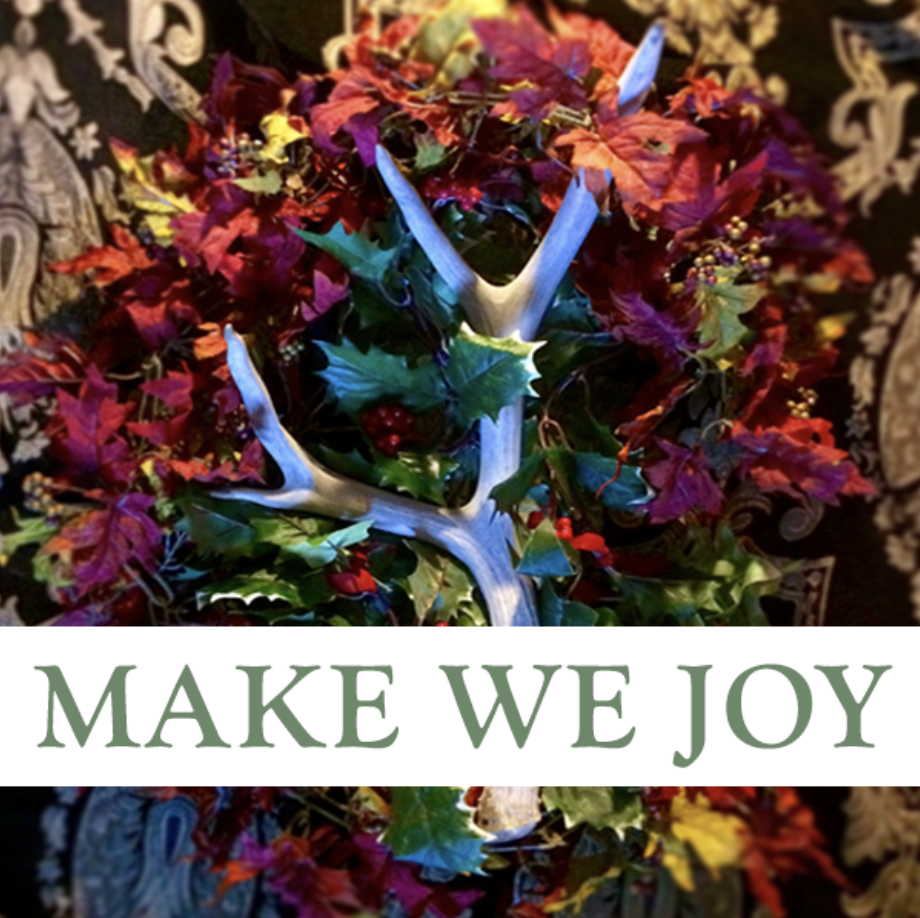 December 8  |  4pm & 7pm
The Red Barn
Flock Theatre's "Make We Joy" is returning just in time for the holidays! Each December we celebrate the winter solstice with a multicultural celebration of the shortest day of the year incorporating folk-dance, choral music, mummers, poetry, ritual, and more.
Under the direction of Derron Wood, the main producer of Make We Joy since 1992, it will be held for its fifth year at Mitchell College, and for the second year, at the Red Barn. 
Free and open to the public. 
Learn more at 
https://mitchell.edu/performing-arts/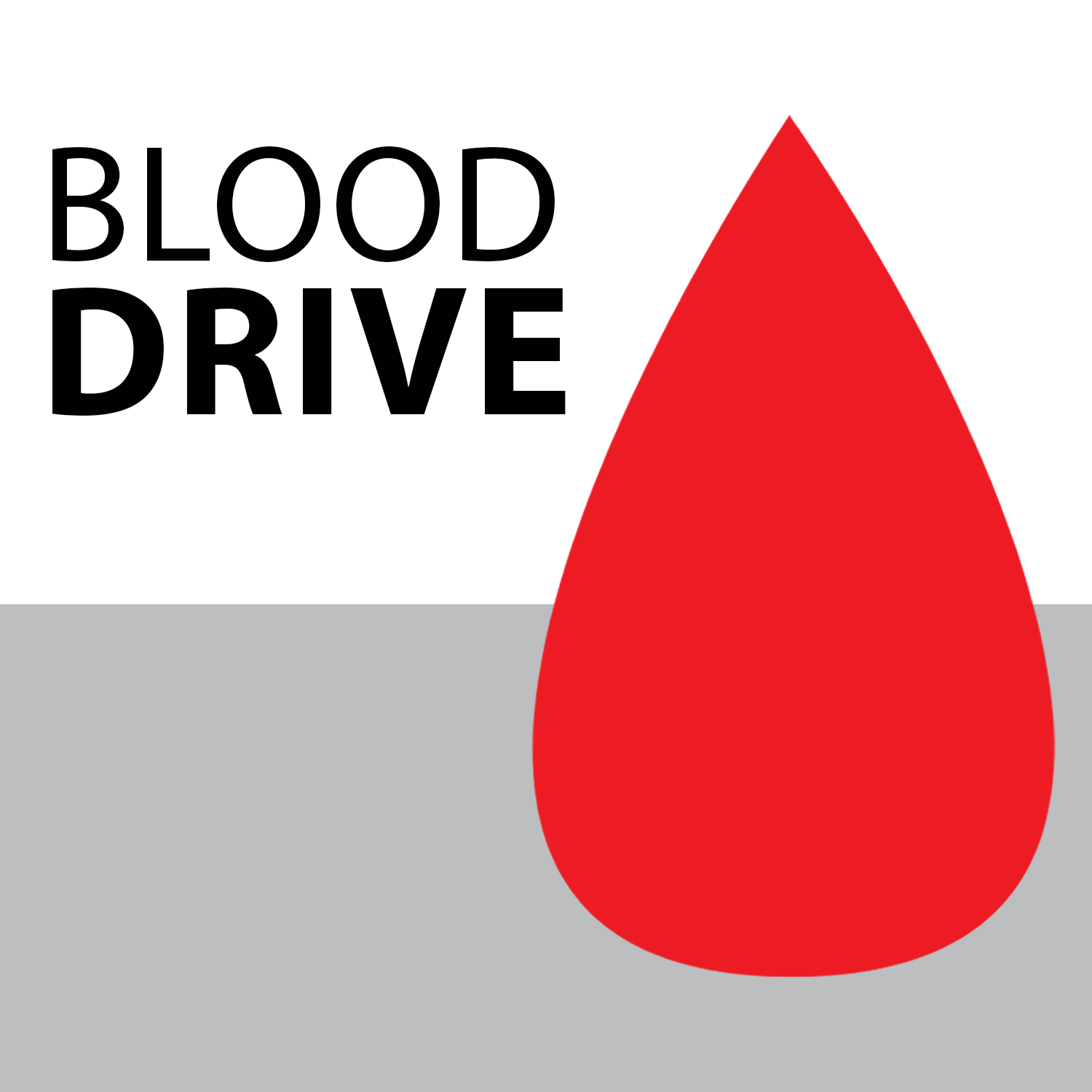 Blood Drive
Thursday, November 14  | 11:15am-5:15pm
Faculty, staff, students, and the public are invited to stop by Weller Center and donate blood. 
Every day, blood donors help patients of all ages: accident and burn victims, heart surgery and organ transplant patients, and those battling cancer. In fact, every two seconds, someone in the U.S. needs blood.
RSVP: https://www.redcrossblood.org/give.html/donation-time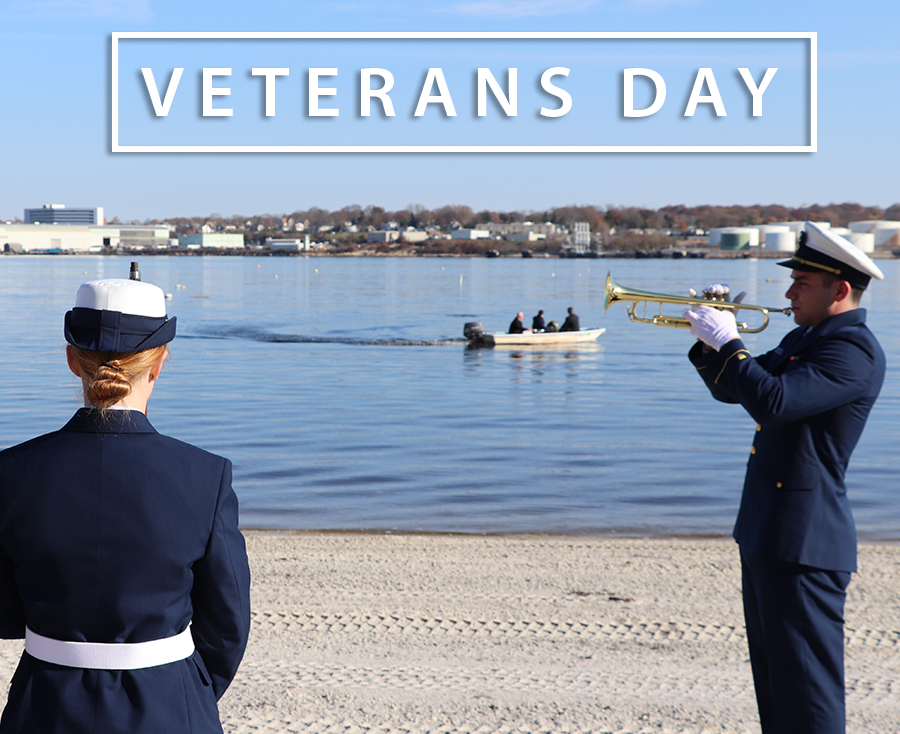 Veterans Day Ceremony
Monday, November 11  | 9:30am-2pm
Faculty, staff, students, alumni, and the public are invited to join us as we observe Veterans Day, beginning with a flag raising, pledge of allegiance and national anthem at 9:30am and culminating at 12:30pm in a presentation on Women in the Military and in Combat by Kirsten Holmstedt, Thames instructor, journalist, writer, and advocate for female service members.
View the entire schedule of events and learn more about the speaker and her work at https://mitchell.edu/veterans-day.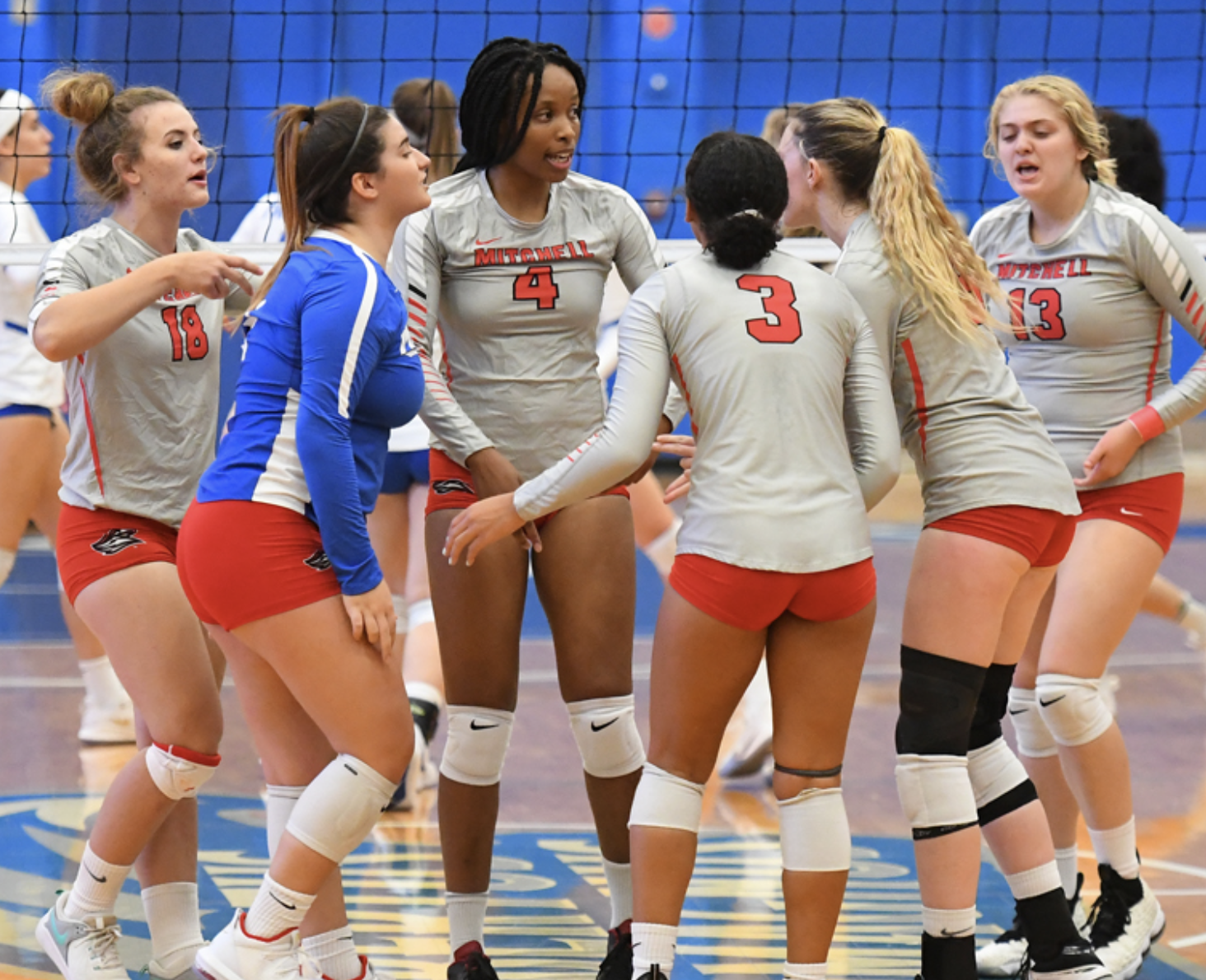 Mitchell Volleyball Advances to Round 2
Posted November 5, 2019
NEW LONDON, Conn. – Fourth-seeded Mitchell College came away with a 3-0 victory (25-13, 25-18, 25-19) over fifth-seeded Becker College in the first round of the 2019 New England Collegiate Conference Women's Volleyball Championship on Tuesday night at the Yarnall Athletic Center.
Mitchell (14-11 overall) advances to the semifinals and will play at top-seeded Eastern Nazarene College on Friday, November 8 at 7:00 p.m. Becker ends the season with an overall record of 10-16. Read more.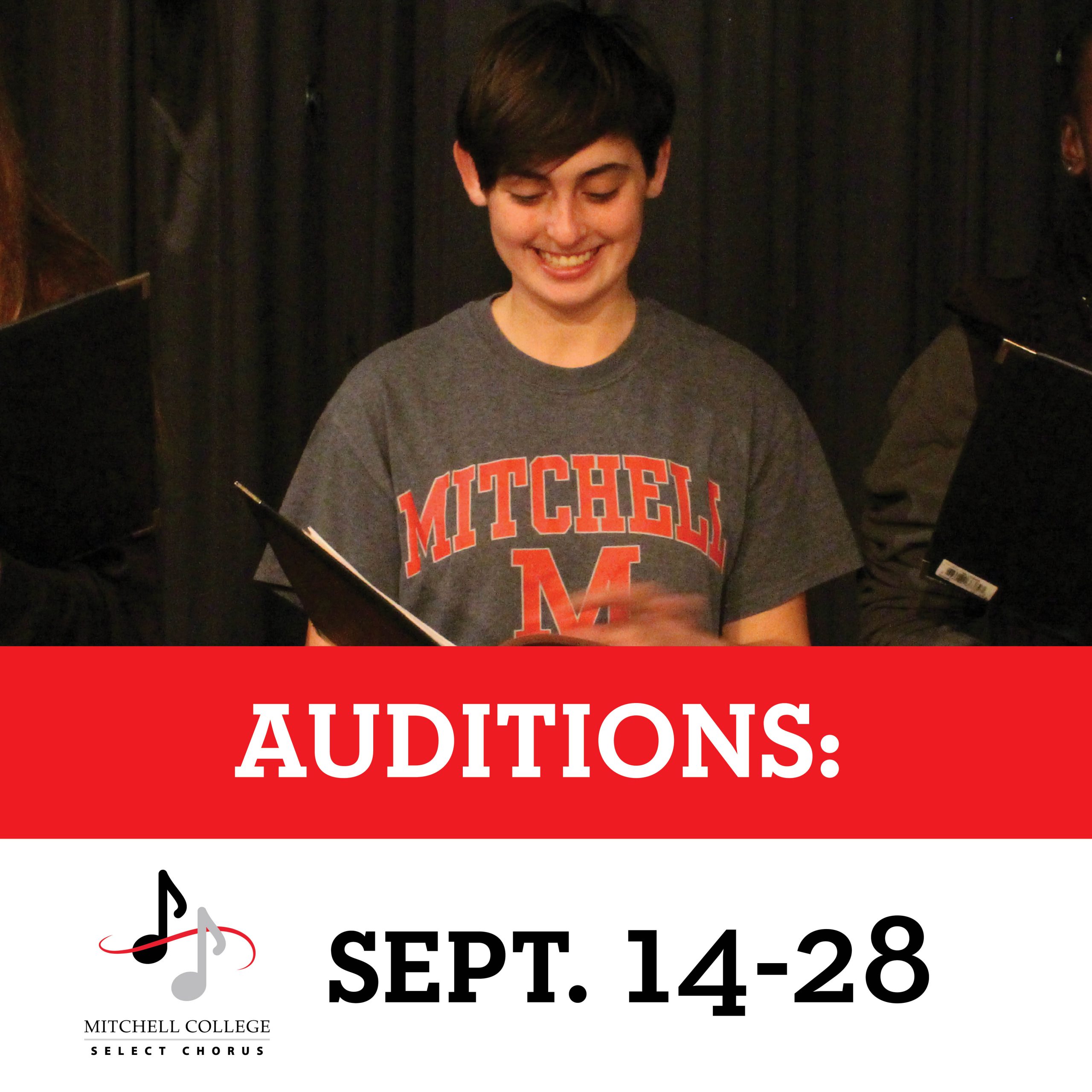 Rehearsals begin October 1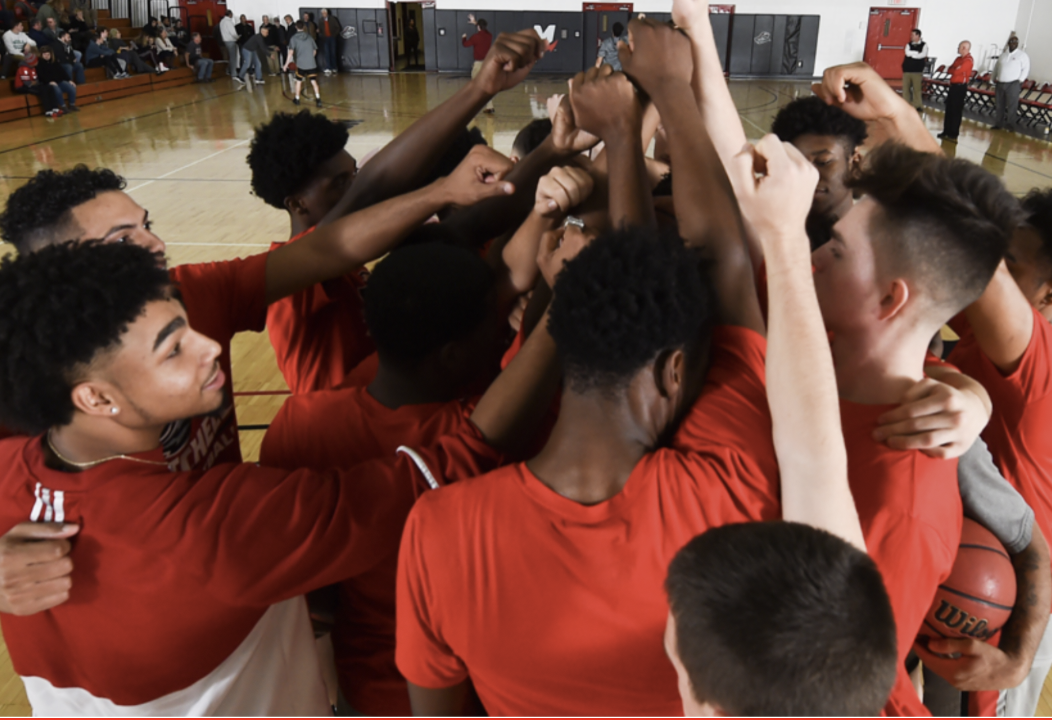 Mitchell Men's Basketball Earns NABC Team Academic Excellence Award
July 16, 2020
The Mitchell College men's basketball team was one of 314 programs recognized by the National Association of Basketball Coaches (NABC) on Thursday as the organization announced the eighth annual Team Academic Excellence Awards, created by the NABC Committee on Academics.
The award recognizes outstanding academic achievement by a team with a cumulative grade point average (GPA) of 3.0 or better for the 2019-20 season. The Mariners, in addition to earning the award for the second straight year, were one of two representatives from the New England Collegiate Conference. Mitchell was also one of five schools honored from the state of Connecticut, joining Yale University, Quinnipiac University, University of New Haven and Trinity College.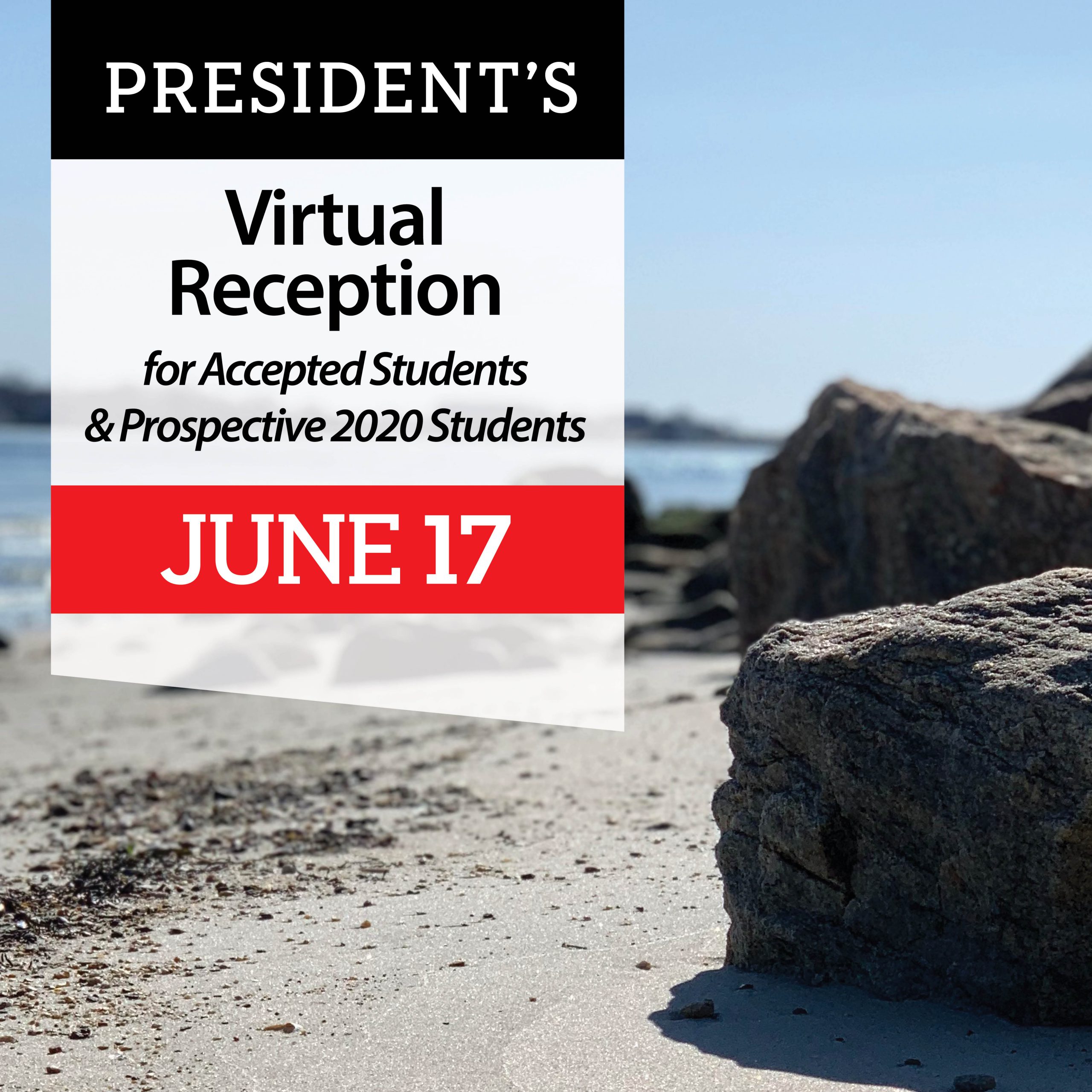 Accepted Students Presidents Reception Going Virtual!
We're going virtual Wednesday, June 17! All
prospective 2020
students a
nd all students who have been accepted
to Mitchell College or Thames at Mitchell College, but have not yet made their deposit, are invited to join us on Zoom for our President's Reception. 
Guests will hear from members of our faculty, athletics, financial aid, campus life, advising, performing arts, academic support, career development, and residential life. Get all of your questions answered about becoming a Mariner this fall! Details and registration at mitchell.edu/visit-us.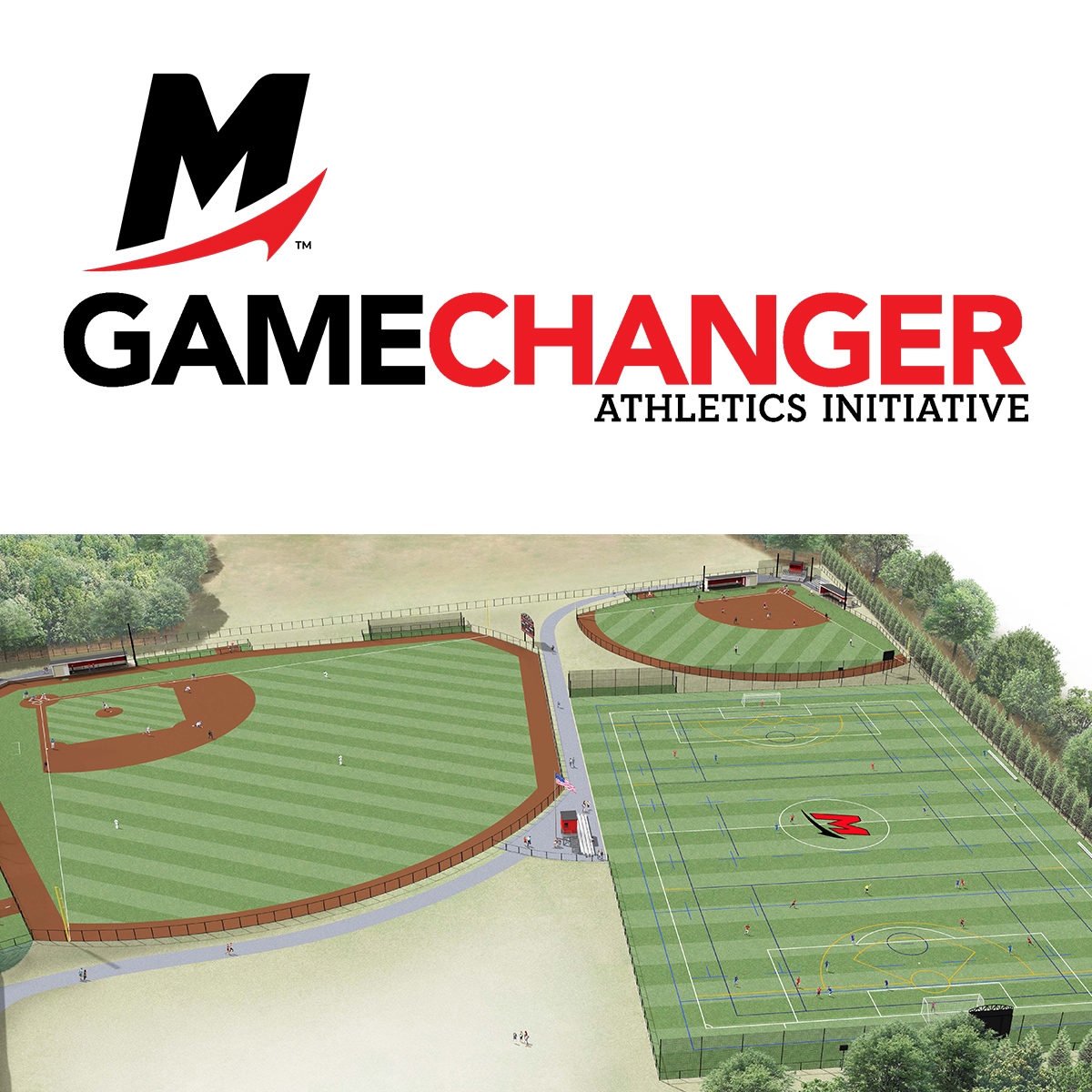 Mitchell begins work on new outdoor athletic complex
Published by The Day | April 11. 2020 4:54PM

By Gavin Keefe
Construction is underway on a new Mitchell College outdoor athletic complex, weeks earlier than expected due to the cancellation of the spring sports season and students leaving campus.
It's a welcomed piece of good news for the college.
"It's a glimmer of hope in a dark time," baseball coach Travis Beausoleil said.
There's been a buzz throughout the Mitchell community for months about the complex.
The state-of-the-art complex will replace the existing grass fields with artificial turf multi-sport, baseball and softball fields, each complete with a scoreboard, bleachers and elevated press box as well as dugouts for the latter two. The project cost is approximately $3.5 million.
About 37 percent of the student body participates in the school's 12 NCAA Division III programs. The complex also will be utilized by intramural, club and recreational programs.
"We're very, very excited about this 'Game Changer,' as we've identified it," assistant athletic director Todd Peretz said. "It's an exciting time. Something we've talked about for a long time and to get on par with some of the other institutions that we compete against. First and foremost, it will give our student-athletes the best experience."
The plan to renovate the athletic fields has been years in the makings.
Beausoleil remembers discussions about it when he was hired as baseball coach roughly 10 years ago.
"At first, it wasn't supposed to be turf," Beausoleil said. "We were going to redo the field, move the softball field. Over 10 years here, we've had a ton of different plans. It was really (athletic director) Dana (Fulmer Garfield) when she was here pushing the envelope and Janet Steinmayer, the president, she was really gung-ho about it.
"It's exciting that Janet was able to get it through. Mary-Jane (McLaughlin) and Catherine (Wright), the interim presidents, stayed on course with it. And it's happening."
The impact of the new athletic complex will be far-reaching.
It will aid in everything from recruiting to helping better weather the typical unpredictable New England spring season. It will also erase some competitive disadvantages that come with practicing on a grass field and then playing road games against opponents with turf.
Baseball, softball, men's and women's lacrosse and men's and women's soccer are the sports that will benefit the most.
"We could be in a very select company with teams that have a full turf baseball, full turf softball at the NCAA DIvision III level here in New England," Peretz said. "It also will be a huge boost for soccer and lacrosse. They've played on grass fields here for a number of years. Now just about everybody else has turf, so sometimes they're at somewhat of a disadvantage when they go on the road. It's going to put them on par with everyone else.
"And from a recruiting standpoint, kids can make a really, really good educated decision, choose Mitchell College because it's the right fit for them academically and athletically and socially, and not have to say that they don't want to go to this school because they don't have this facility. We're on par with everyone else and now we'll just let our individualized approach and our coaches be the ones that shine through and attract potential student athletes."
The complex will especially benefit spring coaches because the turf fields will eliminate days practice needs to be moved indoors or to a parking lot because of unplayable conditions.
It also will mean having fewer games postponed. Mitchell baseball and softball teams usually have to scramble to complete all the games before the regular season ends.
"Spring time is always very, very difficult," Peretz said. "It's demanding on the coaches and student-athletes. It's a big demand on the campus in general because our student-athletes comprise a large number percentage of our student population, So it impacts us across the board. Students would miss classes and stuff like that.
"We want to hold true to our Division III philosophy of the student-athlete. If we can alleviate crazy schedules which allows us to keep students in classes and engage in the college community a little bit more, then we're definitely going to take advantage of that."
Erin Miller, a first-year softball coach, grew up playing on grass fields in Waterford and at Eastern Connecticut State University. She's looking forward to all the benefits of a turf field.
"We're going to have a lot of people that are going to want to play us," Miller said. "A lot of people have dirt and I've always played on dirt. Just coaching in New England and knowing how many games we lose because the field is under water or rain or whatever it is, and knowing that we'll be able to have a field where we can still go out and practice is going to be so great.
"We'll definitely be able to get outside more. Even if it is a little cold, we at least know our field won't be frozen. We'll be able to take ground balls and fly balls or just throw. It's going to be really nice."
The project is expected to be completed by the end of September, in time for at least some of the fall season.
"It's going to be a game changer for us," Beausoleil said. "I really think it's going to be huge for us."
Learn more at mitchell.edu/game-changer-athletics-initiative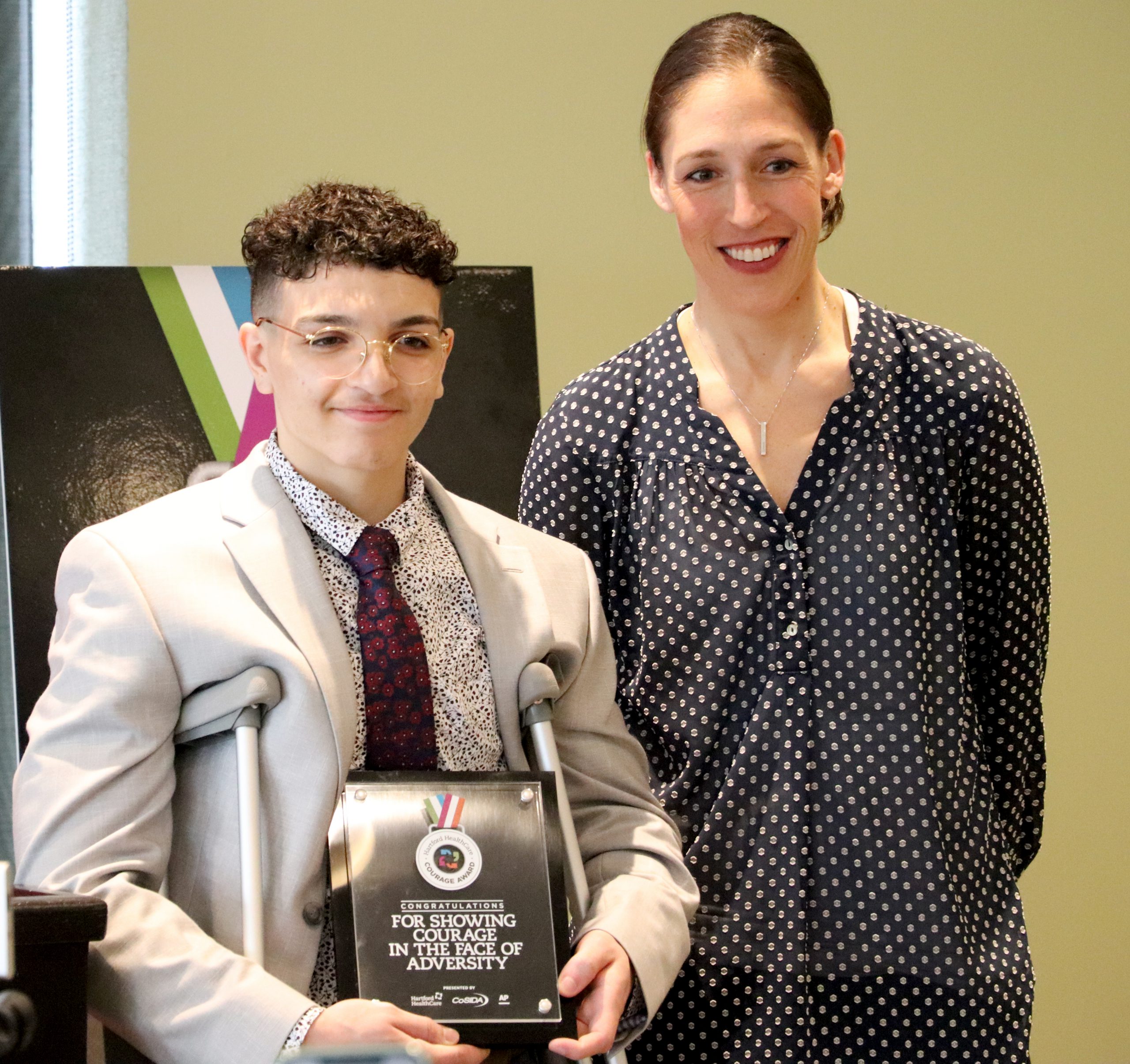 Mitchell Lacrosse Player Presented with Courage Award
March 10, 2020
Sophomore Mitchell lacrosse player Jacob Anderson was awarded the Hartford HealthCare Courage Award on Tuesday, March 10, 2020, at the Weller Center at Mitchell College. The special award recognizes student-athletes who have demonstrated courage in the face of adversity.
Known as the "Ironman" on the lacrosse team, someone who, according to Rich Petillo, head coach of Mitchell men's lacrosse, "works harder and harder and harder," Jacob suffered a stroke at just 18 years old during the fall of his freshman year. He bounced back and finished the lacrosse season with 14 goals and 7 assists in just 12 games. In the first game of his sophomore season, he tore both his ACL and MCL and underwent surgery. He plans to come back stronger in 2021.
Hartford HealthCare Ambassador and former WNBA player Rebecca Lobo, who presented the award to Jacob, described Jacob's setbacks as just a "blip in his career" and said he has "the perfect character to overcome" adversity.
Jacob recalled the day he suffered the stroke as "like any other day." He had worked out in the weight room and had gone to class. His teammates noticed changes in his speech and went with him to the emergency room, where he was suspected of having a stroke, was airlifted to Yale New Haven Hospital and underwent surgery to remove a blood clot in his brain.
He said that after his stroke he "gained strength from his immediate family and his lacrosse family" and went on to say that "without my lacrosse brothers I might not be here."
He reminded the audience at the event to "keep moving forward. Adversity in life is what helps build character."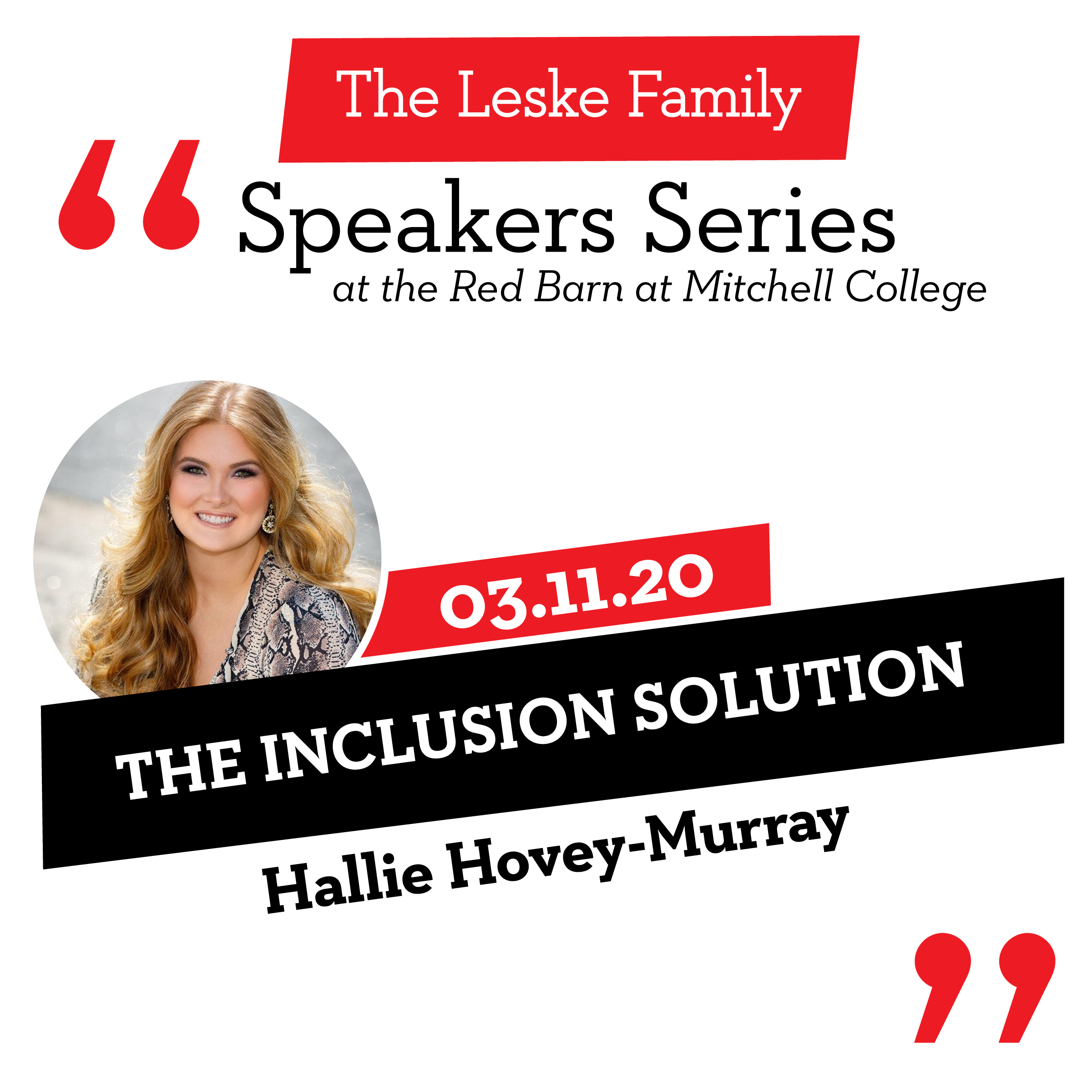 Speakers Series
The Inclusion Solution with Hallie Hovey-Murray  | March 11, 7pm at the Red Barn
Joining us at Mitchell College on Wednesday, March 11, 2020 from 7-8:30pm, Hallie Hovey-Murray will speak on the need to foster inclusion for Americans of all-abilities, why employment for individuals with different-abilities remains so low, why we need comprehensive education reform for students with different-abilities and what individuals can do to create a more inclusive culture on their campus and in their workplace. She will share her personal story and the work she has done as an advocate for all-ability inclusion.
This event is free and open to the public.  The Red Barn at Mitchell College is located at 629-A  Montauk Avenue, New London, CT 06320.
Learn more at mitchell.edu/speakers-series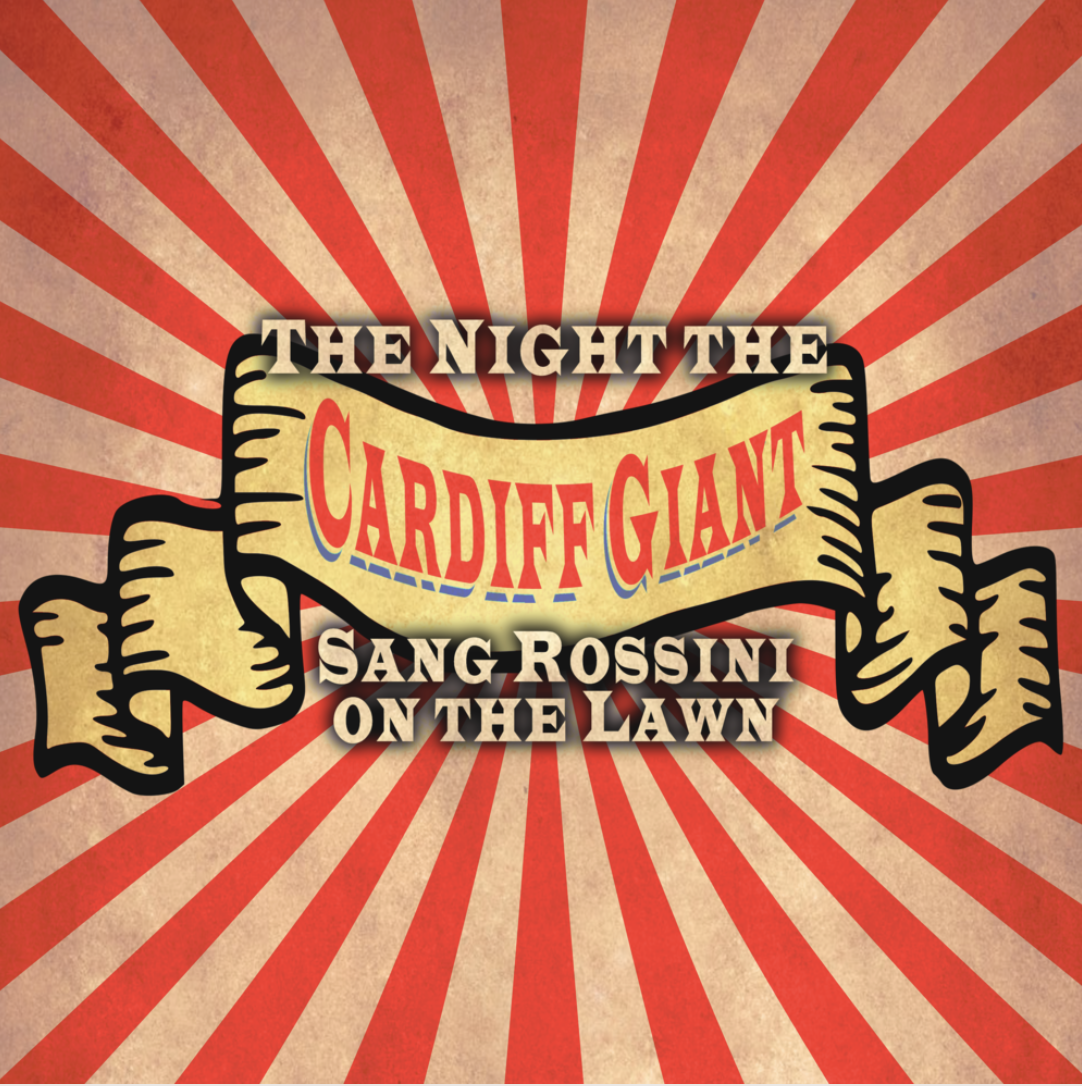 Flock Theatre Production
February 7-23  | Fridays & Saturdays at 7pm; Sundays at 2pm in the Red Barn
Tickets online at flocktheatre.org
Tickets – $20
Students, Seniors, and Active Military – $15
Charles Traeger's The Night the Cardiff Giant Sang Rossini on the Lawn will be presenting its world premiere at the Mitchell College Red Barn, opening February 7.
Set in 2006, The Night the Cardiff Giant Sang Rossini on the Lawn is an exploration of the concept of a hoax. The real Cardiff Giant was one of the most famous hoaxes in American history, a ten foot tall stone man conceptualized and commissioned by George Hull, a tobacconist from Binghamton, New York. Hull had the Giant buried and later hired men to dig a well and "discover" the giant, at which point Hull ran it as a sideshow and charged people to see a real, preserved giant as described in the Old Testament. Come and decide for yourself if a hoax can be real if you believe in it strongly enough.
The Red Barn at Mitchell College is located at 629-A Montauk Avenue, New London, CT 06320.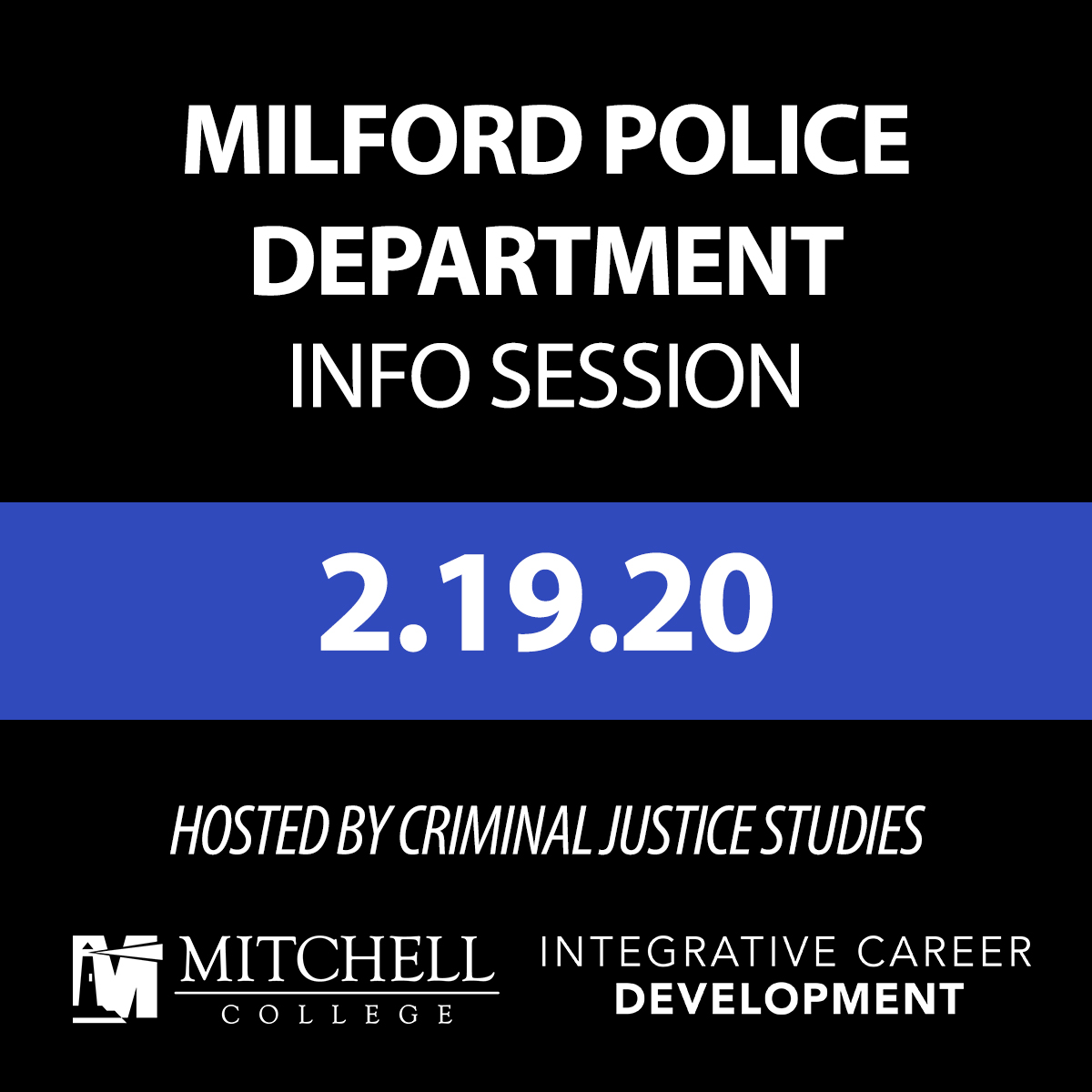 Career/Recruitment Event
Wed., February 19  |  10:30-11:30am in Weller Center
Criminal Justice Studies and Integrative Career Development invite you to attend an informational session with the Milford Police Department on Wednesday, February 19 from 10:30-11:30am in Weller Center. The Milford PD is actively seeking qualified individuals to join their police force. Information on recruitment, selection, and hiring process will be provided.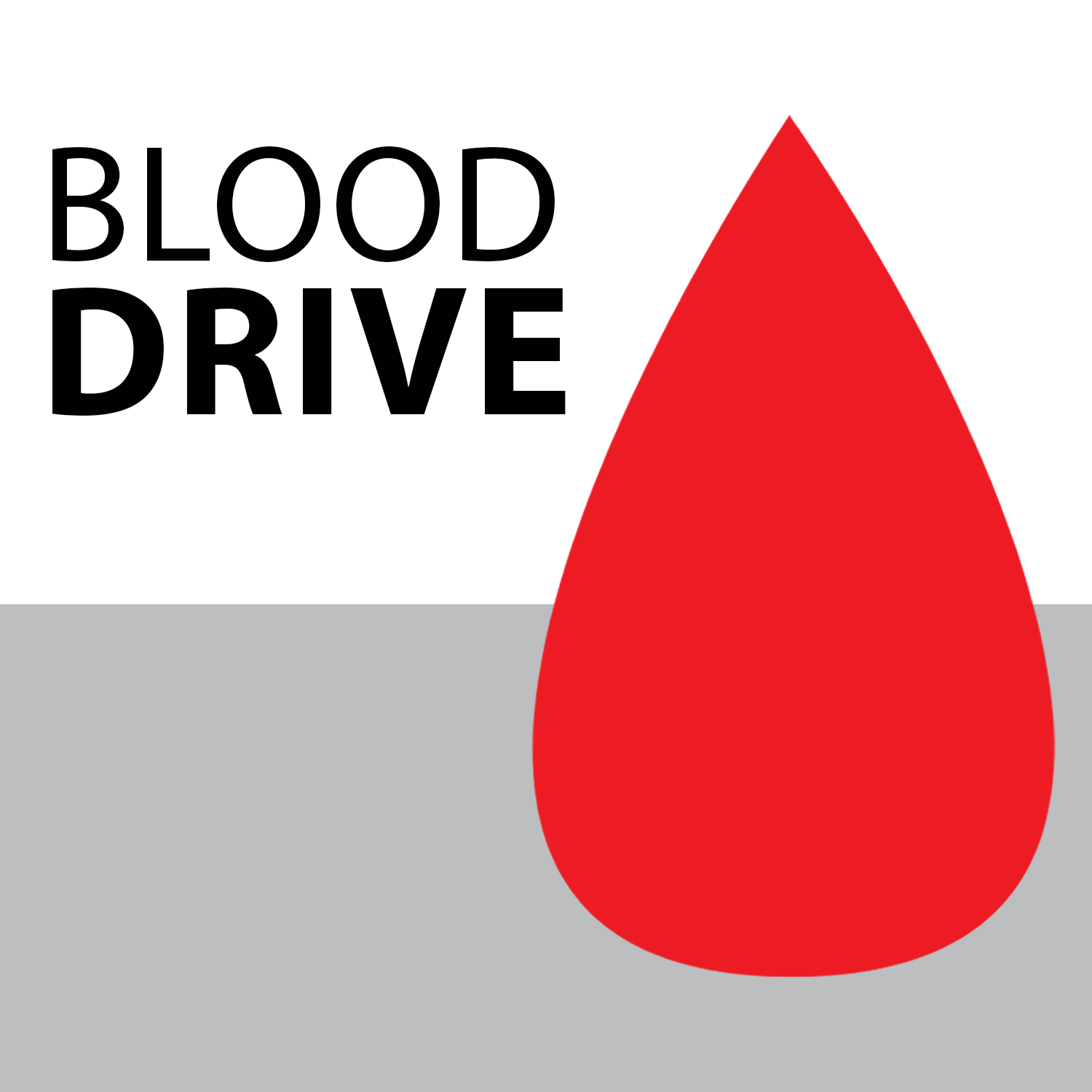 American Red Cross Blood Drive
Friday, January 17  | 11:45am-5:15pm, Weller Center
There is a critical need for all blood types with a less than 3 day supply of types O- and O+. All donors who donate at this blood drive will be automatically entered to win a trip for 2 to the Super Bowl (American Red Cross Super Bowl Experience; learn more here).
To sign up to donate blood on January 17, contact Diane Miller at miller_d@mitchell.edu.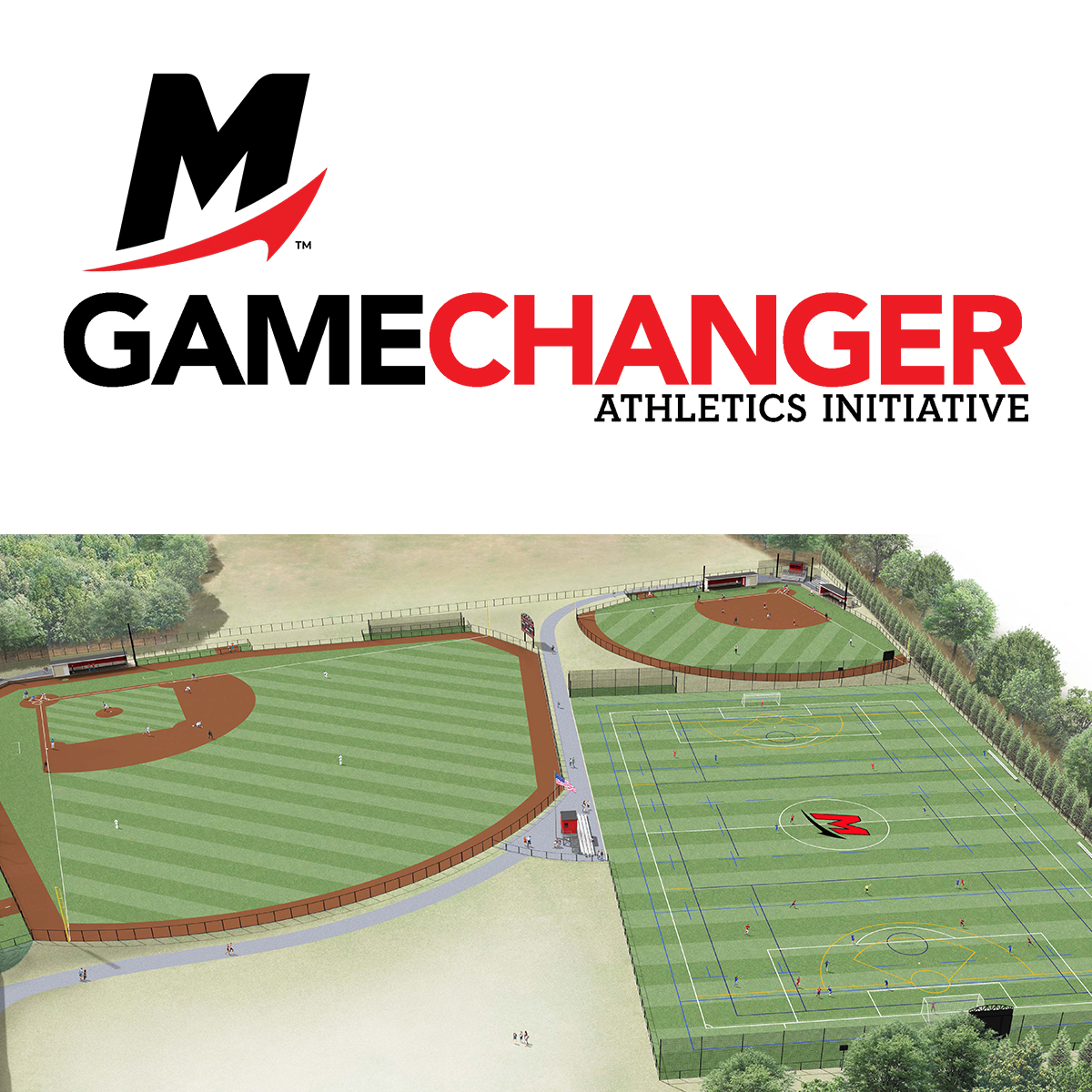 Gamechanger Athletics Initiative
February 14, 2020
Mitchell College is embarking on a $3.5 million fundraising initiative to renovate  athletics fields and facilities. The College invites everyone to join in and be a
Gamechanger
for Mitchell Athletics.
Athletics planned projects include:
Baseball Complex with new artificial turf baseball field/elevated press box/scoreboard/dugouts/fence & windscreens/bleachers/batting cage/bullpens
Multi-Sport Turf Field Complex supporting Soccer (M,W), Lacrosse (M,W) and Rugby (club) with new artificial turf multi-sport field/elevated press box/scoreboard/team shelter/bleachers
Softball Complex with new artificial turf softball field/elevated press box/scoreboard/dugouts/bleachers/batting cage/bullpen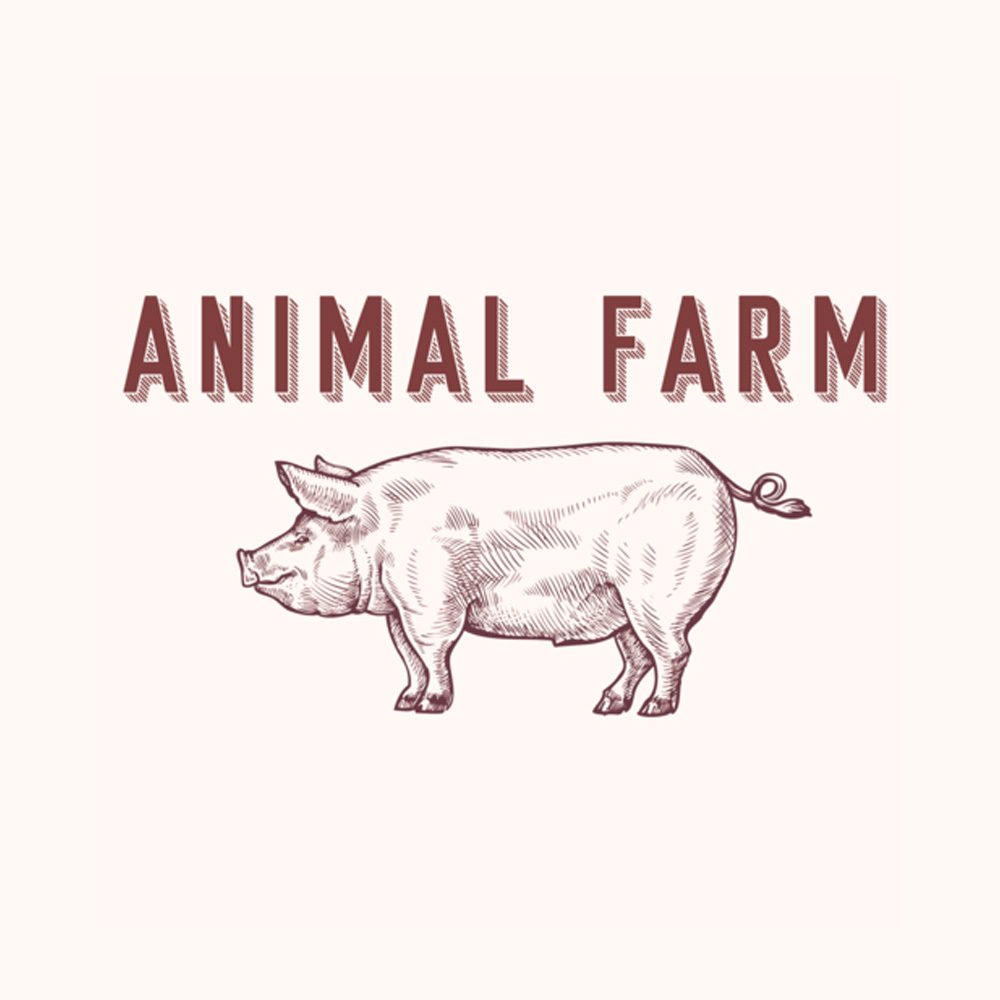 Animal Farm presented by Mitchell College and Flock Theatre
January 17, 18, 19  | 7pm
January 24, 25, 26  | 7pm
All performances Fridays-Sundays at the Red Barn at Mitchell College (629-A Montauk Ave., New London, CT)
Tickets online at flocktheatre.org/animal-farm-2020
General: $15
Students, Seniors, and Active Military: $5
Animal Farm by George Orwell
Adapted by Nelson Bond
Co-Produced by Mitchell College and Flock Theatre
Directed by Noah Todd and Victor Chiburis
Performed by Mitchell College students and Flock Theatre actors
Masks by Heather Asch
Orwell's famous allegorical novel transposed into script reflects the events that created the Stalinist era of the Soviet Union, set against the backdrop of the Manor Farm, an aesthetic perfectly imagined within Mitchell College's Red Barn venue.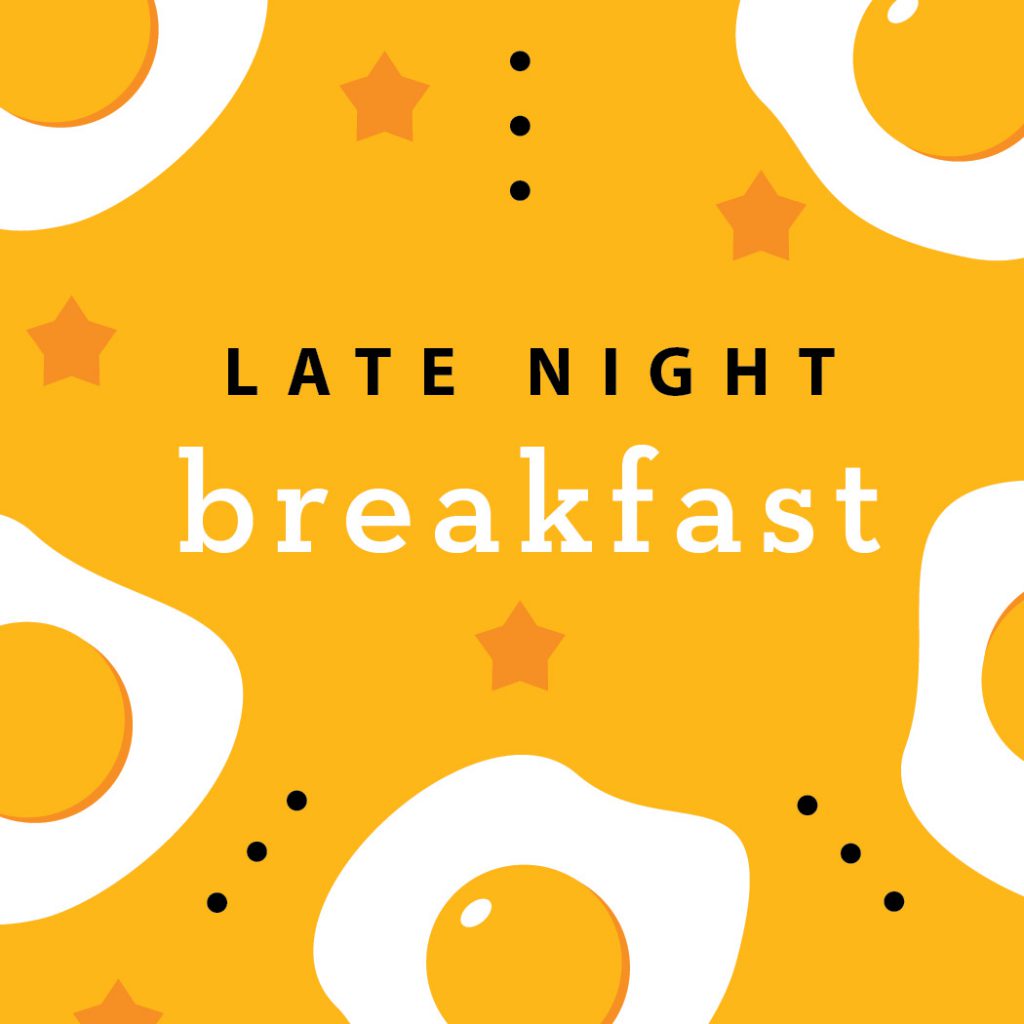 Late Night Breakfast
December 17 | 9:30-11pm
Milner Dining Hall
Open to all Mitchell and Thames students!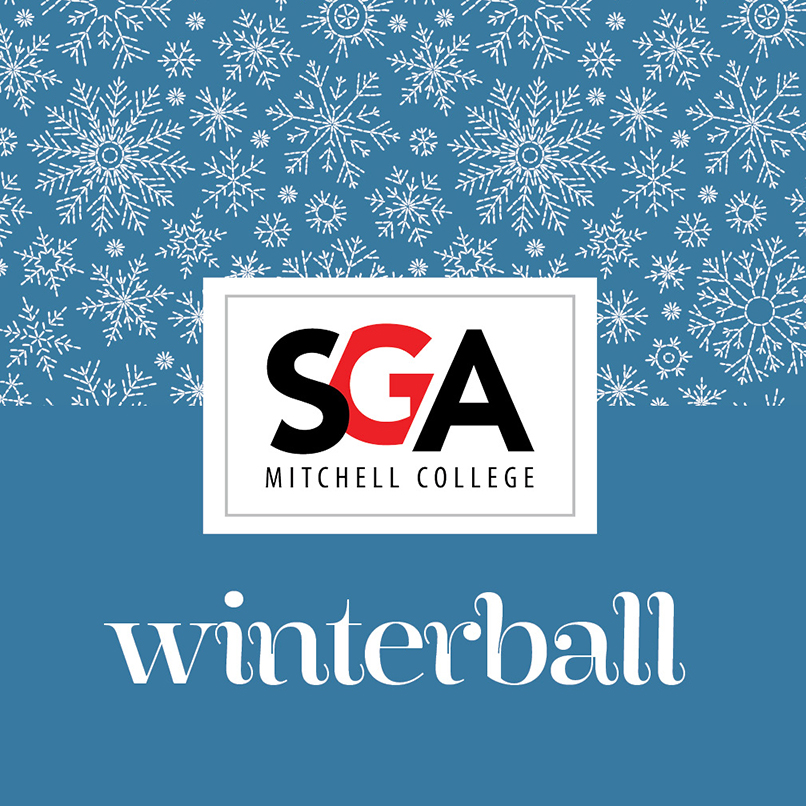 Winter Ball
Sunday, December 15  |  5-10pm
The Mystic Aquarium
Students, please join us for SGA's 5th Annual Ball at the Mystic Aquarium. Tickets are $15 ahead of time; $20 at the door. Includes transportation, dinner, dessert, DJ/dance and fun! Cash (or credit) bar for those 21+.
Strict dress code for this event:
see ticketing site for details.
Transportation:
The first bus leaves from Yarnall at 5pm and will shuttle continuously throughout the night.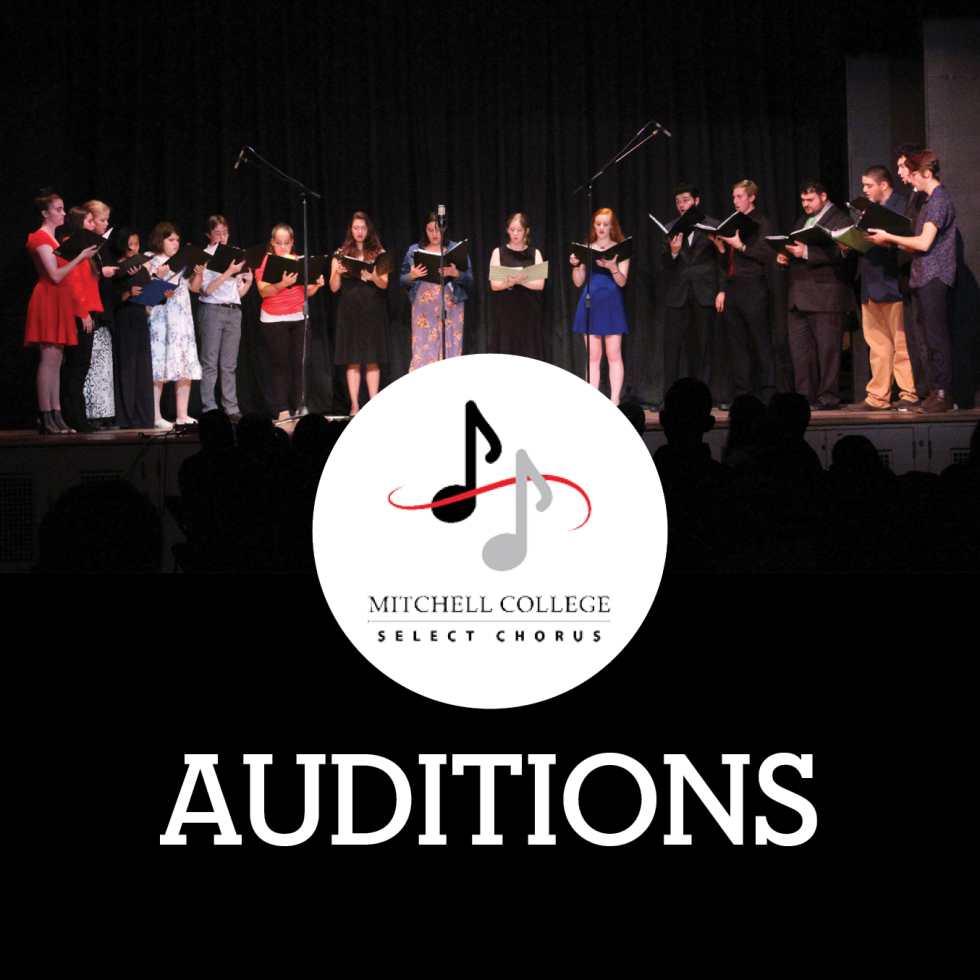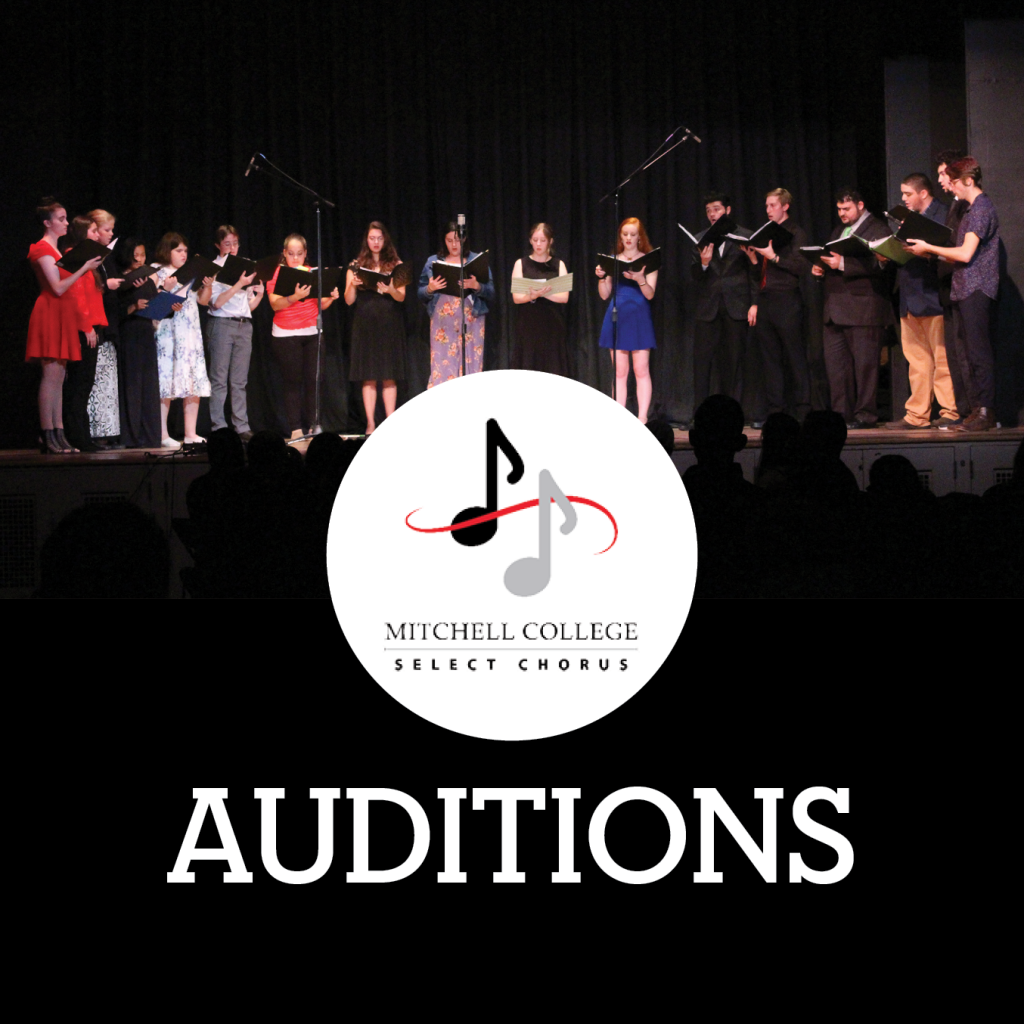 for Spring Select Chorus
Rehearsals begin January 2020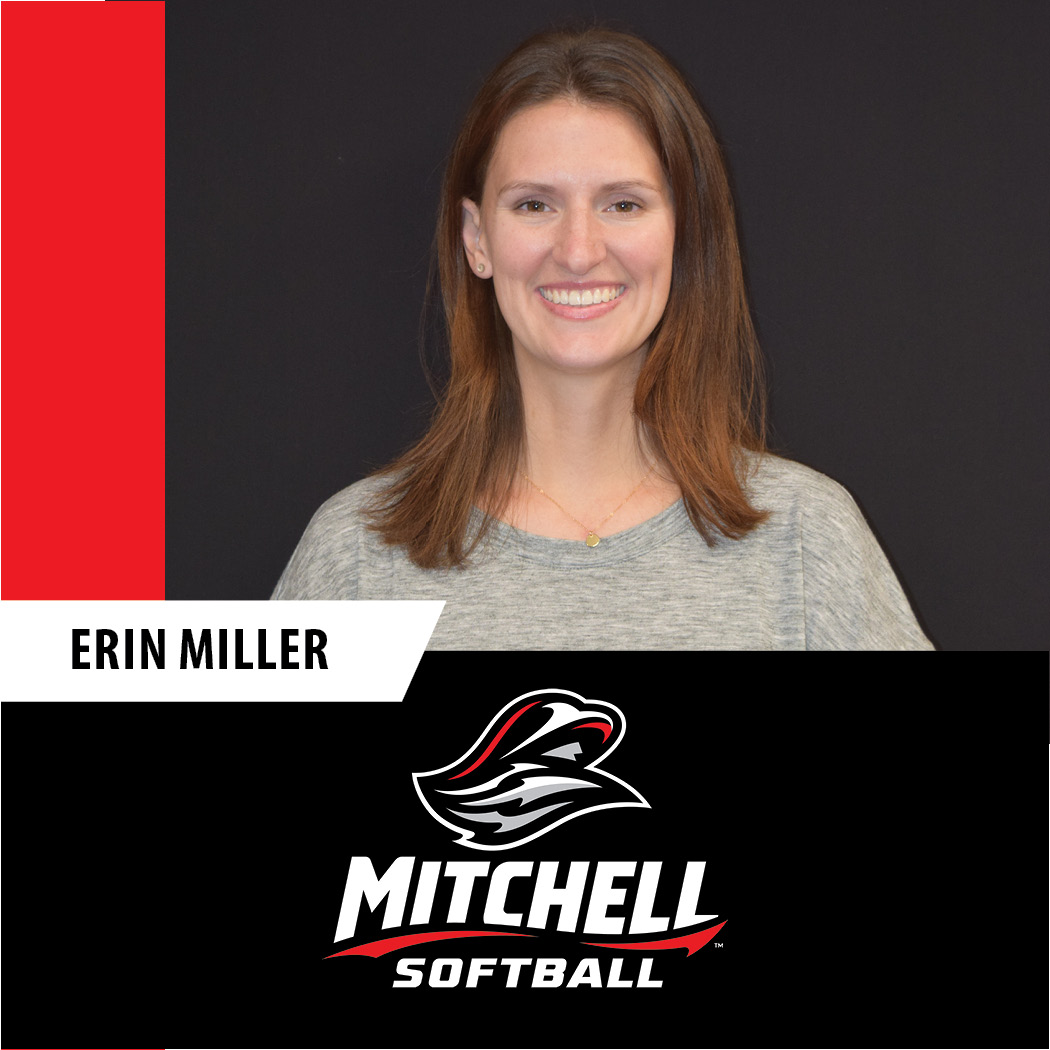 Erin Miller Named Softball Head Coach
 posted November 11, 2019
NEW LONDON, Conn. – Mitchell College has named Erin Miller as head coach of its softball program.
Miller, a native of Waterford, Conn., will make her head coaching debut with the Mariners. She previously spent the past two seasons as a graduate assistant and pitching coach at Smith College, and prior to that she was a pitching coach for two seasons at the United States Coast Guard Academy.
Read the full story here.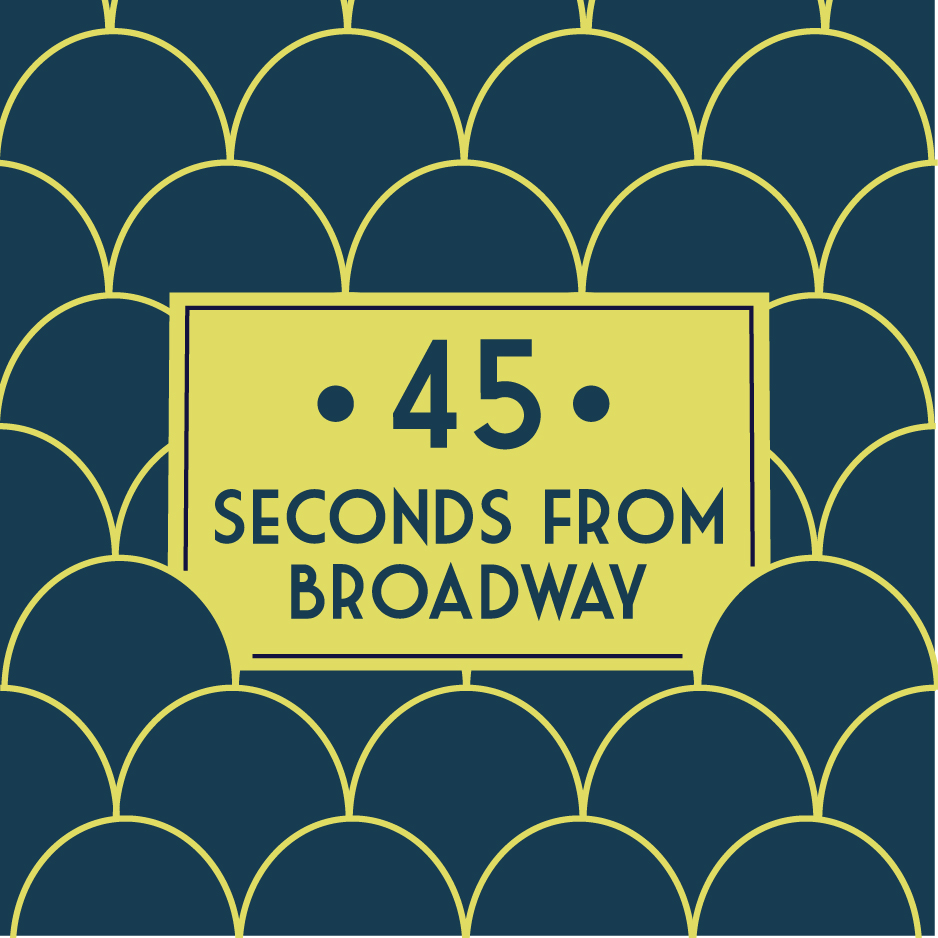 45 Seconds From Broadway
November 15 | 7pm
November 16 | 2pm & 7pm
November 17 | 2pm
On the Clarke Center Stage
Tickets are now available at
mitchell.edu/broadway-tix
for the Mitchell College Players' production of Neil Simon's 
45 Seconds from Broadway,
which takes place in the legendary 'Polish Tea Room' on New York's 47th Street. Here, Broadway theater personalities gather and schmooze in this touching valentine to New York on Broadway.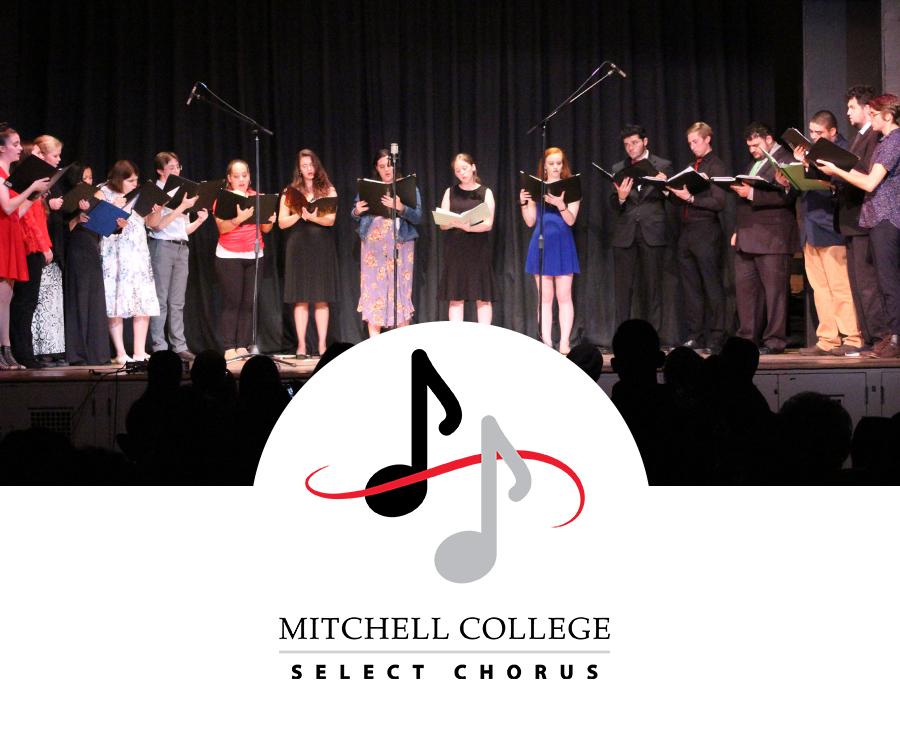 Fall Concert
Friday, November 8 | Red Barn, 7pm
Enjoy the talents of the Mitchell College Select Chorus in the Red Barn at Mitchell College (629-A Montauk Avenue, New London, CT 06320) for their fall concert, featuring the newest members of the Select Chorus! Repertoire will include
American Spirituals and Sea Chanties, Highlights from the American Jazz Age, English Part Songs and Seasonal Contemporary Works.
Nov
30
Mon
Collaborative Spotify Quarantine Playlist

@ https://open.spotify.com/playlist/1LHWHe29uH52D3pZELpUQC?si=Z5zBnqgcQK6igNIk8bcaZw
Nov 30 @ 8:00 am – Dec 16 @ 11:30 pm
*Attention all Mitchell and Thames Students*
What song has been on repeat for you lately? What's your go-to song for relaxation, motivation or studying vibes? 
Share them with other students in the Mitchell Community in this Collaborative Quarantine Playlist on Spotify!
Click the link below to be directed to the playlist:
https://open.spotify.com/playlist/1LHWHe29uH52D3pZELpUQC?si=Z5zBnqgcQK6igNIk8bcaZw
Learn more at http://mitchell.presence.io/event/collaborative-spotify-quarantine-playlist
Mariner On-Demand

@ https://mitchell.presence.io/experienceType/mariner-on-demand?id=8164f7a5-509e-4985-989d-e764f6ab35ca
Nov 30 @ 8:00 am – Dec 16 @ 11:30 pm
*Attention all Mitchell and Thames Students*
Are you looking for activities or want to try something new, but don't have the time? 
Mariner On-Demand is flexible programming available whenever you have free time!
Click the link below or follow these steps:

Go to the Mitchell Dock at https://mitchell.presence.io/
Select "Opportunities" then "Experiences"
Scroll down and click "Mariner On-Demand" on the right side
Check out the experiences of interest to you!
Activities include: Virtual Tours, Live Animal Cams, Mindfulness & Meditation, Exercise Videos and more!
Learn more at http://mitchell.presence.io/event/mariner-on-demand
Dec
3
Thu
Computer Clutter Care

@ https://us02web.zoom.us/j/7026891590?pwd=NEpjRFVtZzZraUhKODFKNGJGRW9Ldz09
Dec 3 @ 3:00 pm – 4:00 pm
Join RA Ash as she goes over different tricks for clearing and cleaning files on your computer to help with your assignments in school. She'll be going over many aspects for both your computer and your phone. 
Learn more at http://mitchell.presence.io/event/computer-clutter-care
Dec
11
Fri
Holiday Bingo

@ Zoom ID: 759-961-8076
Dec 11 @ 6:00 pm – Dec 11 @ 8:00 pm
*Attention all Thames and Mitchell Students*
Join the Campus Activities Board (CAB) for Virtual Holiday Bingo!
Bingo prizes
Winter beanie hat, gloves & scarf
Ugly Sweater
Godiva hot chocolate & coffee set
Echo Dot
Oversized wearable blanket
We will send the prizes to you at home!
Learn more at http://mitchell.presence.io/event/holiday-bingo-2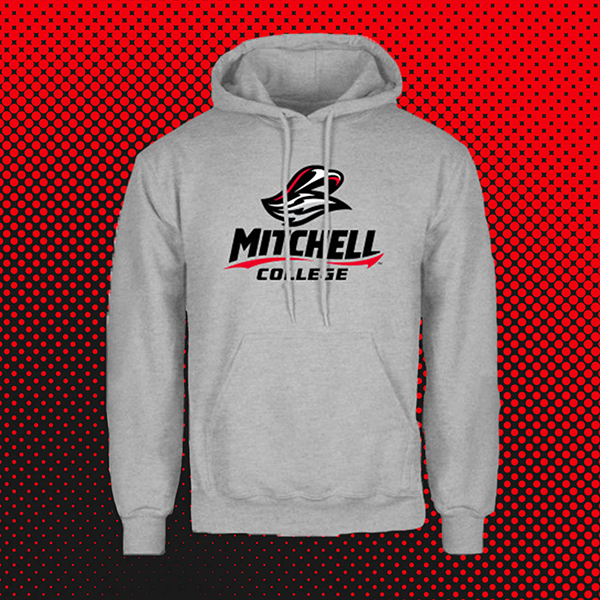 Mariner Merch
Get geared up with Mariner merchandise featuring our new athletics logo at
mitchellgear.com
.