A Day to Make A Difference
Radically Possible, Powerfully Mitchell
Mitchell Day of Giving: November 15, 2023
For 24 hours on November 15, the entire Mitchell community—alumni, faculty, staff, parents, and friends—will come together to make a difference in the lives of our students. It is a day to invest in our college's future and help our students explore their own 'Radical Possibilities.' On this day, you can make a difference by helping empower our students to be their best selves at Mitchell.
Your donation of any size will immediately help support students' needs and success during their time at Mitchell College.
Record Set in 2022: More than $100,000
Last year, your generosity helped us set another record for the most number of gifts to Mitchell in a single day—more than $100,000! Again this year, thanks to some of our generous donors, we have multiple 1:1 matches leading up to and on the Day of Giving to help us reach our goal. Keep on the lookout in email and social media for those matches.
How to Give
Using the form below, please designate your gift to the Annual/Adaptability Fund from the dropdown list to count for Day of Giving. Or, if you'd prefer, select one of the other giving options.
Mitchell College Giving
437 Pequot Avenue
New London, CT 06320
Thank you for your tax-deductible gift to Mitchell College!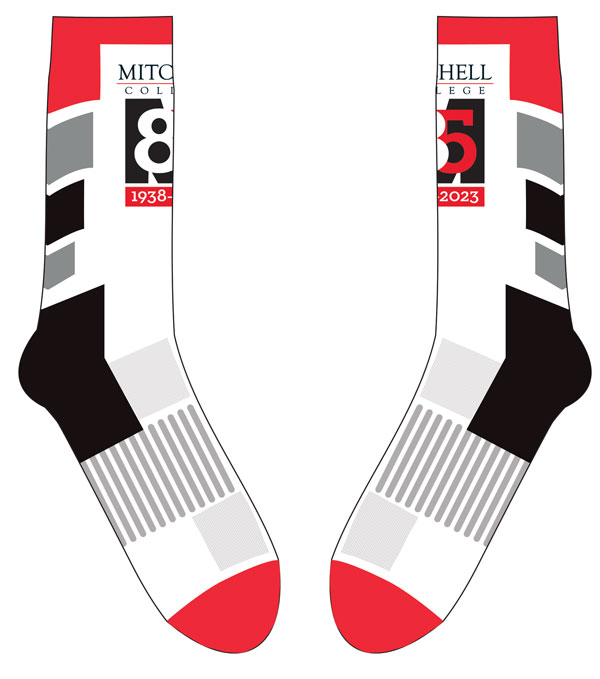 Rock Your Socks for Day of Giving
This year, all donations of $50 or more will receive a pair of our 2nd annual limited-edition Mitchell College socks celebrating our 85th anniversary.
Did you rock your socks in 2022? Below are some of the people who did!