Campus Visit
Campus tours are offered Monday through Thursday at 10:00am or 1:00pm and on Fridays at 9:30am for prospective students and their families.
A group information session precedes our tours and includes information about academics, student life, and navigating the admissions process. You can personalize your visit by meeting with other members of the college community such as admissions, financial aid, faculty, athletics, clubs, or the Bentsen Learning Center.
Concierge Visits
By scheduling a Concierge Visit, you can truly customize your Mitchell visit experience. Tell us what you would like to see and do and we will put together a customized visit for you. Concierge Visits require advance notice of at least one week and some options may be more limited in the summer. Visit options may include:
Tour
One-on-one with admissions team member
One-on-one with a faculty member
One-on-one with the Bentsen Learning Center (BLC)
One-on-one with Honors Program Admission Committee Member
One-on-one with Athletics
Breakfast, lunch or dinner in the dining hall
Sit in on a class
Attend a campus event (i.e. theatre production)
Other, depending on your interests!
You may schedule a Concierge Visit by contacting Christine Dickerson, our Campus Visit Experience Coordinator, at 860-701-5011 or by email at dickerson_c@mitchell.edu. You may also let us know of your interest in a Concierge Visit by completing a:
Accommodations and Dining
How will you find your fit at Mitchell?
Take our quick quiz to find out!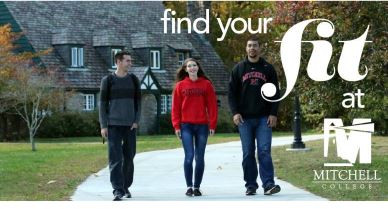 I came here and absolutely fell in love with it. Everybody was really nice—it felt like family.
Sophie Spiller Class of 2016, Psychology