Plan Your Campus Visit
Campus Visit Options
Campus Visits We have an array of campus visit options for you to choose from including Athletics Visits, Academic Support Visits, Thames at Mitchell College Visits and Traditional Visits. All visit options include an overview of our innovative liberal arts education model that prepares students for the 21st century by engaging each student's interests and strengths, teaching transferable skills, and connecting students with professional experiences while in college.
---
Concierge Visits Want to see more? Sit on a class, meet with a professor, have lunch in our dining hall? Tell us what you would like to see and do and we will put together a customized visit for you. Concierge Visits require advance notice of at least one week. Request by submitting a:
---
Transfer Thursdays Considering transferring from another college, community college or university? Mitchell College warmly welcomes transfer students into our Mariner family! In addition to applying, you will want to set up a visit as soon as possible, so join us for a Transfer Thursday on select Thursdays from 1-3pm!
---
Questions about a Campus or Concierge Visit? Please contact Christine Dickerson, our Campus Visit Experience Coordinator, at 860-701-5011 or by email at visit@mitchell.edu.
Accepted Students Day | March 24 or April 7
All students who have been accepted to Mitchell College for Fall 2018 but have not yet made their deposit are invited to join us for Accepted Students Day on
Saturday, March 24

OR

Saturday, April 7. 
Learn More and Register.
New Student Orientation | March 24 or April 7
All students who have made their deposit to Mitchell for Fall 2018 are invited to join us for Accepted Students Day and New Student Orientation on
Saturday, March 24

OR

Saturday, April 7. 
Learn More and Register.
Spring Open House | March 24 and April 7
Experience Mitchell College for yourself at our Spring Open House! You and your parents are invited to join us Saturday, March 24, 2018 or Saturday, April 7 at 9:30am on our beautiful waterfront campus where you will:
Get the big picture as you explore campus, discover opportunities outside the classroom and mingle with the Mitchell College community.
Learn more about what you're interested in! You'll get a snapshot of the Mitchell College life:

meet the faculty and explore majors and our honors program
find out what makes our campus life so vibrant and fun
get an inside look at our winning Division III Athletics program
find out why so many Mitchell students are discovering hidden talents in performing arts through our growing theater and choral programs
see the inner workings of our nationally recognized academic support system
Find out how Mitchell College makes the path to college easier through scholarships and financial aid
For students and parents interested in learning more about Thames at Mitchell College (mitchell.edu/thames), our unique college transition program on a college campus, there will be an opportunity to explore this highly individualized academic option.
Of course the Mitchell College Admissions Team will be ready to meet you and answer all your questions about applying to Mitchell or applying to Thames at Mitchell College and getting you one step closer to becoming a Mitchell Mariner!
Campus Map & Area Accommodations
How will you find your fit at Mitchell?
Take our quick quiz to find out!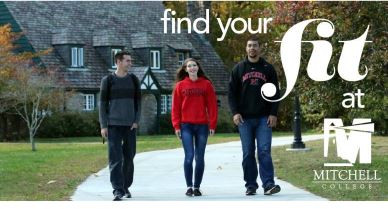 I came here and absolutely fell in love with it. Everybody was really nice—it felt like family.
Sophie Spiller Class of 2016, Psychology