Campus Community Announcements & Calendar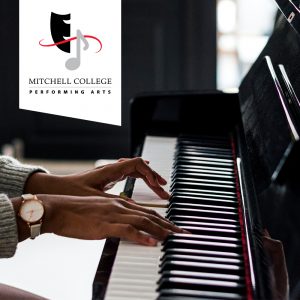 Private piano lessons are now available at a
special Mitchell discounted rate
of $40/one-hour lesson or $20/30-minute lesson on Wednesdays between 10am-6pm. Lessons are taught by pianist Raymond Buttero – read his bio and find out more
here
. To schedule a lesson, contact
babbitt_j@mitchell.edu
.
Mitchell College's resident theater, Flock Theatre, will present their annual Halloween production of Macbeth to be performed in the Red Barn at Mitchell College. Regular performanes wil be held Friday, Nov. 1 & Sunday, Nov. 3 – purchase your tickets here.
Special Dinner Performance
Saturday, Nov. 2 – Experience Macbeth's coronation banquet like never before with a meal that promises to delight the senses. Food provided by Tim Grills of Mitchell College Dining Services. $50; very limited seating. Purchase your tickets here.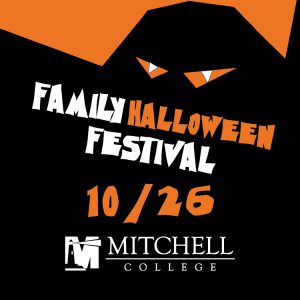 You're invited to join us for the 13th Annual Family Halloween Festival on Saturday, October 26 on the Mitchell College Green and Clarke Center from 10 a.m.-4 p.m. This event is hosted by the Mitchell College Behavioral Sciences Club, and we are asking families to donate one non-perishable canned good to support the Gemma E. Moran United Way/Labor Food Pantry. The event will feature numerous Halloween games, storytelling, arts and crafts, costume parades, a food pavilion, and more! 
For more information, please visit mitchell.edu/News-Events/ or contact 860-701-7719 or halloweenfestival@mitchell.edu.
Jan
19
Sun
MLK Door Decoration Contest

@ Mariner Hall
Jan 19 @ 5:00 pm – Jan 31 @ 9:30 pm
*Attention Mariner Hall Residents*
Get creative with your suite mates and decorate your door to honor MLK and ring in Black History month!
Doors will be judge on Friday, January 31st. 
Winning suite will win a $50 Amazon gift card!
Learn more at http://mitchell.presence.io/event/mlk-door-decoration-contest
Jan
24
Fri
Animal Farm presented by Mitchell College and Flock Theatre

@ Red Barn at Mitchell College
Jan 24 @ 7:00 pm – 9:00 pm
Mitchell College & Flock Theatre present Animal Farm at the Red Barn
Performances Fridays-Sundays
January 17, 18, 19 | 7pm
January 24, 25, 26 | 7pm
Tickets 
General: $15 | Students, Seniors, and Active Military:  $5
For tickets visit flocktheatre.org/animal-farm-2020
Animal Farm by George Orwell
Adapted by Nelson Bond
Co-Produced by Mitchell College and Flock Theatre
Directed by Noah Todd and Victor Chiburis
Orwell's famous allegorical novel transposed into script reflects the events that created the Stalinist era of the Soviet Union, set against the backdrop of the Manor Farm, an aesthetic perfectly imagined within Mitchell College's Red Barn venue. In Animal Farm, two young pigs named Napoleon and Snowball mount a rebellion against the farmers when their leader, Old Major, passes away. The play follows Napoleon as he slowly and nefariously restructures the farm, wages war, and controls his subordinates through propaganda and manipulation.
Learn more at http://mitchell.presence.io/event/animal-farm-presented-by-mitchell-college-and-flock-theatre-4
Taco Time

@ Saunders Lobby
Jan 24 @ 7:00 pm – 8:00 pm
*Attention Saunders Hall Residents*
Join RA Ashley in the Saunders lobby for tacos! 
Who can say no to tacos!?
Learn more at http://mitchell.presence.io/event/taco-time
Movie Theater Night

@ Moorings
Jan 24 @ 9:00 pm – 11:30 pm
*Attention Thames at Mitchell Students*
Come join us for a fun night off campus at the local movie theater. 
Movie: Jumanji: The Next Level (2019)
Transportation provided. 
Learn more at http://mitchell.presence.io/event/movie-theater-night
Sun
Mon
Tue
Wed
Thu
Fri
Sat

House Meeting

@ Moorings Lobby

Jan 15 @ 6:00 pm – 6:30 pm

*Attention Thames at Mitchell Students*Welcome back!  Please join the RHDs, RAs, Ron & Beverly for a meeting about spring semester!Attendance is MANDATORY! Learn more at http://mitchell.presence.io/event/house-meeting

Blood Drive

@ Weller Center

Jan 17 @ 11:45 am – 5:15 pm

Every day, blood donors help patients of all ages: accident and burn victims, heart surgery and organ transplant patients, and those battling cancer. In fact, every two seconds, someone in the U.S. needs blood.Please contact[...]

Animal Farm presented by Mitchell College and Flock Theatre

7:00 pm

Animal Farm presented by Mitchell College and Flock Theatre

@ Red Barn at Mitchell College

Jan 17 @ 7:00 pm – 9:00 pm

Mitchell College & Flock Theatre present Animal Farm at the Red BarnPerformances Fridays-SundaysJanuary 17, 18, 19 | 7pmJanuary 24, 25, 26 | 7pmTickets General: $15 | Students, Seniors, and Active Military:  $5For tickets visit flocktheatre.org/animal-farm-2020Animal Farm by George OrwellAdapted[...]

Shopping Shuttle

@ Departs from Student Center

Jan 20 @ 5:00 pm – Jan 20 @ 9:00 pm

Want to go shopping at the Crystal Mall? Need something from Target?Come take a ride on the Mitchell College shopping shuttle (free for students).  Learn more at http://mitchell.presence.io/event/shopping-shuttle-15

MLK Day: Movie Night "Selma"

7:00 pm

MLK Day: Movie Night "Selma"

@ Weller

Jan 20 @ 7:00 pm – 9:30 pm

Please join us in honoring MLK day with the movie "Selma".Food & Drinks Provided.  Learn more at http://mitchell.presence.io/event/mlk-day-movie-night-selma

Pearler Bead Art

@ Fair Haven Kitchen

Jan 21 @ 6:00 pm – Jan 21 @ 7:00 pm

*Attention Thames at Mitchell Students*Join RHD Jess in creating colorful art with pearler beads! Learn more at http://mitchell.presence.io/event/pearler-bead-art

Car Maintenance

@ Moorings

Jan 21 @ 7:00 pm – 8:00 pm

*Attention Thames at Mitchell Students*Driving and caring for a car is a huge responsibility! Come learn some helpful tips for keeping your car safe.  Learn more at http://mitchell.presence.io/event/car-maintenance

Women's Group

@ Harbor House Lobby

Jan 21 @ 7:00 pm – 8:00 pm

*Attention Thames at Mitchell Students*Come be a part of our Women's Group! Bond and support your fellow female residents through fun activities and interesting discussions.Hope to see you there. Learn more at http://mitchell.presence.io/event/womens-group

Boston Celtics Game

4:00 pm

Boston Celtics Game

@ Coach Bus leaves from Yarnall for TD Garden

Jan 22 @ 4:00 pm – Jan 22 @ 11:00 pm

Boston Celtics vs the Memphis Grizzlies at TD GardenTicket price incudes transportation and ticket. Sign up at Ticketleap Mitchell College Campus LifeTickets $50 or free for WAVE pass! RSVP link – https://mccampuslife.ticketleap.com/boston-celtics-game-vs-the/get-there/ Learn more at http://mitchell.presence.io/event/boston-celtics-game

Men's Basketball

@ Yarnall Athletic Center

Jan 22 @ 6:00 pm – Jan 22 @ 8:00 pm

Men's Basketball vs Lesley Learn more at http://mitchell.presence.io/event/mens-basketball-5

Magician and Comedian Michael Kent

8:00 pm

Magician and Comedian Michael Kent

@ Red Barn

Jan 22 @ 8:00 pm – 9:00 pm

Michael Kent is a magician/comedian and there's a reason he's been named Entertainer of the Year and Magician of the Year! His unique style of performing magic has made him a favorite in over 500 college campuses[...]

Casual Gaming Club

7:00 pm

Casual Gaming Club

@ Student Center

Jan 23 @ 7:00 pm – 9:00 pm

Wanna dive into the gaming culture at Mitchell, but Saturdays are a bit much?  No worries!  The Competitive Gaming Club is hosting an off-shoot, the Casual Gaming Club, where attendees play more pick-up-and-play titles like[...]

Shopping Shuttle (Thames Only)

8:30 pm

Shopping Shuttle (Thames Only)

@ Departs from Student Center

Jan 23 @ 8:30 pm – 9:30 pm

Want to go shopping at the Crystal Mall? Need something from Target?Come take a ride on the Mitchell College shopping shuttle (free for students).  Learn more at http://mitchell.presence.io/event/shopping-shuttle-thames-only

Animal Farm presented by Mitchell College and Flock Theatre

7:00 pm

Animal Farm presented by Mitchell College and Flock Theatre

@ Red Barn at Mitchell College

Jan 24 @ 7:00 pm – 9:00 pm

Mitchell College & Flock Theatre present Animal Farm at the Red BarnPerformances Fridays-SundaysJanuary 17, 18, 19 | 7pmJanuary 24, 25, 26 | 7pmTickets General: $15 | Students, Seniors, and Active Military:  $5For tickets visit flocktheatre.org/animal-farm-2020Animal Farm by George OrwellAdapted[...]

Taco Time

@ Saunders Lobby

Jan 24 @ 7:00 pm – 8:00 pm

*Attention Saunders Hall Residents*Join RA Ashley in the Saunders lobby for tacos! Who can say no to tacos!? Learn more at http://mitchell.presence.io/event/taco-time

Movie Theater Night

9:00 pm

Movie Theater Night

@ Moorings

Jan 24 @ 9:00 pm – 11:30 pm

*Attention Thames at Mitchell Students*Come join us for a fun night off campus at the local movie theater. Movie: Jumanji: The Next Level (2019)Transportation provided.  Learn more at http://mitchell.presence.io/event/movie-theater-night

Animal Farm presented by Mitchell College and Flock Theatre

7:00 pm

Animal Farm presented by Mitchell College and Flock Theatre

@ Red Barn at Mitchell College

Jan 26 @ 7:00 pm – 9:00 pm

Mitchell College & Flock Theatre present Animal Farm at the Red BarnPerformances Fridays-SundaysJanuary 17, 18, 19 | 7pmJanuary 24, 25, 26 | 7pmTickets General: $15 | Students, Seniors, and Active Military:  $5For tickets visit flocktheatre.org/animal-farm-2020Animal Farm by George OrwellAdapted[...]

Spring Semester Celebration

8:00 pm

Spring Semester Celebration

@ Montauk Lobby

Jan 26 @ 8:00 pm – 10:00 pm

*Attention Montauk Residents*Come kick off the semester on a positive note with your fellow residents. Learn important dates and information for the semester, catch up with fellow residents and eat some snacks! Learn more at http://mitchell.presence.io/event/spring-semester-celebration

Pajama Pizza Party

9:00 pm

Pajama Pizza Party

@ 2nd floor lounge

Jan 26 @ 9:00 pm – 10:00 pm

*Attention Simpson 2nd Floor Residents*Come enjoy pizza in your jammies with RA Jay. What better way to kick off the start of second semester than with a pizza party? Drinks and pizza will be provided. Learn more[...]

Shopping Shuttle

@ Departs from Student Center

Jan 27 @ 5:00 pm – Jan 27 @ 9:00 pm

Want to go shopping at the Crystal Mall? Need something from Target?Come take a ride on the Mitchell College shopping shuttle (free for students).  Learn more at http://mitchell.presence.io/event/shopping-shuttle-16

Mystic Mindfulness Mondays

6:00 pm

Mystic Mindfulness Mondays

@ Umbrella House

Jan 27 @ 6:00 pm – Jan 27 @ 7:00 pm

*Attention Mystic Students*Come learn how to practice mindfulness to improve your overall well-being. Monday Nights: 6:00-7:00 PM Learn more at http://mitchell.presence.io/event/mystic-mindfulness-mondays

Baking

@ Fair Haven

Jan 27 @ 7:00 pm – 8:00 pm

*Attention Thames at Mitchell Students*Come join your fellow residents and bake delicious snacks and treats. Learn more at http://mitchell.presence.io/event/baking-3

Munchy Monday

@ Saunders Lobby

Jan 27 @ 7:00 pm – 10:00 pm

*Attention Saunders Hall Residents*Come eat some snacks, chill, and play some games with your fellow residents.Pizza, chips, cookies, drinks, and good vibes!  Learn more at http://mitchell.presence.io/event/munchy-monday

Thames Mindfulness Mondays

7:00 pm

Thames Mindfulness Mondays

@ Umbrella House

Jan 27 @ 7:00 pm – 8:00 pm

*Attention Thames at Mitchell Students*Come learn how to practice mindfulness to improve your overall well-being.  Learn more at http://mitchell.presence.io/event/mindfulness-sundays-3

Dance & Cheer Spring Tryouts

7:00 pm

Dance & Cheer Spring Tryouts

@ Clarke Center

Jan 27 @ 7:00 pm – 9:00 pm

Come see what the Mitchell College Dance & Cheer team is all about! No experience is needed but we are looking for all types of talent- including a dance & cheer background and tumbling skills! Spread the[...]

Diversity Cupcake

8:00 pm

Diversity Cupcake

@ Simpson Lobby

Jan 27 @ 8:00 pm – 9:00 pm

*Attention Simpson Hall Residents*Come decorate your own cupcake in a way that best describes you! Learn more at http://mitchell.presence.io/event/diversity-cupcake

DIY Shower Steamers

6:00 pm

DIY Shower Steamers

@ Fair Haven Kitchen

Jan 28 @ 6:00 pm – Jan 28 @ 7:00 pm

*Attention Thames at Mitchell Students*Make your showers more enjoyable with a homemade shower steamer! Supplies provided.  Learn more at http://mitchell.presence.io/event/diy-shower-steamers

Women's Basketball

6:00 pm

Women's Basketball

@ Yarnall Athletic Center

Jan 28 @ 6:00 pm – Jan 28 @ 8:00 pm

Women's Basketball vs Bay Path Learn more at http://mitchell.presence.io/event/womens-basketball-5

Ping-Pong Tournament

7:00 pm

Ping-Pong Tournament

@ Moorings

Jan 28 @ 7:00 pm – 8:00 pm

*Attention Thames at Mitchell Residents*Do you have what it takes to be the next Ping-pong champion? Come test your skills and see if you walk home with the trophy.  Learn more at http://mitchell.presence.io/event/ping-pong-tournament

Women's Group

@ Harbor House Lobby

Jan 28 @ 7:00 pm – 8:00 pm

*Attention Thames at Mitchell Students*Come be a part of our Women's Group! Bond and support your fellow female residents through fun activities and interesting discussions.Hope to see you there. Learn more at http://mitchell.presence.io/event/womens-group-2

Pokemon Go Club Raid Hour

6:00 pm

Pokemon Go Club Raid Hour

@ Student Center

Jan 29 @ 6:00 pm – Jan 29 @ 7:00 pm

The Pokemon Go Club is meeting to do a raid hour on campus!Bring your phones, portable chargers and your Pokedex to take on all of the raid bosses.We hope to see you there!Dress Warm!!!! Learn[...]

DIY Lava Lamps

@ Saunders Lobby

Jan 30 @ 8:00 pm – 9:00 pm

* Attention Saunders Hall Residents*Come create your own lava lamp safe to have in your room.  Learn more at http://mitchell.presence.io/event/diy-lava-lamps

Rootbeer/Coke Floats Party!

8:00 pm

Rootbeer/Coke Floats Party!

@ Harbor House

Jan 30 @ 8:00 pm – 9:00 pm

*Attention Thames at Mitchell Residents*Join RA Ash to make a Root Beer or Coca Cola float.Relive your childhood with this delicious treat! Learn more at http://mitchell.presence.io/event/rootbeer-coke-floats-party