STUDENT RESOURCES
2022/2023 Cost of Attendance
Tuition, Fees, Room and Board for Students Living On Campus
2022/2023
Tuition: $35,000
Room & Board: $14,800
Fees: $2,250
Per credit fee over 18 credits per semester: $525
Breakage Deposit: $250
(All full-time students are required to provide a one-time breakage deposit upon enrollment. Breakage deposits are held until a student graduates or withdraws, at which time deductions from this deposit will be used to satisfy outstanding damage assessments, fines, parking tickets, or other costs billed to a student account before being refunded to the student.)
Premium Housing (additional per semester)
Montauk Apartments: $750 per semester
Mariner Hall: $650 per semester
Single Room: $1,530 per semester
Tuition and Fees for Commuter Students
2022/2023
Tuition: $35,000
Fees: $2250
Per credit fee over 18 credits per semester: $525
Tuition and Fees for Part-time Students
2022/2023
Part-time tuition (9, 10 or 11 credits): $12,500 per semester
Part-time tuition (less than 9 credits): $525 per credit hour
Science lab fee: $50 per lab (non-matriculating students)
Computer lab fee: $50 per lab (non-matriculating students)
Fees For Students Using the Bentsen Learning Center/ACE
2022/2023
Comprehensive Strategic Learning: $4,175 per semester
Enhanced Strategic Learning: $2,800 per semester
Transitional Strategic Learning: $1,425 per semester
Academic Coaching for Empowerment (ACE): $925 per semester
Learn more at mitchell.edu/academic-support
Fees For Students Enrolled in the Mystic Program
2022/2023
Mystic Program: $4,175 per semester; $8,350 per year
Learn more at mitchell.edu/mystic
Tuition Protection Plan
What happens when your student's education is disrupted by an unexpected injury or illness? Depending on the timing of the withdrawal, you may not be eligible to receive a refund of all of your tuition and fees.
The Tuition Protection Insurance Plan helps students and their families overcome the financial losses that may result from events which force students to withdraw from the semester due to a covered medical reason. Helping families get the most out of your Mitchell College experience is always our top priority. That's why we've partnered with GradGuard™ to make the Tuition Insurance Plan available to our families.
This coverage strengthens and broadens the scope of our existing refund policy by ensuring reimbursement for tuition, housing and other payments if a student withdraws for any covered medical reason at any time during the semester.
Please remember the deadline to enroll is the day before classes begin each semester.
Learn more at GradGuard.com or 877-794-6603
Student Health Insurance
All full-time students are required to maintain adequate health insurance, either under your own private plan or under the Student Health Insurance Plan sponsored by the College. All full-time, new and returning students must each year visit www.gallagherstudent.com/Mitchell to enroll in a plan or sign a waiver if you choose to maintain medical coverage in a plan other than the College-sponsored plan. For 2020/2021, students who do not complete the waiver by the deadline of September 15, 2020, will automatically be enrolled in the College-sponsored health insurance plan and billed accordingly.
Financial Responsibility Agreement
All new incoming students are required to sign and submit the Financial Responsibility Agreement Form which may be viewed
here
.
Payment Options
Online Payment Options
To make a deposit or tuition payment with your credit card, debit card or ACH, please visit: https://mitchell.diamondmindinc.com.
Mitchell College is committed to providing a range of payment options to accommodate the preferences and financial circumstances of families. Payments can be submited by credit card, debit card or ACH* payment. Offering several options permits our families to have choices that meet their needs.
Payment by ACH can be made without any fee assessed. Payments made by credit card or debit card will be assessed a convenience fee by Diamond Mind, Inc. We welcome your payment by Master Card®, VISA®, American Express® and Discover®.
If you have any questions, please call Amanda Carter, Bursar, at bursar@mitchell.edu or 860-701-5061.
* ACH is the Automated Clearing House system which will process this kind of payment as a check from your bank account.
Off-Line Payment Options
Tuition payments may also be made by cash, check, or money order. Payments maybe be mailed to:
Mitchell College
Bursar's Office
437 Pequot Ave.
New London, CT 06320
Student will be charged a $35 returned check fee if any payment made by check is later returned to Mitchell College by the bank for any reason.
If you have any questions, please contact the Bursar's Office at: 860-701-5061 or bursar@mitchell.edu
Student Account Payment Plans
Mitchell College offers a 10 deferred payment plan which may be applied to the balance remaining after all financial aid is disbursed.
To use the deferred payment plan, you must fill out a Payment Plan Enrollment Form. Contact the Business Office at 860-701-5061 or BusinessOffice@mitchell.edu for a copy and with questions.
Payment Deadlines
Fall
If you are a new undergraduate student or a continuing student, your payment is due by July 1, 2022 for the Fall 2022 semester. Payments must be received or a payment plan must be developed by close of business (5 p.m. EDT) on the day of the deadline. Any inquiries regarding amounts due must be resolved by contacting bursar@mitchell.edu prior to the deadline.
If payment is not received by July 1, 2022, a late fee of $150 will apply. If payment is received after July 15, 2022, an additional late fee of $150 will apply. Total Fall semester late fees = $300.
If payment plan arrangements are in place, a fee of $50 per month will be assessed for any months in which the payments are late. A fee of $35 will be assessed for any returned checks.
Students assigned to on-campus College housing must make payment and settle their student accounts before they will be allowed to pick up their residence keys, move into their assigned residence, or be allowed access into on-campus residences.
Create your FSA ID at Studentaid.gov. An FSA ID is a username and password you create. The FSA ID confirms your identity and provides you with access to some federal websites. It will also act as your electronic signature on some federal forms such as the FAFSA.
Review the Student Aid report (SAR) and make any necessary corrections. The SAR is the same information you entered onto the FAFSA.
The Financial Aid Office may contact you via telephone or e-mail; please respond to any requests as soon as possible.
Sign and return your Financial Aid Offer Letter.
Students accepting a Direct Loan Stafford Subsidized or Unsubsidized student loan for the first time at Mitchell College will need to complete a Master Promissory Note (MPN) and an Entrance Counseling. Both can be completed at Studentaid.gov.
You may check the status of your account and set up a payment plan by contacting the Bursar's Office at 860-701-5061 or bursar@mitchell.edu.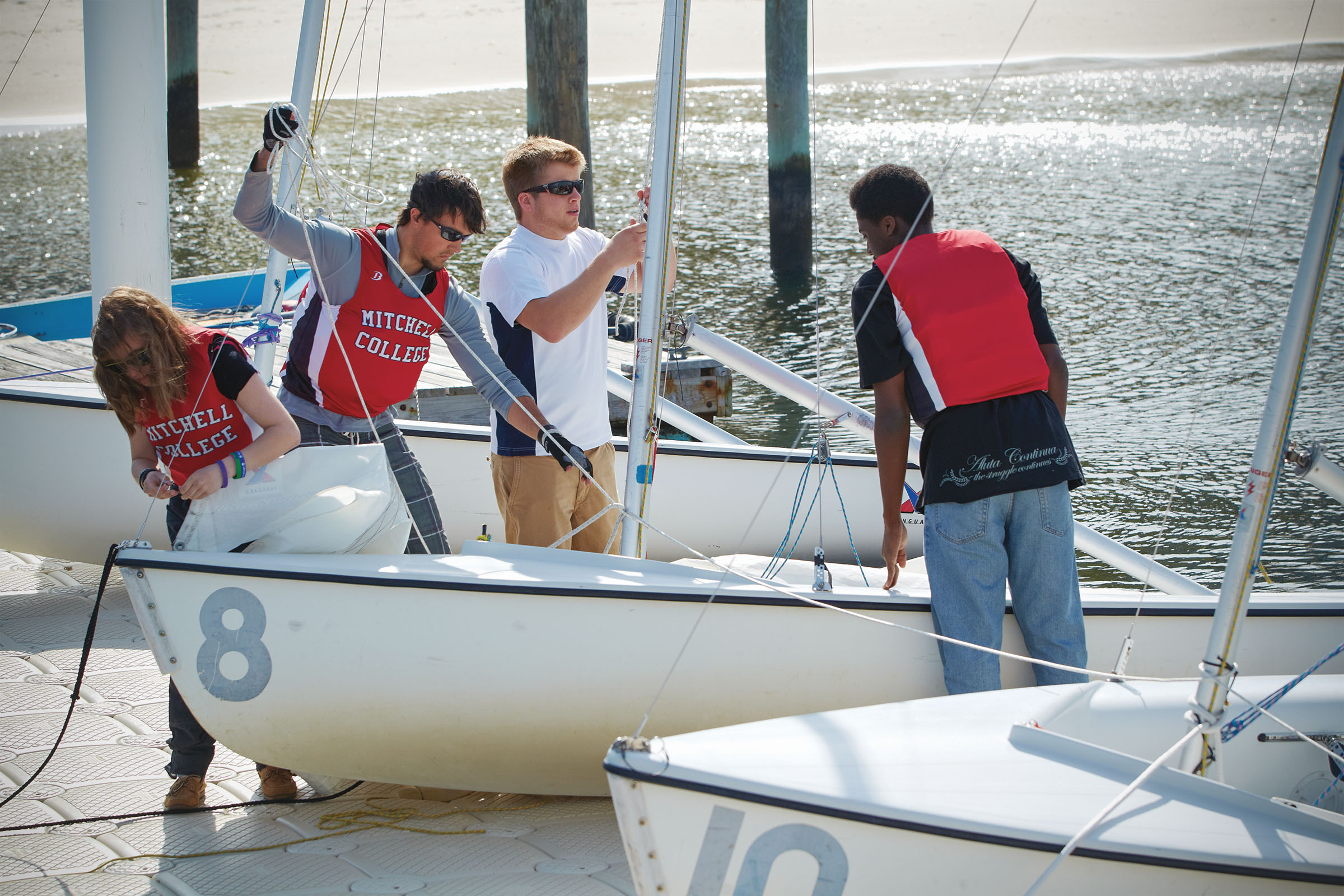 Types of Financial Aid
Financial Aid comes in many forms. Here at Mitchell College, we participate in aid programs that come from federal, state and institutional sources. Listed below are many of the types of aid that are available. Your financial aid package may contain any of these types or a combination of them.
Federal Pell Grant
Federal Pell Grant is a gift award that does not have to be repaid. To qualify you must demonstrate exceptional need and be an undergraduate student enrolled in an eligible degree or certificate program. Federal law limits the amount students can receive in Federal Pell Grant.
Federal Supplemental Educational Opportunity Grant (FSEOG)
An FSEOG does not require repayment and is based on financial need as defined by the FAFSA. If you are awarded the Federal Pell Grant, you will receive first priority consideration for FSEOG. Awards range from $200 – $4,000 per academic year, depending upon college funding levels.
Federal Work-Study Program (FWS)
The Work-Study Program is a federally funded program allowing qualified students to earn a portion of their financial aid award by working. To qualify you must demonstrate financial need as defined by the FAFSA form. Work-study opportunities are available at various departments on campus. To be hired, a student must complete an interview process. The Federal Work-Study Program provides students with great work experience!
The Roberta B. Willis Scholarship
This is a grant for Connecticut residents who are pursuing higher education at a private Connecticut institution. There are many other types of programs for state of Connecticut residents. Visit the State of Connecticut's Department of Higher Education's web site at www.ctohe.org for more information.
Vermont State Grant
This is a grant for Vermont residents who are pursuing higher education. The Vermont Department of Education determines eligibility for this award. Funding is contingent upon state appropriations.
Each year, Mitchell College awards need and merit institutional aid to many of our students.
Institutional Need Based Aid
Need based aid is determined by the information provided on the FAFSA form. There is no separate Mitchell College application form required.
Academic Scholarships
No separate application is required to be considered for these scholarships. All students new to Mitchell College will be considered for academic scholarships as part of the admissions process.
First-Time Students
First-time student scholarships are awarded at the time of admission based on a holistic review of the student's application, which include accomplishments in and outside the classroom and the high school transcript. Scholarships are renewed provided satisfactory academic progress is maintained.
Richard P. Saunders President Scholarship – honors the first President of Mitchell College and his commitment to the New London community. His work with Mayor Waldo E. Clarke to establish Mitchell College originally as a private junior college was revolutionary as most junior colleges at the time were associated with secondary schools or "normal schools" (teacher colleges). This award recognizes a student's accomplishments and commitments in the classroom and the community.

Alfred Mitchell Bingham Scholarship – commemorates the grandson of Mitchell College's namesake. Mitchell believed in the right of education for all people and sought to establish Mitchell College as place where all could be educated. He served as the Chairman of the Board of Trustees and was instrumental in getting the Mitchell family to give the entire estate to what is now Mitchell College. This award recognizes a student's leadership.

Annie Tiffany Mitchell Scholarship – recognizes the matriarch of the Mitchell family who was the wife of Alfred Mitchell and daughter of Tiffany Company founder, Charles L. Tiffany. Believing that the estate should honor the natural landscape, she is responsible for placement of the Umbrella House and Mitchell Hall (originally Sunflower Cottage) which both take in vistas of the Thames River. This scholarship recognizes a student's contribution to their community.

Nathan Hale Award – pays homage to Connecticut's most famous revolutionary war hero. Hale was not only a patriot, but an educator in New London, CT, and his statue on the Mitchell College lawn is a focal point for campus activities. This award recognizes a student's potential contributions to the Mitchell College community.
Transfer Students
Mitchell College Transfer Scholarships and Grants range between $8,000 and $14,000. These awards are based on a student's prior college academic performance.
Sibling Scholarship
A Sibling Scholarship is given to any student attending Mitchell College who also has a sibling in attendance.  A 2.0 GPA must be maintained.
For further information about scholarships, contact Mitchell College Office of Admissions at 800-443-2811
In cases where a student's need cannot be met with other types of financial aid, a Federal Direct Loan may be recommended. These loans enable a student to borrow funds to finance their educational expenses. These are loans that must be paid back and are paid back according to a payment schedule arranged by the federal government. All federal loans require the completion of a Master Promissory Note which is usually good for 10 years. First time student borrowers at Mitchell College must complete Loan Entrance Counseling before their loan proceeds can be disbursed.
Federal Direct Loan
Subsidized Loans
This program makes low interest loans available to dependent and independent students. To qualify for the Subsidized Loan, you must demonstrate financial need. The government pays the interest on this loan while the student is enrolled in school at least half-time.
Unsubsidized Loans
This program makes low interest loans available to dependent and independent students. Funding is also available for those students who do not qualify for a maximum Subsidized Loan. Eligibility is not based on family income and borrowers are responsible for all interest that accrues from the date of disbursement.
Federal Parent Loan (PLUS)
A loan that allows parents of dependent students to borrow up to the entire cost of their child's education minus other financial aid awarded. A simple credit check is required to determine eligibility. Parents can apply for a Parent PLUS Loan at https://studentaid.gov/plus-app/parent/landing.
Important to Note:
In order to receive Federal Student Loans the student needs to be enrolled for a minimum of 6 credits.
Master Promissory Notes for PLUS Loans (parent loans) and Direct Loans (student loans) are valid for 10 years in most cases.
The proceeds from PLUS and Direct Loans are received by the College in two disbursements.
Usually, PLUS Loans enter repayment sixty days after the second disbursement unless you opt to defer your payments while your student is enrolled in college.
Subsidized and Unsubsidized Direct Loans enter repayment for principal and interest approximately six months after leaving school or falling below six credits.
Interest on an Unsubsidized Direct Loan starts accruing to the student's loan balance after the first disbursement.
The federal government pays the interest on the Subsidized Direct Loan while the student is enrolled at least half-time.
The denial of a PLUS loan is required for a student to receive additional Unsubsidized Direct Loan eligibility unless the student is an independent student as defined by the FAFSA.
Mitchell College participates in alternative loan programs. These are private loans that are based on credit worthiness and income. These loans may offer a higher interest rate than federal loans and different repayment requirements.
Generally, alternative loans should only be considered after all federal options have been exhausted.
Review the following website for further information:
Forms & Instructions
The fax number has changed to 860-701-5090.
Instructions:
Financial Aid Office
Mitchell College
437 Pequot Avenue
New London, CT 06320
Fax: 860-701-5090
Financial Aid Glossary of Terms
Academic Year
A period of at least 30 weeks of instructional time during which a full-time student is expected to complete at least 24 semester or trimester credit hours, or at least 36 quarter hours, at an institution that measures program length in credit hours; or at least 900 clock hours at an institution that measures program length in clock hours.
Annual Loan Acknowledgment
The goal is to help you understand your loans an how they affect your financial future.
If this is your first time accepting a federal student loan, you are acknowledging that you understand your responsibility to repay your loan.
If you have existing federal student loans, you are acknowledging that you understand how much you owe and how much more you are eligible to borrow.
Attempted Credits
Attempted Credits are those credits for which the student was still enrolled at the end of add/drop period. It also includes transfer credits, and any courses that a student has started and completed for a grade, including a grade of "W", "I", or "F".
Citizen/Eligible Non-Citizen
You must be one of the following to receive federal student aid:
• U.S. Citizen
• U.S. National (includes natives of American Samoa or Swain's Island)
• U.S. Permanent Resident with an I-151, I-551, or I-551C (Alien Registration Receipt Card)
• Freely Associated States citizen
If you're not in one of these categories, you must have an Arrival-Departure Record (I-94) from the U.S. Immigration and Naturalization Service (INS) showing one of the following designations:
• Refugee
• Asylum Granted
• Indefinite Parole and/or Humanitarian Parole
• Cuban-Haitian Entrant, Status Pending
• Conditional Entrant (valid only if issued before April 1, 1980)
Cost of Attendance (COA)
The cost of attendance (COA) is the total cost of education for the student, including tuition, fees, room and board, books and supplies, transportation, and miscellaneous expenses. COA is school-specific and is determined by the financial aid offices at each school.
Consolidation Loan
A consolidation loan combines several loans into one bigger loan. This sometimes results in a lower interest rate, as when a consumer loan is used to pay off credit card balances. Such loans often reduce the size of the monthly payment by extending the term of the loan. An extension of the term of the loan may also increase the overall cost of the loan. Consolidation loans also simplify the repayment process by allowing a single payment instead of several.
Default
A loan is in default when the borrower fails to meet the terms and conditions of the loan. If you default on a loan, the university, the holder of the loan, and the government can take legal action to recover the money, including garnishing your wages. Defaulting on a government loan will make you ineligible for future federal financial aid. This ineligibility for financial aid remains in effect until such time as the defaulted loan is paid in full or until you have made at least 6 consecutive on-time reasonable monthly payments as determined by the holder of the loan.
Deferment
Deferment occurs when a borrower is allowed to postpone repayment of a student loan. For example, some federal loan programs allow students to defer their loans while they are in school. Other loan programs allow the student to defer the interest payments by capitalizing the interest. (See also Forbearance.)
Dependency Status
A student's dependency status determines to what degree the student is expected to have access to parental financial resources. An independent student is one who is 24 years old as of January 1, is married, is a graduate or professional student, has legal dependents other than a spouse, is a veteran, or is an orphan or ward of the court. All other students are considered dependent and, as such, must provide parental information on the Free Application for Federal Student Aid (FAFSA).
Disbursement
The date on which the loan funds are released to the university for payment.
Expected Family Contribution (EFC)
The Expected Family Contribution (EFC) is the amount of money the federal government expects the family to be able to contribute to the student's education. The EFC is calculated upon submission of the FAFSA according to a formula established by Congress. The difference between the COA and the EFC is the student's financial need.
Electronic Funds Transfer (EFT)
Electronic Funds Transfer is used by lenders to wire funds directly to participating schools without requiring an intermediate check for the student to endorse.
Entrance Counseling
A required online session for first time student borrowers during which the terms and conditions of the loan are explained. Student borrowers must complete before their loan checks can be disbursed.
Exit Counseling
Students with educational loans are required to meet with a financial aid administrator before they graduate or leave school or stop attending on at least a half-time basis. During this exit counseling, the repayment terms of the loan and the repayment schedule are reviewed with the student.
Federal Direct Loans
Federal Direct Loans are federally guaranteed student loans that come in two forms, subsidized and unsubsidized. Subsidized loans are based on demonstrated financial need; unsubsidized loans are not.
FSA ID
A user name and password used to log into certain US Department of Education websites.
Federal Work Study (FWS)
The Federal Work-Study program is awarded to eligible undergraduate and graduate students on the basis of financial need. Through this program students work part-time on-campus, earning wages paid biweekly, starting at minimum wage per hour, to assist them with their educational expenses.
Grace Period
A short time period after graduation during which the borrower is not required to begin regular repayment of their student loan. The typical grace period is six or nine months depending on the type of loan program.
Grant
A grant is financial aid that the student does not have to repay. Some examples of Grant programs that Mitchell College participates in include; Federal PELL, Federal SEOG, and the CT State Grant programs.
Interest
Interest is an amount charged to the borrower for the privilege of using the lender's money. Interest is usually calculated as a percentage of the principal. The percentage rate may be fixed for the life of the loan, or it may be variable, depending on the terms of the loan. All new Federal Direct and PLUS Loans use capped variable interest rates that are tied to the rates for federal treasury bills.
Lender
The bank or lending institution that provides the money to the borrower for the loan.
Origination Fee
The origination fee is an upfront charge deducted from the loan by the bank to pay part of the loan's administrative costs.
Pell Grant
The Pell Grant is a federal grant that provides funds based on the student's financial need.
Principal
Principal is the amount of money borrowed under the loan. Interest is charged as a percentage of the principal.
Professional Judgment
In some cases, the Financial Aid Office may adjust your cost of attendance, or the information used to calculate your Expected Family Contribution (EFC) to take into account circumstances that might affect the amount you and/or your family are expected to contribute toward your education. Also, if there are unusual circumstances that would make you independent even though you have been determined to be dependent through the FAFSA process, professional judgement might be applied.
Promissory Note
A promissory note is the binding legal document signed by the borrower before the lender disburses loan funds. The promissory note states the terms and conditions of the loan, including repayment schedule, interest rate, deferment policy, and cancellations. The borrower should keep this document until the loan has been repaid.
PLUS Loans
Parent Loans for Undergraduate Dependent Students (PLUS) are federal loans available to parents of undergraduate students to help finance the student's education. Parents may borrow up to the full cost of their children's education, less the amount of any other financial aid received.
SAR (Student Aid Report)
A SAR or Student Aid Report is an acknowledgement sent to the student after filing a FAFSA. The SAR summarizes the information included in the FAFSA and may be requested by your school's Financial Aid Office. The SAR will also indicate Pell Grant eligibility.
Satisfactory Academic Progress (SAP)
A student must be making Satisfactory Academic Progress (SAP) in order to continue receiving federal aid. Please refer to the Course Catalog for information on the Satisfactory Academic Progress Policy.
Scholarship
A form of financial aid given to undergraduate students to help pay for their education. Most scholarships are restricted to paying all or part of tuition expenses, though some scholarships also cover room and board.
SEOG
The Supplemental Education Opportunity Grant (SEOG) is a federal grant program for undergraduate students with exceptional need. SEOG grants are awarded by the school's financial aid office.
Subsidized Loan
With a subsidized loan, the government pays the interest on the loan while the student is in school at least half time, during the grace period, and during any approved deferment periods.
Unmet Need
The difference between a student's eligibility for financial aid and the amount of financial aid actually received.
Unsubsidized Loan
An unsubsidized loan is a loan for which the government does not pay the interest. The borrower is responsible for the interest on an unsubsidized loan from the date the loan is disbursed. The borrower may be eligible to choose to have the interest deferred and capitalized into the loan principal.
Verification
Verification is a review process in which the Office of Student Financial Aid determines the accuracy of the information provided on the student's financial aid application. During verification the student will be required to submit documentation to support the information listed (or not listed) on the financial aid application.
If I receive a scholarship from Mitchell College may I also receive need-based financial aid?
Yes. Receipt of a scholarship does not preclude receipt of financial assistance. However, the scholarship(s) will be considered as a resource in determining eligibility for need-based aid.
I originally reported $2,000 in savings on my FAFSA. I have since purchased a car with the savings. Can I correct this?
No. You cannot correct a response that was correct as of the date you signed the original FAFSA.
If I am not eligible for a Pell Grant, does that mean I am not eligible for any need-based financial aid?
No. A large number of undergraduate students, who are ineligible for a Pell Grant, receive other need-based financial aid.
I do not live with my parents and they do not claim me as a tax exemption. Do I have to provide their income and asset information on the FAFSA?
A student's dependent/independent status is determined by the answers to the dependency questions on the FAFSA. If you cannot answer "yes" to any of those questions then, yes, you will have to put your parental information on the form, even if you are not receiving any financial help from them.
Will my financial aid be adjusted downward if I drop a class during the first week of each semester?
The College must follow a refund calculation policy established by the U.S. Department of Education to determine whether or not a refund is due to you. Depending upon when you withdraw and from how many credits, you may be required to pay back a portion of the financial aid disbursed to you.
What is verification?
Verification is a process initiated by the school or the U.S. Department of Education requiring you to submit copies of Tax Return Transcripts (It can be requested from the IRS at www.irs.gov or by using the Data Retrieval Tool on the FAFSA form) and a verification worksheet provided by the Financial Aid Office. If chosen for verification, you will not be eligible to receive any financial assistance until the process is completed. 
Do I have to reapply for financial aid every year?
Yes. It is best to start the process as early as October 1 for the upcoming school year.
Why does my financial aid award seem to vary from year to year?
Eligibility for financial aid is based on an analysis of the FAFSA. The calculation determines the family's ability (if dependent) or your ability (if independent) to contribute to your cost of education. As this standard Federal calculation process varies from year to year, so does your eligibility for financial aid. Your award can also change for the following reasons:
• The cost of education may increase.
• Your income or your family's income may change.
• Your student loan eligibility increases as you progress through college.
• The number of children in college may change.
• You do not apply for financial aid in a timely manner.
• The amount of available funding changes.
Financial Aid — Helpful Links
Financial Aid Office
Mitchell College
437 Pequot Avenue
New London, CT 06320
Fax: 860-701-5090