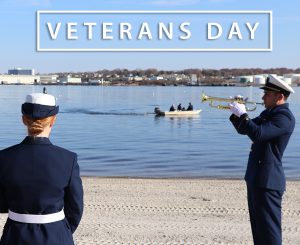 Monday, November 11 |  9:30am-2pm
Faculty, staff, students, alumni, and the public are invited to join us as we observe Veterans Day with the events detailed below. College offices will remain open and classes are in session; faculty members will determine if students may attend events in place of class. Students who attend events can record attendance by swiping their ID card.
Morning events:
9:30am: Flag Raising – outside Mitchell Hall – Coast Guard Color Guard
Pledge of Allegiance and National Anthem
9:40am: Remarks – Michael O'Connor, Chief Petty Officer, USN (Retired)
9:50am: Procession to Mitchell Beach
10:10am: Invocation – Mr. George Wezner
Wreath Laying – Dr. Jeffery O'Leary
Taps – USCG Bugler
10:30am: Proceed to Milner Dining Hall for Brunch
Meal plans will cover cost of brunch; $8.50 at the door without a meal plan
Brunch served: 10am – 2pm.
Afternoon event:
12:30pm Weller Center: Presentation on Women in the Military and in Combat by Kirsten Holmstedt, Thames instructor, journalist, writer, and advocate for female service members. Learn more about the speaker and her work at https://mitchell.edu/veterans-day.