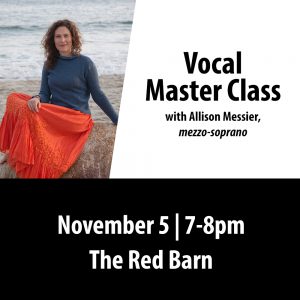 Mitchell College Humanities Department Presents a Vocal Master Class This class will be taught by Allison Messier, mezzo-soprano on Tuesday, November 5 from 7-8pm in The Red Barn. Open to all Mitchell and Thames students* and the public. No fee to attend; no RSVP required.
About the instructor:
Allison is a graduate of New England Conservatory and appears frequently as an oratorio and opera soloist across New England. She teaches voice at Mitchell College.
*Attendance at this event partially satisfies the attendance requirements of CO103 Effective Presentations; students, please swipe your ID for this credit.