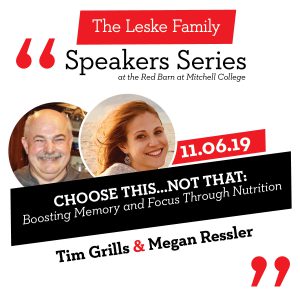 Choose This…Not That: Boosting Memory and Focus Through Nutrition
November 6, 7-8:30pm | The Red Barn
Join us for a Leske Family Speakers Series event at the Red Barn, Wednesday, November 6 from 7-8:30pm as we take a look at how daily food choices contribute to mood, memory and overall well-being with Tim Grills, Director of Food Services at Mitchell College and his daughter, Megan Ressler, a certified Occupational Therapist and yoga instructor. Enjoy delicious food samples as you learn how to enhance every meal – from breakfast to late-night cravings – by making easy and nutritious food swaps that can turn your whole day around.
This event is free and open to the public. The Red Barn at Mitchell College is located at 629-A Montauk Avenue, New London, CT 06320. 
About the Speakers
Tim Grills has over 30 years of experience as an executive chef and restaurant/catering entrepreneur. He is a graduate of Johnson & Wales University and has worked as the Director of Food Services at Mitchell College for the last four years.   
Megan Ressler graduated from Springfield College in 2012 with a Master's Degree in Occupational Therapy and a Bachelor's degree in Rehabilitation and Disabilities Studies. In 2018, she became a certified yoga instructor. She remains dedicated to learning and living a full and balanced life filled with experiences that feed both the body and the mind. As a former student athlete and now, a professional, she uses firsthand experience to fuel fun and functional choices that make each day count.