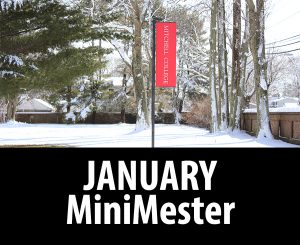 Students may now register for January MiniMester courses and internships! Earn 3-4 credits in just 2 weeks with courses like:
-Citizen Scientist
-Intro to Astronomy
-Young Adult Literature
-Sp Topic: Theatrical Production – Orwell's Animal Farm
January MiniMester courses are open to current Mitchell and Thames students and the public. Students should consult with their advisor prior to registering for a course online. Each course runs Mondays – Saturdays during the January MiniMester session, January 2-15, at the times listed here (unless noted). Internships are available for current Mitchell students and require prior permission. Internships run December 16 – January 15. To view available internships and register for MiniMester courses, click here.