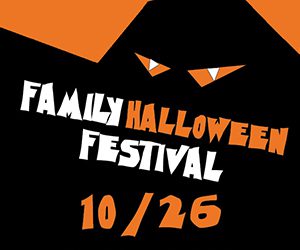 You're invited to join us for the 13th Annual Family Halloween Festival on Saturday, October 26 on the Mitchell College Green and Clarke Center from 10 a.m.-4 p.m. This event is hosted by the Mitchell College Behavioral Sciences Club, and we are asking families to donate one non-perishable canned good to support the Gemma E. Moran United Way/Labor Food Pantry. The event will feature numerous Halloween games, storytelling, arts and crafts, costume parades, a food pavilion, and more! Last year, close to 500 members of the local community were in attendance, and we look forward to a great turnout again this year.
The event features family-style fun with holiday-themed arts and crafts, games, storytelling by a host of fanciful witches and goblins, face painting, and a special performance by the Community Dance Ensemble, Inc. Halloween Costume Parades are scheduled throughout the day, so participants are encouraged to wear their holiday best. Baked goods, hot dogs, popcorn, beverages, and candy apples will also be available for purchase.
The event was originally created in 1994 by Don Helms, professor of Behavioral Sciences, as a way to connect local families with the Mitchell College campus community.
For more information, please visit mitchell.edu/News-Events/ or contact 860-701-7719 or halloweenfestival@mitchell.edu. Mitchell College is located at 437 Pequot Avenue in New London, Connecticut.