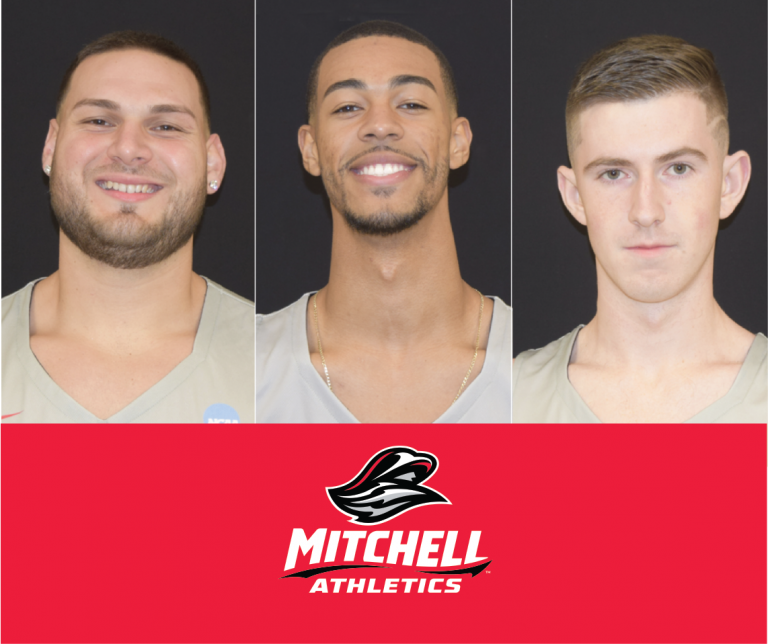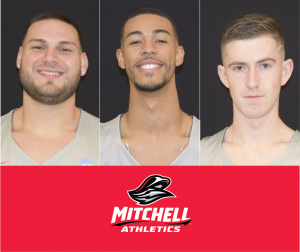 Posted July 17, 2019 | KANSAS CITY, Mo. –
The National Association of Basketball Coaches (NABC) today announced the 2018-19 NABC Honors Court, recognizing those men's collegiate basketball student-athletes who excelled in academics during the past season.
Three student-athletes from Mitchell College were recognized. Senior Domenico Santiago earned the honor for the second time in his career while classmate Evan Bing and junior Matt Finke were first-time recipients. To be eligible for the award a student-athlete must be either a junior or senior academically and have maintained a cumulative GPA of 3.2 or higher.
Santiago, the New England Collegiate Conference Player of the Year, averaged team highs of 17.2 points and 13.2 rebounds per game in his final season. He led the NECC in rebounding and ranked fourth in the country in the category, and his league-high 18 double-doubles tied for sixth-most in the nation.
Bing played in 23 games, primarily off the bench, and gave Mitchell depth in the frontcourt. The four-year letterwinner averaged 1.9 points and 1.5 rebounds per game in his final season while providing valuable leadership.
Finke started and played in all 29 games and averaged 9.0 points and 2.4 assists per contest. He led the Mariners and ranked seventh in the NECC with 59 three-point field goals. His biggest shot of the season—a game-winning, buzzer-beating three in the semifinals of the NECC Championship—propelled Mitchell to the conference title game.
Mitchell finished the season with an overall record of 19-10 and won the NECC Championship for the second time in school history. The Mariners also made their second NCAA Championship appearance and fell to national runner-up Swarthmore College in the opening round.
About the National Association of Basketball Coaches (NABC)
Located in Kansas City, Missouri, the NABC was founded in 1927 by Phog Allen, the legendary basketball coach at the University of Kansas. Allen, a student of James Naismith, the inventor of basketball, organized coaches into this collective group to serve as Guardians of the Game. The NABC currently has nearly 5,000 members consisting primarily of university and college men's basketball coaches. All members of the NABC are expected to uphold the core values of being a Guardian of the Game by bringing attention to the positive aspects of the sport of basketball and the role coaches play in the academic and athletic lives of today's student-athletes. The four core values of being a Guardian of the Game are advocacy, leadership, service and education. For additional information about the NABC, its programs and membership, go to www.nabc.org.