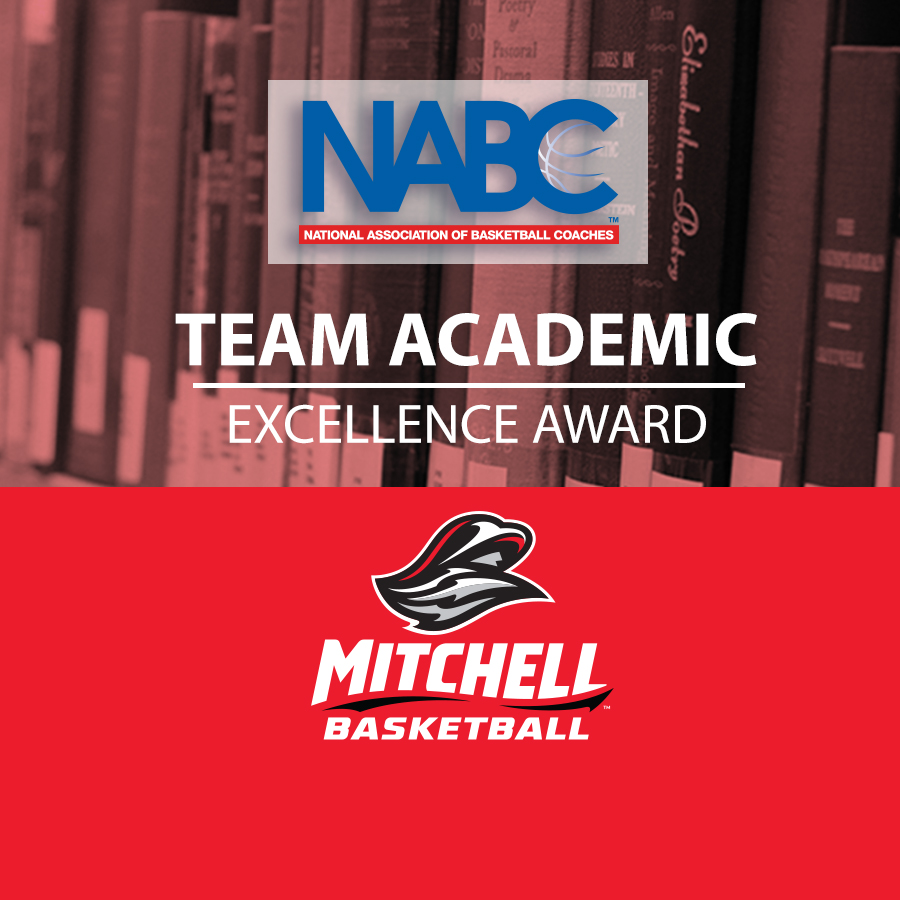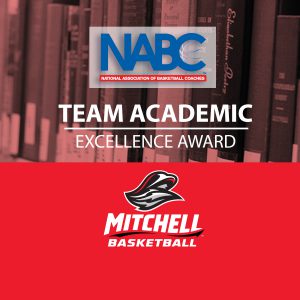 June 11, 2019 | KANSAS CITY, Mo. – The Mitchell College men's basketball team was one of 151 programs recognized by the National Association of Basketball Coaches (NABC) on Thursday as the organization announced the sixth annual Team Academic Excellence Awards, created by the NABC Committee on Academics.
The award recognizes outstanding academic achievement by a team with a cumulative grade point average (GPA) of 3.0 or better for the 2018-19 season. The Mariners, in addition to earning the award for the first time ever, were the sole representative from the New England Collegiate Conference. Mitchell was also one of four schools honored from the state of Connecticut, joining Yale University, Quinnipiac University and Trinity College.
In order to earn a NABC Team Academic Excellence Award, institutions in the NCAA, NAIA and NJCAA must count the grade point averages of all men's student-athletes who competed during the 2018-19 season. Below is a list of NABC Team Academic Excellence Award recipients.
2018-19 NABC Team Academic Excellence Award Recipients
Academy of Art
Anderson University (IN)
Augsburg University
Azusa Pacific University
Baker University
Barton College
Bates College
Bentley University
Bradley University
Briar Cliff University
Brigham Young University
Bucknell University
Butler University
Cairn University
California Baptist University
California Institute of Technology
California Lutheran University
California State East Bay
Carleton College
Carnegie Mellon University
Carthage College
Castleton University
Chaminade University of Honolulu
Clarkson University
Coe College
College of the Holy Cross
Colorado Christian University
Colorado College
Colorado Mesa University
Concordia College
Concordia University Wisconsin
Creighton University
Crown College
Dallas Baptist University
Denison University
DePaul University
Dominican University of CA
East Carolina University
East Texas Baptist University
Edgewood College
Elizabethtown College
Embry-Riddle Aeronautical U. (AZ)
Embry-Riddle Aeronautical U. (FL)
Emerson College
Florida Gulf Coast University
Franklin & Marshall College
Franklin College
Georgia College & State University
Gettysburg College
Gonzaga University
Grace College
Hamline University
Harvard University
Henderson State University
High Point University
Hillsdale College
Hope College
Houston Baptist University
Idaho State University
Illinois Wesleyan University
IUPUI
Kenyon College
Lewis University
Liberty University
Linfield College
Maine Maritime Academy
Marist College
Menlo College
Midland University
Milligan College
Milwaukee School of Engineering
Minnesota State
Missouri Baptist University
Mitchell College
Muhlenberg College
Nebraska Wesleyan University
New Mexico State University
New York University
Newberry College
North Dakota State University
Northern Kentucky University
Northwestern University
Ohio State University
Ohio Wesleyan University
Olivet Nazarene University
Oral Roberts University
Pace University
Piedmont College
Point Loma Nazarene University
Pratt Institute
Principia College
Quinnipiac University
Rockhurst University
Roosevelt University
Rose-Hulman Institute of Technology
Saint John's University (MN)
Saint Joseph's College of Maine
Saint Mary's University (MN)
Salve Regina University
Sarah Lawrence College
Seattle Pacific University
Seattle University
Seton Hall University
Simpson College
Southwestern University
Springfield College
St. Cloud State University
St. Edward's University
St. John Fisher College
Stanford University
Stevens Institute of Technology
Suffolk University
Susquehanna University
The College of St. Scholastica
Trinity College
Trinity University (TX)
Union College
University of Arkansas Fort Smith
University of Indianapolis
University of Louisville
University of Mary
University of Nebraska Omaha
University of Northwestern-St. Paul
University of Notre Dame
University of Rio Grande
University of Rochester
University of South Carolina Upstate
University of St. Thomas
University of the Sciences
University of Toledo
University of Wisconsin-Eau Claire
University of Wisconsin-Stevens Pt.
Ursinus College
Utah Valley University
Villanova University
Wabash College
Wake Forest University
Wartburg College
Washington & Jefferson College
Washington University St. Louis
Wayland Baptist University
Western Carolina University
Western Michigan University
Wheaton College (IL)
Willamette University
William Jewell College
Winona State University
Wright State University
Yale University
Yeshiva University
York College of Pennsylvania