Life is better at Mitchell!
Everyone approaches the world differently…that's something we embrace at Mitchell College. That's why transfer students are so welcome here. Wherever you are in your college career, Mitchell will work with you individually to help you reach your educational goals, and financially to help you afford the unique education Mitchell provides its students.
What's so different about Mitchell College?
Having already attended college, you will appreciate the distinctive experience at Mitchell where…
Your potential is nurtured and your strengths are explored
Faculty and staff know you well and teach to your learning style
An advisor stays with you from orientation to graduation
Career experiences begin the first semester you spend on campus and progress in a sequence that gets you ready to excel professionally
A friendly community welcomes you into the whole college experience, something you may not have really had the chance to engage in before
You are encouraged to try new things, take risks, and test your leadership abilities
Expertise in academic support — from professional tutors to trained learning specialists — means you will be your best
Getting Credit
Everything we do at Mitchell combines to help you maximize your personal success. An advisor helps you to structure a program that makes the most of the credits you've earned—and if requested, we will even give you a credit evaluation before you apply! You may have taken a class or two, a few semesters of credits, or you have earned an associate's degree. No matter where you are when you come in, Mitchell will set you on an academic and career path that meets your goals.
Academic Cores & Concentrations
Human Services
-Behavioral Sciences/Psychology
-Criminal Process
-Liberal & Professional Studies
---
Leadership & Management
-Communication (Graphic Design/Video Production, Performance & Technology)
-Hospitality & Tourism
-Sport Management
---
Sciences
-Environmental Science
-Health Science
-Marine Biology
---
Teaching & Learning
-Early Childhood Studies (with optional Teacher Certification)
-Sport Fitness
-Human Development & Family Studies
Doing College Right
College isn't just what you learn in the classroom. The whole campus is a place to discover what you love and where you excel. In a small college, you will find you have more opportunities to try out new things or take on leadership roles because people know you and look for ways to get you involved. You will build relationships across campus, from your peers to the president, while you explore an interest or tackle a special project with encouragement and support.
Making Career Connections
Mitchell's Integrative Career Development program connects you with our professional partners in the community through mentors, job shadows, behind-the-scenes tours, projects and internships. As a transfer student, you can jump into the progressive career sequence in the place that is right for you. The program develops practical skills and offers real-world experiences while you grow your network of professional contacts.
Connect with an Admissions Counselor
Contact admissions@mitchell.edu to connect with a Mitchell transfer counselor.

Schedule a visit here.
Apply Today and Find Out in 3 Weeks!
Mitchell College follows a rolling admission policy. Apply today through the Unique Minds Application or the Common Application and you'll find out in just a few weeks. Submission of SAT and/or ACT scores is optional.
ABOUT MITCHELL
How will you find your fit at Mitchell?
Take our quick quiz to find out!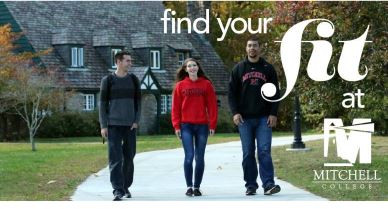 The campus is so supportive--students, faculty and staff. They are really here to help you and make you the best student you can be.
Erica Weiner
Class of 2016, Liberal & Professional Studies