WHY MITCHELL?
Now Open – Order by Phone or Online, Pick-up and Go!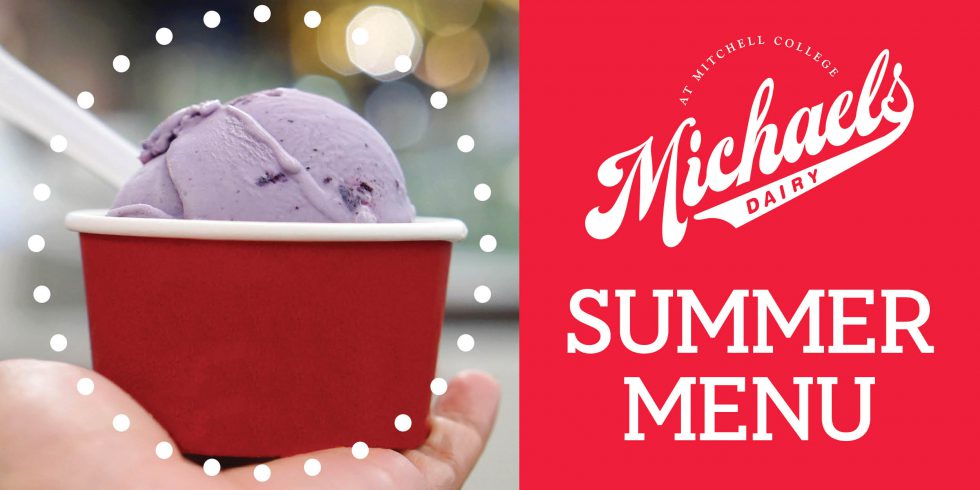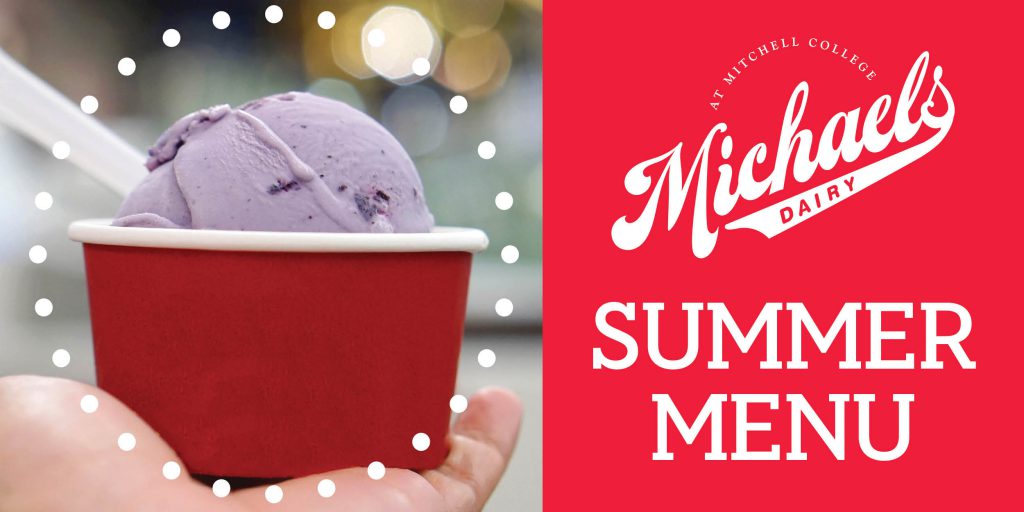 Summer Schedule
Open 7 Days per week:  12-8pm

Location: Right next to the Red Barn: 629 Montauk Avenue, New London, CT 06320 | 860-443-2464
We welcome you to come and taste authentic New England old fashioned ice cream at Michael's Dairy on the campus of Mitchell College!  
Customers may take their orders with them or eat on the grounds of Michael's Dairy, maintaining proper social distance.  We will have VERY limited seating in order to help maintain state requirements on social distancing and groups of no more than 5 people. There will be no picnic tables or Adirondack chairs on the lawn and the gazebo is closed at this time. Three outdoor tables of two will be available and will be sanitized regularly by dairy staff. 
39 Ice Cream flavors
5 Frozen Yogurt flavors
4 Sherbet/Sorbet flavors
5 No Sugar Added flavors
4 Vegan Offerings
17 Toppings
4 NEW Sundae Kits!
-The Mariner
-The Sea Captain
-The Coffee Rush
-Build Your Own
PLUS:
-The Banana Boat
-The Affogato
-Milkshakes, Floats and Spritzers
-Pupscicles for your Canine Friend!Check out the complete menu here!


Coming Soon

As safety restrictions ease, hopefully later this summer, Michael's will move toward a full menu, offering branded Mariners Blend coffee and Teatulia organic teas, "grab and go" items such as muffins and bagels, and made-to-order hot breakfast sandwiches.
See YOU at Michael's this Summer!
History
Michael's Dairy has a long history in New London. Previously known as Mitchell Dairy it provided milk to most of the city. Michael Buscetto started working for Mitchell Dairy manager Roland Allen when he was just nine years old. In 1938, the Mitchell family donated much of the adjoining estate to a group of community-minded New Londoners to establish a college, now known as Mitchell College in honor of the family's generosity, and becoming a neighbor to the dairy. The Buscetto family acquired the dairy and its property in 1943 and renamed Mitchell Dairy to the present name. Michael's Dairy was the last milk processing dairy in New London having continued the tradition into the 1970s. Mitchell College purchased Michael's Dairy from the Buscetto family in 2006 and still offers delicious ice cream in New London.