When:
November 15, 2017 @ 5:00 pm – 7:00 pm
America/New York Timezone
2017-11-15T17:00:00-05:00
2017-11-15T19:00:00-05:00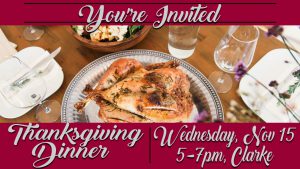 Celebrate Thanksgiving early at Mitchell College before heading home for the holidays! Grab a seat at the table, and enjoy everyone's Thanksgiving dinner favorites, courtesy of Tim Grills and Dining Services. Guests $10.
The menu highlights Native American dishes. Pequot Museum Executive Chef Sherry Pocknett will speak at 5:30pm about Native American cuisine.
Fall Salad*
Greens with Apples, Dried Cranberry and Red Onion
Tossed in a Cranberry Vinaigrette
Corn Cakes*
 
Sliced Roasted Turkey with Gravy & Herb Stuffing
Roasted Jerusalem Artichokes*
Whole Berry Cranberry Sauce
Mashed Potatoes with Fresh Chives
Roasted Butternut Squash*
Sautéed Green Beans
Pumpkin pie
Apple pie
Warm Cranberry Apple Crisp*
 
Iced Water ~ Cider ~ Lemonade ~ Coffee
* Native American Cuisine
Bio: Chef Sherry Pocknett
Sherry Pocknett is executive chef at the Pequot Museum in Mashantucket, Conn., where she skillfully unites Wampanoag culture and cuisine with family-friendly dining. Prior to joining the museum, Sherry owned and operated the extremely successful Sly Fox's Den Catering business for 20 years. She has also worked at The Flume, a recognized Native American restaurant on Cape Cod.
The acclaimed Mashpee Wampanoag chef's skills are rooted in her in-depth knowledge of the hunting, gathering and culinary traditions of her ancestors. While Sherry offers many traditional New England foods, she loves to invite guests to try popular Native specialties such as snapping turtle soup, Mashpee frog legs, venison stir fry, corned herring, Indian pudding, sassafras tea and Wampanoag clam bake. Sherry's menus are carefully crafted to reflect the flavors of each season following the rhythms of traditional Wampanoag foodways.
Chef Pocknett's award-winning food is revered by a loyal following across the U.S. Her dishes have been featured in popular outlets including Williams-Sonoma, The Boston Globe, Afar Magazine and Craving Boston. Chef Pocknett's menus are celebrated for their uniqueness, creative delivery and promotion of local Native American heritage.
"We are all born with a gift. Mine is to feed people and to educate them on living the Native way."