Campus Community Announcements & Calendar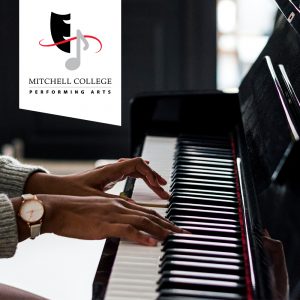 Private piano lessons are now available at a
special Mitchell discounted rate
of $40/one-hour lesson or $20/30-minute lesson on Wednesdays between 10am-6pm. Lessons are taught by pianist Raymond Buttero – read his bio and find out more
here
. To schedule a lesson, contact
babbitt_j@mitchell.edu
.
Mitchell College's resident theater, Flock Theatre, will present their annual Halloween production of Macbeth to be performed in the Red Barn at Mitchell College. Regular performanes wil be held Friday, Nov. 1 & Sunday, Nov. 3 – purchase your tickets here.
Special Dinner Performance
Saturday, Nov. 2 – Experience Macbeth's coronation banquet like never before with a meal that promises to delight the senses. Food provided by Tim Grills of Mitchell College Dining Services. $50; very limited seating. Purchase your tickets here.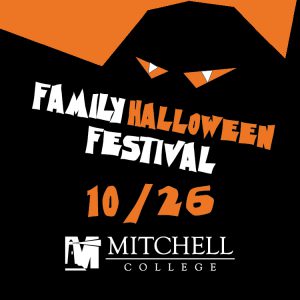 You're invited to join us for the 13th Annual Family Halloween Festival on Saturday, October 26 on the Mitchell College Green and Clarke Center from 10 a.m.-4 p.m. This event is hosted by the Mitchell College Behavioral Sciences Club, and we are asking families to donate one non-perishable canned good to support the Gemma E. Moran United Way/Labor Food Pantry. The event will feature numerous Halloween games, storytelling, arts and crafts, costume parades, a food pavilion, and more! 
For more information, please visit mitchell.edu/News-Events/ or contact 860-701-7719 or halloweenfestival@mitchell.edu.
Sep
24
Mon
Flag Football

@ Athletic Fields
Sep 24 @ 3:00 pm – 6:00 pm
Sep
25
Tue
Blood Drive

@ Weller Center
Sep 25 @ 12:00 pm – 5:00 pm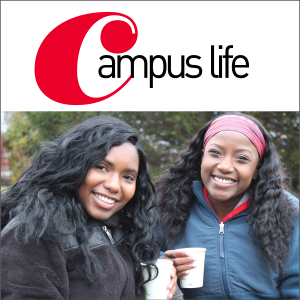 We will be hosting a blood drive in partnership with the American Red Cross – stop by Weller Center anytime between 12-5pm.
Sep
26
Wed
Watersports at Mitchell Pier

@ Mitchell Pier
Sep 26 @ 12:00 pm – 4:00 pm
Meet Fred

@ Red Barn
Sep 26 @ 7:00 pm
Wednesday, September 26 at 7pm, Flock Theatre will be hosting Hijinx Theatre from Wales, U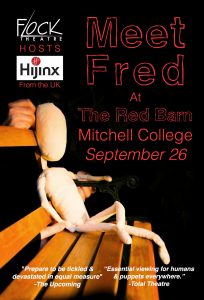 K, for the Red Barn's inaugural performance of Meet Fred! Purchase your tickets at flocktheatre.org: $25 for adults, $20 for non-Mitchell students and only $5 for Mitchell students – check out the latest student In the Know email to find the code for the discounted rate!