Campus Community Announcements & Calendar
Fall Weekend/Homecoming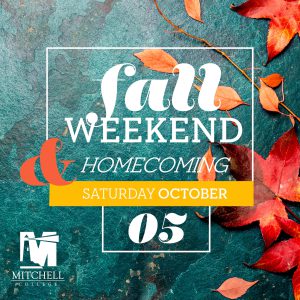 You are invited to join us for Fall Weekend on Saturday, October 5, along with many other Mitchell and Thames students, families, faculty/staff, and alumni! Check-in will begin at 9am, and we have an entire day of fun activities planned for you extending into the evening. Learn more at mitchell.edu/fall-weekend.
Admissions Fall Open House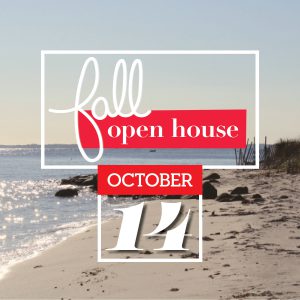 Mitchell College Admissions is hosting a Fall Open House on Monday, October 14. Learn more and register here.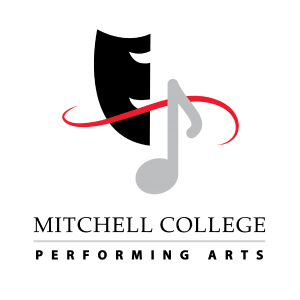 Secure Your Theater or Select Chorus Audition Time Online!
The 2019/2020
Mitchell College Players
Theater Season will feature a comedic double-bill with Neil Simon's 
45 Seconds from Broadway
 and Stephen Sondheim's 
A
Funny Thing Happened on the Way to the Forum
. Auditions open to all incoming and returning Mitchell and Thames students and Fall Play auditions will be held the week of September 9, 2019.
Sign up for a Fall Play Audition
here.
Select Chorus Auditions
for Fall 2019 will be held September 3-21, 2019 and are
open to all incoming and returning Mitchell and Thames students, regardless of prior singing experience.
Sign up for a Select Chorus Audition
here.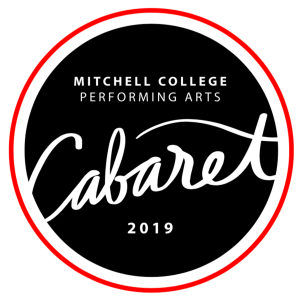 Mitchell College Performing Arts Cabaret
Fall Weekend, Saturday, October 5, 2019 | 8:00pm | Clarke Center
Come to the Cabaret! At this rollicking artistic collaboration during Mitchell College Fall Weekend 2019, talented student, faculty and staff performers from Mitchell and Thames are sure to delight attendees of all ages. Secure your seat for the performance on Saturday, October 5 at 8:00pm by registering early for Fall Weekend at mitchell.edu/fall-weekend. Refreshments will be served. Cabaret seating is limited and there is no additional cost to those registered for Fall Weekend 2019.
How to Audition:
Do you have a song, dance, dramatic, comedic or other act the world simply must experience? All members of the Mitchell and Thames community – current students, faculty, and staff – are invited to audition! Submit your act proposal to Jonathan Babbitt at mitchell.edu/cabaret-act-form. Due to performance time limitations, not all acts will be included in the Cabaret.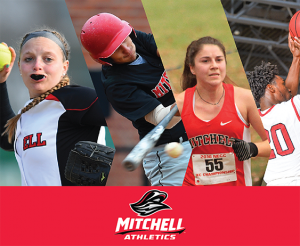 We're ecstatic to announce that you can now order select merchandise with our new athletics logo online at mitchellgear.com. Check the website each week for the most current deals.
Children's Learning Center Preschool Registration
Come discover why New London's newest preschool may be the perfect fit for your family or a family you know! The program is designed for children ages 3-5. For more information, visit mitchell.edu/clc.
Sep
18
Wed
Kayaking & Paddle Boarding

@ Mitchell Pier
Sep 18 @ 1:00 pm – 4:00 pm
http://mitchell.presence.io/event/kayaking-paddle-boarding-2
Student Involvement Fair

@ Mitchell Green
Sep 18 @ 3:00 pm – 5:00 pm
Come find your Niche at The Mitch! Check out the clubs and organizations at Mitchell College and find your niche to get involved at Mitchell! Interested in creating your own club/organization; visit the Create-a-Club table and see how you can carve your own niche at Mitchell College.
Learn more at http://mitchell.presence.io/event/student-involvement-fair
Mitchell After Dark: Magician Joseph Tran

@ Red Barn
Sep 18 @ 8:00 pm – 9:30 pm
joseph tran:
 cool.
funny.
s
p
o
n
t
a
n
e
o
u
s
.
Cool.
 I've never been one of the cool kids but somehow me doing my thing has landed me square in the middle of what's currently popular. Sort of like an arrow hitting a bald eagle hitting the liberty bell… and I'm the liberty bell.
Anyway, I'm a real magician from Los Angeles, and yes, I really do magic for a living. You should see my place – hundreds of deck of cards. Finely pressed suits and showgirl costumes. Stray feathers… lots of feathers… from my flock of doves. And lots of rabbit poop. But no sequins in my closet and no dragons painted on my props. Keep it classy.
Magic gets a bad rep for being the cringy form of live entertainment. You've probably seen a lot of bad magic or, even worse, a really bad/creepy/weird magician. Everybody has. Magic is actually really hard to do right. Not just getting the physical stuff right, but also being the kind of person that people won't run away from when they see you across the room waving a deck of cards.
Funny. You know what I said up above about being the kind of magician that doesn't make people run away dialing 911? A lot of that has to do with being funny. That means I don't come in with a ten year old script that I use on every audience. I talk to you. Get to know you a little. Get a feel for who you are. And then I'll drop trou and you'll be laughing at my chicken legs. Just kidding, I'll say something witty. And then drop trou.
Spontaneous. I get bored in seconds and I know you do too. That's why I'm constantly trying out new tricks and new jokes. Being on stage is great because I can interact with you – you're not just watching some Netflix special. If the crowd's right, I'll strip to my skivvys and body surf it. Or pull a live bird out of my 'you know where'. No matter what happens I promise you won't leave the show wishing you'd been home binge-watching Shark Tank*.
*I might wish it, though. I freaking love Shark Tank.
Learn more at http://mitchell.presence.io/event/mitchell-after-dark-magician-joseph-tran
Sep
19
Thu
Dodgeball

@ Yarnall Gym
Sep 19 @ 9:30 pm – 11:00 pm
http://mitchell.presence.io/event/dodgeball-2