Campus Community Announcements & Calendar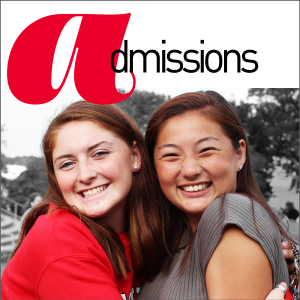 Register for June 19 Spring Open House
Wednesday, June 19, 9:45am-2pm | Help us share the event on
Facebook
!
Know someone who might be a great fit for the Mitchell community?! Invite potential Mitchell or Thames students and families to experience Mitchell College at our June 19 Spring Open House. Click
here
for more information.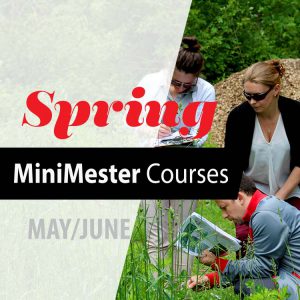 May & June | Earn 3-4 College Credits in just 2 weeks!
MiniMester courses are an excellent way to earn 3-4 college credits in a compressed time frame. Each MiniMester Session (January, May and June) is open to Mitchell College students and the public. Internships during MiniMesters are also available for current Mitchell students only and require prior permission. Click here to register.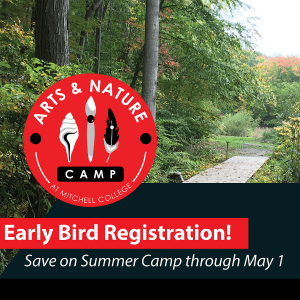 Nature meets the arts in this thoughtfully designed summer camp! Designed for children ages 3 to 12, the Arts & Nature Camp at Mitchell College in New London, CT blends the arts with science and the natural setting of woods, pond and shoreline in one of the most creative camps you will find in the region. Click here to register. Camp runs weekly, from June 17 – August 16, Monday-Friday, and you may register your child(ren) for one week, every week, or something in between. Discounts available.
Children's Learning Center Preschool Registration
Come discover why New London's newest preschool may be the perfect fit for your family or a family you know! The program is designed for children ages 3-5. For more information, visit mitchell.edu/clc.
Sun
Mon
Tue
Wed
Thu
Fri
Sat

Ready, Set, Submit Thursdays

1:00 pm

Ready, Set, Submit Thursdays

@ Mitchell College, Henry Hall

Jun 14 @ 1:00 pm – 5:00 pm

Mitchell College is now offering an easier way to get your application for the 2019/2020 academic year complete and submitted! Just stop by Henry Hall on our campus any Thursday, now through August 15 from[...]

Open House June 19

11:00 am

Open House June 19

@ Mitchell College

Jun 19 @ 11:00 am – 2:30 pm

Learn more about Mitchell College and our unique, diverse and welcoming community! Prospective transfers and freshman will get an in-depth look at Mitchell College through presentations and/or panels with members of our faculty, current students,[...]

Ready, Set, Submit Thursdays

1:00 pm

Ready, Set, Submit Thursdays

@ Mitchell College, Henry Hall

Jun 20 @ 1:00 pm – 5:00 pm

Mitchell College is now offering an easier way to get your application for the 2019/2020 academic year complete and submitted! Just stop by Henry Hall on our campus any Thursday, now through August 15 from[...]

Ready, Set, Submit Thursdays

1:00 pm

Ready, Set, Submit Thursdays

@ Mitchell College, Henry Hall

Jun 27 @ 1:00 pm – 5:00 pm

Mitchell College is now offering an easier way to get your application for the 2019/2020 academic year complete and submitted! Just stop by Henry Hall on our campus any Thursday, now through August 15 from[...]