Campus Community Announcements & Calendar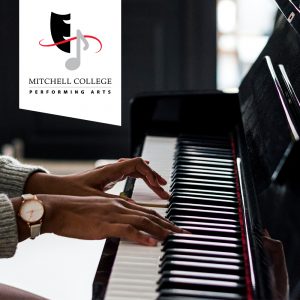 Private piano lessons are now available at a
special Mitchell discounted rate
of $40/one-hour lesson or $20/30-minute lesson on Wednesdays between 10am-6pm. Lessons are taught by pianist Raymond Buttero – read his bio and find out more
here
. To schedule a lesson, contact
babbitt_j@mitchell.edu
.
Mitchell College's resident theater, Flock Theatre, will present their annual Halloween production of Macbeth to be performed in the Red Barn at Mitchell College. Regular performanes wil be held Friday, Nov. 1 & Sunday, Nov. 3 – purchase your tickets here.
Special Dinner Performance
Saturday, Nov. 2 – Experience Macbeth's coronation banquet like never before with a meal that promises to delight the senses. Food provided by Tim Grills of Mitchell College Dining Services. $50; very limited seating. Purchase your tickets here.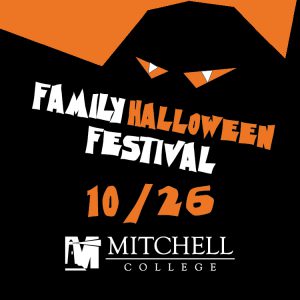 You're invited to join us for the 13th Annual Family Halloween Festival on Saturday, October 26 on the Mitchell College Green and Clarke Center from 10 a.m.-4 p.m. This event is hosted by the Mitchell College Behavioral Sciences Club, and we are asking families to donate one non-perishable canned good to support the Gemma E. Moran United Way/Labor Food Pantry. The event will feature numerous Halloween games, storytelling, arts and crafts, costume parades, a food pavilion, and more! 
For more information, please visit mitchell.edu/News-Events/ or contact 860-701-7719 or halloweenfestival@mitchell.edu.
Aug
29
Thu
Opening Week 2019: Anchors Aweigh!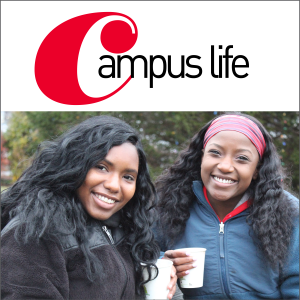 Opening Week 2019: Anchors Aweigh!

August 29-September 3
Opening Week: Anchors Aweigh! is for all New Students August 29-September 3. Opening Week is a fun and entertaining welcome week of events planned by Campus Life that will get you transitioned into college life in an awesome way! You'll get to know your incoming classmates, learn the ropes around campus, and much more! Opening Week: Anchors Aweigh! is for all new students, whether you're residing on or off campus.
Visit http://mitchell.edu/move-in/ for more information.
Sep
3
Tue
Returning Student Move-In/Check In
Sep 3 @ 9:00 am – 12:00 pm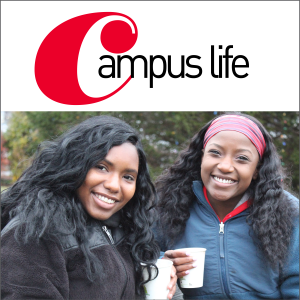 Check-in for returning students is Tuesday, September 3 from 9am-noon at your assigned Residence Hall.
Find out more at http://mitchell.edu/move-in/
No Zebras, No Excuses

@ Clarke Auditorium
Sep 3 @ 1:00 pm – 3:00 pm
REQUIRED FOR ALL FIRST YEAR & NEW INCOMING STUDENTS (including Thames at Mitchell, Thames Hybrid, Thames to Mitchell students)
Sexual assault and aggression at the college and university level manifests itself in many ways. None of it is pretty, and often it can be subtle. 
Did you know… approximately twenty-five percent of college women will be sexually assaulted at some time during college?  Twenty percent of college couples have violence within their relationship. Over ten percent of college students will be stalked, while a majority will experience some form of harassment.  Sexual aggression is perhaps one of the greatest problems facing colleges and universities today.  We help stop the madness
No Zebras, No Excuses is a performance-based intervention conducted by trained peer educators. The program consists of seven vignettes designed to replicate situations of sexual assault, drug facilitated sexual assault, intimate partner violence, stalking, and harassment.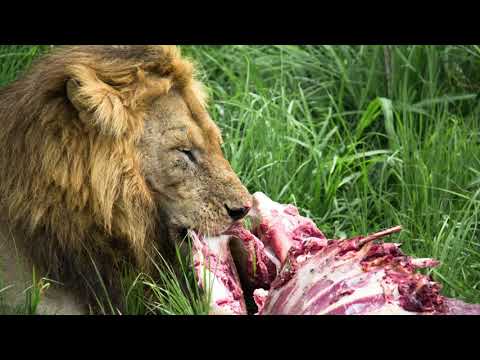 Learn more at http://mitchell.presence.io/event/test-2
Splash Bash 2019: Tropic Like It's Hot

@ Henry Hall Parking Lot / Mitchell Beach
Sep 3 @ 5:00 pm – Sep 3 @ 9:00 pm
http://mitchell.presence.io/event/splash-bash-2019-tropic-like-its-hot
Sun
Mon
Tue
Wed
Thu
Fri
Sat

Opening Week 2019: Anchors Aweigh!

Opening Week 2019: Anchors Aweigh!

Opening Week 2019: Anchors Aweigh! August 29-September 3 Opening Week: Anchors Aweigh! is for all New Students August 29-September 3. Opening Week is a fun and entertaining welcome week of events planned by Campus Life that will get you[...]

Anchors Aweigh: Opening Week Tie Dye

7:00 pm

Anchors Aweigh: Opening Week Hypnotist

8:30 pm

Returning Student Move-In/Check In

9:00 am

Returning Student Move-In/Check In

Sep 3 @ 9:00 am – 12:00 pm

Check-in for returning students is Tuesday, September 3 from 9am-noon at your assigned Residence Hall. Find out more at http://mitchell.edu/move-in/

No Zebras, No Excuses

1:00 pm

No Zebras, No Excuses

@ Clarke Auditorium

Sep 3 @ 1:00 pm – 3:00 pm

REQUIRED FOR ALL FIRST YEAR & NEW INCOMING STUDENTS (including Thames at Mitchell, Thames Hybrid, Thames to Mitchell students)Sexual assault and aggression at the college and university level manifests itself in many ways. None of[...]

Splash Bash 2019: Tropic Like It's Hot

5:00 pm

First Day of Classes – Session I – Add/Drop Begins

First Day of Classes – Session I – Add/Drop Begins

Mitchell After Dark: Comedian John Cassidy

8:00 pm

Mitchell After Dark: Comedian John Cassidy

@ Red Barn

Sep 4 @ 8:00 pm – 9:00 pm

John Cassidy is a professional comedian, magician, and balloon artist who holds several Guinness World Records® for balloon sculpting speed. He has appeared numerous times on television as either a stand-up comedian, magician or as[...]

Bingo For Books

@ Weller Center

Sep 6 @ 7:00 pm – Sep 6 @ 8:30 pm

Come play BINGO and win gift cards to help purchase your textbooks for the fall semester!  Learn more at http://mitchell.presence.io/event/bingo-for-books

Flag Football

@ Athletic Fields

Sep 8 @ 12:00 pm – 2:00 pm

http://mitchell.presence.io/event/flag-football

NFL Sunday Kickoff Party

8:00 pm

NFL Sunday Kickoff Party

@ Saunders Hall Lobby

Sep 8 @ 8:00 pm – 11:00 pm

Come join the Saunders RA staff for a kickoff to football season and watch the New England Patriots take on the Pittsburgh Steelers! Free wings and snacks will be provided – so come hang out[...]

Fall Play Audition Week

Secure Your Audition Time Online! The 2019/2020 Mitchell College Players Theater Season will feature a comedic double-bill with Neil Simon's 45 Seconds from Broadway and Stephen Sondheim's A Funny Thing Happened on the Way to the Forum. Auditions open to all incoming[...]

Shopping Shuttle

@ Student Center

Sep 9 @ 5:00 pm – Sep 9 @ 9:00 pm

Want to go shopping at the Crystal Mall? Need something from Target – then come take a ride on the Mitchell College shopping shuttle. Shuttle will depart from the Student Center – Free to current Mitchell[...]

Blood Drive

@ Weller Center

Sep 10 @ 11:00 am – 4:00 pm

Every day, blood donors help patients of all ages: accident and burn victims, heart surgery and organ transplant patients, and those battling cancer. In fact, every two seconds, someone in the U.S. needs blood. RSVP[...]

Session I – Add/Drop Ends 5pm

12:00 am

Session I – Add/Drop Ends 5pm

Sep 11 @ 12:00 am – 5:00 pm

Kayaking & Paddle Boarding

1:00 pm

Dance Team Interest Meeting

7:30 pm

Dance Team Interest Meeting

@ Clarke Center

Sep 11 @ 7:30 pm – Sep 11 @ 8:30 pm

No experience needed! Questions: Text Brittney at 401-259-6232 Learn more at http://mitchell.presence.io/event/dance-team-interest-meeting

5v5 Basketball

@ Yarnall Gym

Sep 13 @ 9:30 pm – 11:00 pm

http://mitchell.presence.io/event/5v5-basketball

Flag Football

@ Athletic Fields

Sep 15 @ 12:00 pm – 2:00 pm

http://mitchell.presence.io/event/flag-football-2

Shopping Shuttle

@ Student Center

Sep 16 @ 5:00 pm – Sep 16 @ 9:00 pm

Want to go shopping at the Crystal Mall? Need something from Target – then come take a ride on the Mitchell College shopping shuttle. Shuttle will depart from the Student Center – Free to current Mitchell[...]

5v5 Basketball

@ Yarnall Gym

Sep 20 @ 9:30 pm – 11:30 pm

http://mitchell.presence.io/event/5v5-basketball-2

Flag Football

@ Athletic Fields

Sep 22 @ 12:00 pm – 2:00 pm

http://mitchell.presence.io/event/flag-football-3

Trip to the Big E!

3:00 pm

Trip to the Big E!

Sep 22 @ 3:00 pm – Sep 22 @ 10:00 pm

The Big E is everything you could want in a state fair! Complete with live performances, farmers market, delicious food, midway rides, a car show, parades and so much more! Tickets are $15 and cover[...]

Sport & Fitness Club Interest Meeting

4:30 pm

Sport & Fitness Club Interest Meeting

@ Yarnall Lobby

Sep 23 @ 4:30 pm – 5:30 pm

Are you interested in sports and working out?Follow us on Instagram @mcsportsfitnessFacebook @Mitchell College Sports and Fitness Club Contact Tony Raus for more details at Antonio.Raus@my.mitchell.edu or (860) 706-9989 Learn more at http://mitchell.presence.io/event/sport-fitness-club-interest-meeting

Shopping Shuttle

@ Student Center

Sep 23 @ 5:00 pm – Sep 23 @ 9:00 pm

Want to go shopping at the Crystal Mall? Need something from Target – then come take a ride on the Mitchell College shopping shuttle. Shuttle will depart from the Student Center – Free to current Mitchell[...]

Mitchell Peace Day

10:00 am

Mitchell Peace Day

@ Mitchell Green

Sep 26 @ 10:00 am – 5:00 pm

Stop by the Mitchell Green in between classes or when you have some free time to support peace, community, and unity at Mitchell. Create your own peace flag, do some yoga or meditation, color a[...]

5v5 Basketball

@ Yarnall Gym

Sep 27 @ 9:30 pm – 11:00 pm

http://mitchell.presence.io/event/5v5-basketball-3

Trip to Six Flags Fright Fest

10:00 am

Trip to Six Flags Fright Fest

Sep 29 @ 10:00 am – Sep 29 @ 10:00 pm

Enjoy the last days of summer at Six Flags New England and get access to Fright Fest 2019 for only $50, you will receive general admission to the park, meal voucher, retail item voucher, access[...]

Flag Football

@ Athletic Fields

Sep 29 @ 12:00 pm – 2:00 pm

http://mitchell.presence.io/event/flag-football-4

Minute To Win It

@ Saunders Lobby

Sep 29 @ 8:00 pm – 9:00 pm

Attention Saunders Hall 4th Floor Residents!At the start for this program, I Saunders 4th floor will be split into teams and they will face against each other. Each member of the group must participate in at least[...]

Shopping Shuttle

@ Student Center

Sep 30 @ 5:00 pm – Sep 30 @ 9:00 pm

Want to go shopping at the Crystal Mall? Need something from Target – then come take a ride on the Mitchell College shopping shuttle. Shuttle will depart from the Student Center – Free to current Mitchell[...]