Campus Community Announcements & Calendar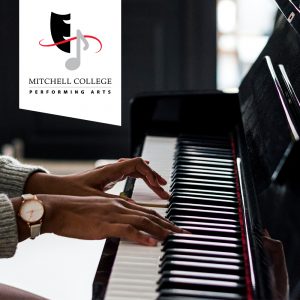 Private piano lessons are now available at a
special Mitchell discounted rate
of $40/one-hour lesson or $20/30-minute lesson on Wednesdays between 10am-6pm. Lessons are taught by pianist Raymond Buttero – read his bio and find out more
here
. To schedule a lesson, contact
babbitt_j@mitchell.edu
.
Mitchell College's resident theater, Flock Theatre, will present their annual Halloween production of Macbeth to be performed in the Red Barn at Mitchell College. Regular performanes wil be held Friday, Nov. 1 & Sunday, Nov. 3 – purchase your tickets here.
Special Dinner Performance
Saturday, Nov. 2 – Experience Macbeth's coronation banquet like never before with a meal that promises to delight the senses. Food provided by Tim Grills of Mitchell College Dining Services. $50; very limited seating. Purchase your tickets here.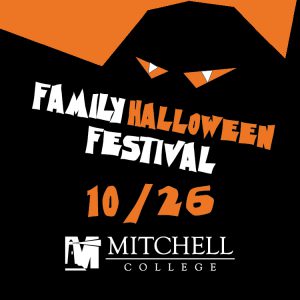 You're invited to join us for the 13th Annual Family Halloween Festival on Saturday, October 26 on the Mitchell College Green and Clarke Center from 10 a.m.-4 p.m. This event is hosted by the Mitchell College Behavioral Sciences Club, and we are asking families to donate one non-perishable canned good to support the Gemma E. Moran United Way/Labor Food Pantry. The event will feature numerous Halloween games, storytelling, arts and crafts, costume parades, a food pavilion, and more! 
For more information, please visit mitchell.edu/News-Events/ or contact 860-701-7719 or halloweenfestival@mitchell.edu.
Mar
24
Sun
Trip to Mohegan Sun

@ Off Campus
Mar 24 @ 1:00 pm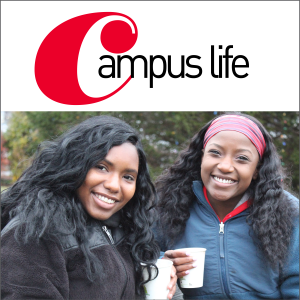 Join Campus Life on a trip to Mohegan Sun on Sunday, March 24, 1-3:30pm. Grab a bite to eat, explore the shops – CT Gamer Con is also happening during that time, if you wanted to attend — just get your ticket for the Con through their website. We are just transportation!
Purchase your tickets at https://mccampuslife.ticketleap.com/trip2ms/dates/Mar-24-2019_at_0100PM!
Film Club Meeting

@ Bingham 111
Mar 24 @ 1:30 pm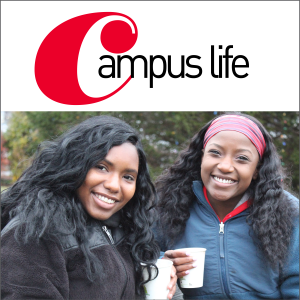 Film Club Meeting
Mar
25
Mon
Intramural Hockey

@ Tennis Courts
Mar 25 @ 5:00 pm – 7:00 pm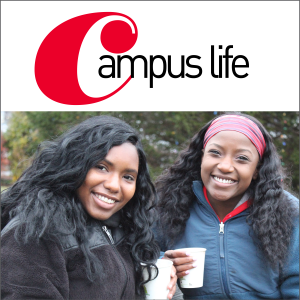 Grab a friend and head over to the tennis courts for a game of intramural hockey!
Sun
Mon
Tue
Wed
Thu
Fri
Sat

Add/Drop ends at 5pm

Add/drop ends at 5pm

Last Day to Withdraw from a Class

Last Day to Withdraw from a Class

Last day to withdraw from a class

Session I Final Exam Period

Session I Final Exam Period

Session I Final Exam Period

Spring Session II: First Day of Classes – Add/Drop Begins

Spring Session II: First Day of Classes – Add/Drop Begins

Spring Session II: First Day of Classes – Add/Drop Begins

Spring Break

Spring Break for students will be March 4-8, 2019. College offices will remain open.

Spring College Fair

9:00 am

Spring College Fair

@ Yarnall Gym

Mar 5 @ 9:00 am – 11:00 am

The New England Association for College Admission Counseling (NEACAC) will sponsor a college fair at Mitchell College which is free and open to the public on Tuesday, March 5 from 9:00 a.m. to 11:00 a.m. The fair will[...]

RA Info Session

@ Weller Center

Mar 11 @ 7:00 pm

Interested in being an RA next year? Come to an RA Info Session for information and to ask questions. Attendance is mandatory for anyone applying. Info Session Dates: Monday, March 11 @ 7pm in Weller;[...]

NSLS Broadcast

@ Weller Center

Mar 12 @ 6:45 pm

The Mitchell College chapter of the National Society of Leadership and Success (NSLS)will host a broadcast of Dallas Page on Tuesday, March 12at 6:45pm in the Weller Center. The broadcast will begin at 7pm. This event is[...]

RA Info Session

@ Weller Center

Mar 13 @ 2:00 pm

Interested in being an RA next year? Come to an RA Info Session for information and to ask questions. Attendance is mandatory for anyone applying. Info Session Dates: Monday, March 11 @ 7pm in Weller;[...]

Shopping Shuttle

@ Target or Crystal Mall

Mar 14 @ 6:00 pm – 9:00 pm

Sign up in the Student Center to take the shopping shuttle from the Student Center to Target or the Crystal Mall, every Thursday from 6-9pm.

Lucky BINGO

@ Weller Center

Mar 14 @ 7:00 pm

Feeling lucky? There are fantastic prizes at the end of the Lucky BINGO rainbow! Come out to Weller on Thursday, March 14 at 7pm and try your luck for a shot at Lucktastic prizes.

Mitchell College Players Movie Night: Hairspray

7:00 pm

Mitchell College Players Movie Night: Hairspray

@ Weller Center

Mar 15 @ 7:00 pm

Join the Mitchell College Players for a showing of Hairspray!

Film Club Meeting

1:30 pm

Film Club Meeting

@ Bingham 111

Mar 17 @ 1:30 pm

Film Club Meeting

RA Info Session

@ Weller Center

Mar 17 @ 7:00 pm

Interested in being an RA next year? Come to an RA Info Session for information and to ask questions. Attendance is mandatory for anyone applying. Info Session Dates: Monday, March 11 @ 7pm in Weller;[...]

Intramural Hockey

5:00 pm

Intramural Hockey

@ Tennis Courts

Mar 18 @ 5:00 pm – 7:00 pm

Grab a friend and head over to the tennis courts for a game of intramural hockey!

Intramural Kickball

4:00 pm

Intramural Kickball

@ Little League Field

Mar 19 @ 4:00 pm – 6:00 pm

Radio Mitchell's St. Paddy's Day Party

10:00 pm

Radio Mitchell's St. Paddy's Day Party

@ Student Center

Mar 19 @ 10:00 pm

Radio Mitchell's St. Paddy's Day Party

Magic the Gathering Club Interest Meeting

4:00 pm

Magic the Gathering Club Interest Meeting

@ Student Center

Mar 20 @ 4:00 pm

Hillel Purim Party

5:30 pm

Hillel Purim Party

@ Weller Center

Mar 20 @ 5:30 pm

Dove Real Beauty Workshop

6:00 pm

Dove Real Beauty Workshop

@ Mitchell College's Weller Center

Mar 21 @ 6:00 pm – 7:30 pm

The Dove Real Beauty Workshop for Girls is a FREE, fun, educational and interactive session for young girls ages 8-12 and their adult female mentors: mothers, relatives, friends, anyone interested in starting a dialogue on[...]

Shopping Shuttle

@ Target or Crystal Mall

Mar 21 @ 6:00 pm – 9:00 pm

Sign up in the Student Center to take the shopping shuttle from the Student Center to Target or the Crystal Mall, every Thursday from 6-9pm.

Wild N Out Annual Talent Showcase

8:00 pm

Wild N Out Annual Talent Showcase

@ Clarke Center

Mar 22 @ 8:00 pm

Wild N Out Annual Talent Showcase

President's Reception for Accepted Students

10:00 am

Spring Open House

10:00 am

Spring Open House

@ Mitchell College

Mar 23 @ 10:00 am – 2:00 pm

// Register for our May 17 Spring Open House Experience Mitchell College for yourself at our Spring Open House! You and your parents are invited to join us Friday, May 17 on our beautiful waterfront campus[...]

Thames Accepted Students Day

10:00 am

Trip to Mohegan Sun

1:00 pm

Film Club Meeting

1:30 pm

Film Club Meeting

@ Bingham 111

Mar 24 @ 1:30 pm

Film Club Meeting

Intramural Hockey

5:00 pm

Intramural Hockey

@ Tennis Courts

Mar 25 @ 5:00 pm – 7:00 pm

Grab a friend and head over to the tennis courts for a game of intramural hockey!

Intramural Kickball

4:00 pm

Intramural Kickball

@ Little League Field

Mar 26 @ 4:00 pm – 6:00 pm

Mario Kart & Smash Bros Tournament

7:00 pm

Mario Kart & Smash Bros Tournament

@ Red Barn

Mar 26 @ 7:00 pm – 10:00 pm

Shopping Shuttle

@ Target or Crystal Mall

Mar 28 @ 6:00 pm – 9:00 pm

Sign up in the Student Center to take the shopping shuttle from the Student Center to Target or the Crystal Mall, every Thursday from 6-9pm.

Intramural Dodgeball

9:00 pm

Intramural Dodgeball

@ Yarnall

Mar 28 @ 9:00 pm – 11:00 pm

Invite a friend to play a game of intramural dodgeball with you at Yarnall! You can sign up on the day.

Last Day to Withdraw from a Class

Last Day to Withdraw from a Class

Blood Drive

@ Weller Center

Mar 29 @ 12:00 pm – 5:00 pm

CLC Open House

@ Chappell Cottage at Mitchell Woods

Mar 30 @ 10:00 am – 11:30 am

Come discover why the Children's Learning Center may be the perfect fit for your family! At our Saturday, March 30, 2019 Open House from 10:00-11:30am, you'll: -Get a sneak peek at the Reggio Emilia teaching[...]

Game Night

@ Student Center

Mar 30 @ 5:00 pm – 7:00 pm

Film Club Meeting

1:30 pm

Film Club Meeting

@ Bingham 111

Mar 31 @ 1:30 pm

Film Club Meeting

Mitchell College Criminal Justice Club Hosts Opioid Crisis Panel

3:00 pm

Mitchell College Criminal Justice Club Hosts Opioid Crisis Panel

@ Weller Center

Mar 31 @ 3:00 pm – 4:30 pm

The Mitchell College Criminal Justice Club will host an open panel to discuss the ongoing issues of the opioid crisis on Sunday, March 31, 3-4:30pm. Panelists will include Carol Jones (Alliance for Living), Zach Marmo[...]