Campus Community Announcements & Calendar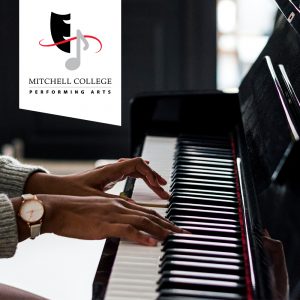 Private piano lessons are now available at a
special Mitchell discounted rate
of $40/one-hour lesson or $20/30-minute lesson on Wednesdays between 10am-6pm. Lessons are taught by pianist Raymond Buttero – read his bio and find out more
here
. To schedule a lesson, contact
babbitt_j@mitchell.edu
.
Mitchell College's resident theater, Flock Theatre, will present their annual Halloween production of Macbeth to be performed in the Red Barn at Mitchell College. Regular performanes wil be held Friday, Nov. 1 & Sunday, Nov. 3 – purchase your tickets here.
Special Dinner Performance
Saturday, Nov. 2 – Experience Macbeth's coronation banquet like never before with a meal that promises to delight the senses. Food provided by Tim Grills of Mitchell College Dining Services. $50; very limited seating. Purchase your tickets here.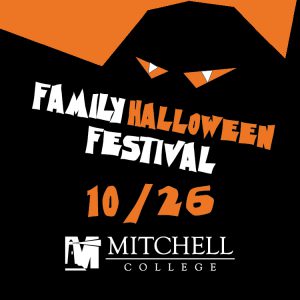 You're invited to join us for the 13th Annual Family Halloween Festival on Saturday, October 26 on the Mitchell College Green and Clarke Center from 10 a.m.-4 p.m. This event is hosted by the Mitchell College Behavioral Sciences Club, and we are asking families to donate one non-perishable canned good to support the Gemma E. Moran United Way/Labor Food Pantry. The event will feature numerous Halloween games, storytelling, arts and crafts, costume parades, a food pavilion, and more! 
For more information, please visit mitchell.edu/News-Events/ or contact 860-701-7719 or halloweenfestival@mitchell.edu.
Nov
11
Mon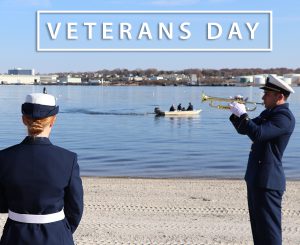 Faculty, staff, students and the public are invited to join us as we observe Veterans Day with the events detailed below. College offices will remain open and classes are in session; faculty members will determine if students may attend events in place of class. Students who attend events can record attendance by swiping their ID card.
Morning events:
9:30am: Flag Raising – outside Mitchell Hall – Coast Guard Color Guard
Pledge of Allegiance and National Anthem
9:40am: Remarks – Michael O'Connor, Chief Petty Officer, USN (Retired)
9:50am: Procession to Mitchell Beach
10:10am: Invocation – Mr. George Wezner
Wreath Laying – Dr. Jeffery O'Leary
Taps – USCG Bugler
10:30am: Proceed to Milner Dining Hall for Brunch
Meal plans will cover cost of brunch
$8.50 at the door without a meal plan
Brunch served: 10am – 2pm.
Afternoon event:
12:30pm Weller Center: Presentation by Kirsten Holmstedt speaking on Women in the Military and in Combat.
About Kirsten Holmstedt
Kirsten Holmstedt is a graduate of Drake University's School of Journalism and the University of North Carolina Wilmington's master of fine arts program. She has been a writer-in-residence at the College of William and Mary and is currently teaching English in the Thames Program here at Mitchell College. Her books include the highly acclaimed Band of Sisters, The Girls Come Marching Home, and Soul Survivors. She has appeared on PBS, the BBC, and C-SPAN, among other TV and radio programs. As an expert on and advocate for female service members, she has testified before Congress and spoken to countless businesses and colleges around the country. She lives in Connecticut. Her presentation will describe her journey of capturing these stories. In addition, she will show 2 short videos and read from her book Band of Sisters.
Nov
15
Fri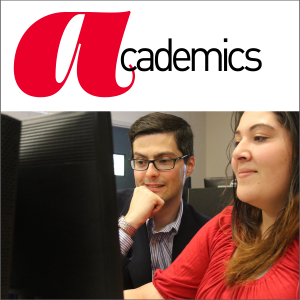 Neil Simon's "45 Seconds from Broadway" Fall Play

@ Clarke Center at Mitchell College
Nov 15 @ 12:00 am – Nov 17 @ 12:00 am
From America's master of contemporary Broadway comedy, here is another take on behind-the-scenes action in the entertainment world, this time in the heart of the theater district. 45 seconds from Broadway takes place in the legendary 'Polish Tea Room' on New York's 47th Street. Here Broadway theater personalities gather and schmooze in this touching valentine to New York on Broadway. Great acting roles flourish and home truths are at their best as Neil Simon continues to find humor in even the most painful moments of life.
Performance Dates

November 15  |  7pm
November 16  |  2pm and 7pm
November 17  |  2pm

Tickets now on sale at mitchell.edu/broadway-tix
RSVP link – http://mitchell.edu/broadway-tix Learn more at http://mitchell.presence.io/event/neil-simons-45-seconds-from-broadway-fall-play
Nov
18
Mon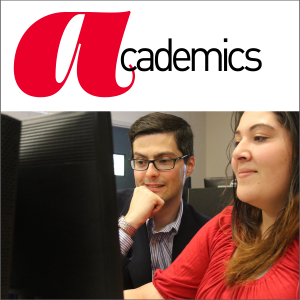 Faculty will hold office hours