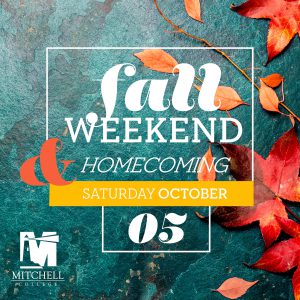 Saturday, October 5 | 9am – Fall is in the air at Mitchell College! Whether you are a Mitchell or Thames student, family member, faculty/staff member or alum, we have an action-packed day planned for you at Fall Weekend & Homecoming on Saturday, October 5, 2019! Come early and stay late over the weekend to explore all that our beautiful coastal location has to offer, but be sure to spend all of Saturday with us on the Mitchell campus!
To plan your day, please note that Check-in & Continental Breakfast is from 9-10am. A variety of engaging events will be running throughout the day, culminating in the Mitchell College Performing Arts Cabaret from 8-9pm!
Schedule
9:00am-9:45am  |  Check-in—Duques Center (Parking at Henry Hall on Pequot Ave.)
9:00am-10:30am  |  Continental Breakfast—Clarke Center
10:00am-10:30am  |  Presidents' Welcome—Clarke Center
10:30am-12:00pm  |  Hands-on Innovative Curriculum Demonstrations—Nathan Hale
Curriculum Demonstration Sessions run concurrently; guests may attend all 3 sessions if desired.
10:30am-10:55am Session 1
11:00am-11:25am Session 2
11:30am-12:00pm Session 3
Curriculum Demonstrations:
Shaping of New London with Associate Professor Jennifer O'Donnell
Mythbusters with Professor Tara Broccoli
All FYEred up! Exploring the First Year Experience with Meredith Adler, Assistant Director of First Year Experience
12:00pm  |  Women's Volleyball Game—Yarnall Athletic Center
12:00pm-4:00pm  |  Fall Fest Lunch on the College Green with Smorgasbord Mitchell!  Food Tents, Beer Tent and Michael's Dairy Tent (payable by cash or credit card)
1:00pm-5:00pm  | Fall Fest Afternoon Activities
Lawn Games & Giant Jenga—College Green
Community Art Project
Radio Mitchell –Clarke Center Deck
Mitchell Gear Pop-up Shop
Amistad Lecture & Tour of Ship—Thames Yacht Club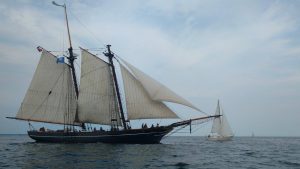 Just a short walk from the Mitchell campus, take a trip back more than 175 years in time to the 19th century and join us for a truly unique Fall Weekend opportunity. At Discovering Amistad, you'll board a replica of the historic Amistad, enjoy a lecture about the tall ship, the 1839 uprising by the Mende captives from Sierra Leonne, their struggle for freedom—on the ship and in the U.S. courts—and how this journey of freedom resonates in today's world. You will also get a view of the ship from bow to stern during your guided tour. (2 sessions—1:00pm and 2:30pm, weather permitting; no fee, but pre-registration is required as space is limited)
 5:00pm-7:30pm  |  International Themed Dinner at Milner Dining Hall ($12 payable by cash or credit card for those without a Mitchell meal plan)
8:00pm-9:00pm  |  Mitchell Cabaret—Clarke Center  with student, faculty and staff talent + the Mitchell Dance Team, Step Team and Select Chorus. Doors open at 7:30pm.
Early Bird Registration
Early Bird online registration is now open at mitchell.edu/fall-weekend.
No registration fee for current Mitchell or Thames students or their siblings, faculty/staff members, or Mitchell Alumni.
$25 registration fee per person for all other registrants through October 1, 2019. Price after October 1 is $30 per person.
Alumni
Mitchell Alumni…whether it's been 5, 10, 15, 20 years or more…we hope you can join us back on campus to reunite, reminisce and rekindle Mitchell friendships! Let us know if you'd like to help coordinate communications to your classmates by emailing alumni@mitchell.edu.