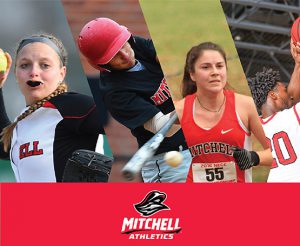 For the second year in a row, Mitchell College earned the New England Collegiate Conference Champions Cup on the men's side for its top performances in conference regular-season and tournament play.
It marked the third NECC Champions Cup for the Mitchell men since 2014. The Mariners (.754) finished atop the cup standings behind strong performances by all six men's programs. New England College (.731) placed second followed by Eastern Nazarene College (.622) in third.
Points are awarded based on finish during regular season play and tournament performance. Institutions are then ranked based on their percentage of points they scored based on sport sponsorship and tournament qualification.
The highlight of the 2018-19 season came on the basketball court as the Mariners claimed their second NECC title. Following a fourth-place finish in the regular season, head coach Todd Peretz ushered his squad to an upset of the top seed in the semifinals for the right to host the title game for the first time in school history. Mitchell then clipped Newbury College in overtime to secure the tournament crown and the program's second NCAA berth.
Two other programs made it to the finals of their respective NECC Championships. The baseball team, under the direction of eighth-year head coach Travis Beausoleil, set a school record with 34 wins and marched through the regular season with a league record of 15-1. The men's soccer team logged runner-up finishes in both the regular season and postseason under fourth-year head coach Damian Houlden.
The men's golf team enjoyed its best season in years, posting three wins and a pair of runner-up finishes in eight tournaments. The Mariners also finished third at the NECC Championship–their best showing since 2008–while posting a two-day total of 643 that was the lowest ever by a Mitchell squad at the league's annual event.
The men's cross country team finished fifth at the NECC Championship and had two runners earn all-conference first team honors. David Still became just the second Mitchell runner to win the event and was named NECC Runner of the Year.
The men's lacrosse team showed marked improvement by posting four wins in head coach Rich Petillo's fourth season. The Mariners also picked up their first NECC victory since 2017 and claimed third place in the league standings, falling just short of a postseason berth.
2018-19 Men's Champions Cup
1. Mitchell – .754
2. New England College – .731
3. Eastern Nazarene – .622
4. Newbury – .536
5. Elms – .453
6. Dean – .384
7. Southern Vermont – .333
8. Lesley – .268
9. Becker – .245
2018-19 Women's Champions Cup
1. New England College – .798
2. Eastern Nazarene – .706
3. Becker – .679
4. Elms – .592
5. Lesley – .513
6. Southern Vermont – .461
7. Mitchell – .331
8. Newbury – .325
9. Bay Path – .264
10. Dean – .247