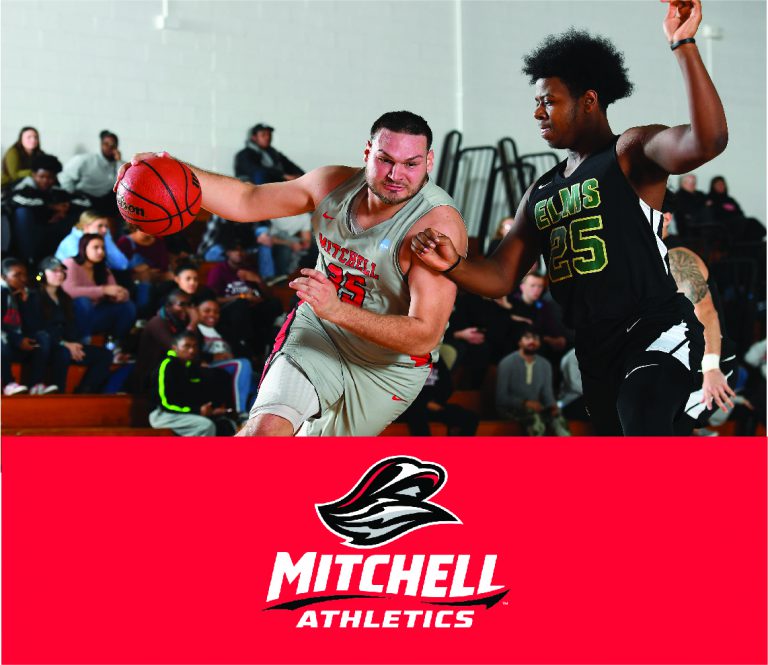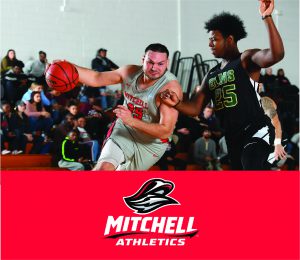 Mitchell College senior Domenico Santiago was selected as the New England Collegiate Conference (NECC) Male Senior Student-Athlete of the Year, as announced by the conference on Tuesday.
Santiago becomes the third Mitchell student-athlete to win the award, which is given annually to the top male senior from among the eight NECC institutions and determined by a vote of the league's athletic directors. The award recognizes athletics and academics successes while also factoring in leadership and community service components.
"In my 20 years of association with Mitchell College, I can't think of a more deserving recipient for this honor than Dom Santiago," said head men's basketball coach Todd Peretz. "He established himself as the quintessential student-athlete, and gave of himself academically, socially and athletically to the institution like no other."
Santiago was a force on the court in his four years at Mitchell, starting in 100 of 101 career games. He was a three-time all-conference selection and the 2019 NECC Player of the Year and 2016 NECC Rookie of the Year. He ended his career in grand fashion, leading the Mariners to victory in the NECC Championship title game and earning the program's second NCAA berth. Following his senior season he was also a D3hoops.com All-New England fourth team honoree and a CoSIDA Google Cloud Academic All-District selection.
Santiago finished as the school's all-time leader in rebounds (1,135) and field goal percentage (.609) and also ranked third all-time at Mitchell in scoring (1,653). He was one of only three active Division III players with over 1,000 career rebounds in 2019, and his 54 career double-doubles were the third-most among active players.
A business administration major, Santiago proved to be successful in the classroom, earning NECC Academic All-Conference honors in 2017, 2018 and 2019. The distinction is awarded to NECC student-athletes with a minimum 3.40 GPA, with a sophomore class standing or higher. He was also inducted into Chi Alpha Sigma—the National College Athlete Honor Society—in 2018.
Santiago was a leader on campus, serving as co-president of the Mitchell Student-Athlete Advisory Committee (SAAC), and was a resident assistant and admissions ambassador. He was also an avid supporter of all Mitchell athletics programs and a regular attendee at home events.
An active member of the community, he served as a team captain for Mitchell's involvement with Team Impact, a non-profit organization that matches children with serious illnesses with college athletic teams. He also served as a volunteer at the Strides Road Race during his four years, and he helped organize Mitchell's Special Olympics Basketball Jamboree in each of its three years of existence.
"This award could not go to a more deserving individual," said Mitchell Director of Athletics Dana Fulmer Garfield. "Dom embodies all the concepts an athletic director would hope to see in a student-athlete. He will be remembered by many for his numerous accolades on the court, as he has rewritten the record books for Mitchell men's basketball. However, for those who know him, he will be missed mostly for his humor, outgoing personality, kindness, ability to connect with people and his huge heart. During my time at Mitchell, there has not been an athlete who has come through our department that has impacted the athletics program, the College and the overall student experience on campus as much as Dom Santiago."
Capping off his senior year at Mitchell, Santiago received the Richard W. Lawrence Memorial Award, which is given annually to a Mitchell graduate who has done the most to uphold and practice those ideals of good citizenship in a democratic society, as well as the Presidential Award for Outstanding Leadership, which is given to a Mitchell student who has demonstrated the qualities of leadership in envisioning how to build a stronger college community. He also received the athletic department's Wilbur Baratz Award, given annually to the man and woman considered the best all-around athlete in the varsity sports program.