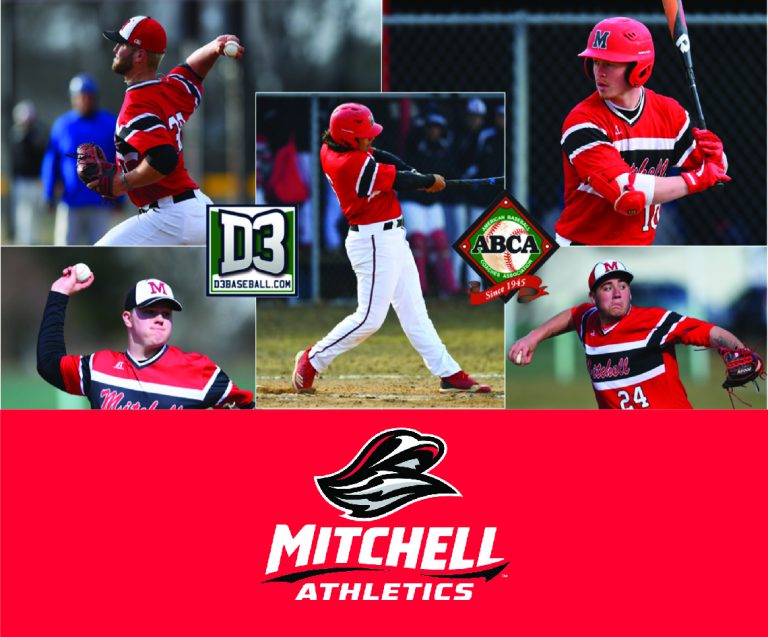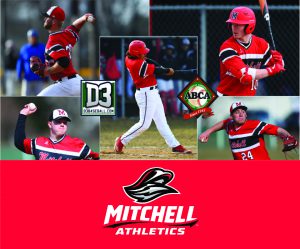 Five members of the Mitchell College baseball team received all-region honors from various organizations over the past week.
Junior Bryce Bedard, sophomore Roland Thivierge and freshman Dougie DelaCruz were among the 42 New England players recognized by D3baseball.com last week. Bedard landed on the second team while Thivierge and DelaCruz were both third team selections. The teams were determined by a vote of sports information directors as well as D3baseball.com staff and contributors.
On Tuesday the ABCA/Rawlings all-region teams were released, and included among the 50 players honored were junior Steve Cochrane, freshman Ryan Solimine and DelaCruz. Cochrane and Solimine each earned second team nods while DelaCruz was a third team pick. The teams are voted on by members of the American Baseball Coaches Association.
Bedard becomes Mitchell's first relief pitcher to earn all-region honors. The right-hander made 18 appearances—all out of the bullpen—and went 4-2 with three saves and a 2.52 ERA over 35.2 innings. He led the New England Collegiate Conference in appearances and saves, and among conference relievers he also ranked first in wins and ERA. The all-conference second team selection also struck out 37 batters and walked only four.
Thivierge is the fifth Mitchell starting pitcher to garner D3baseball.com all-region distinction. In his second season the right-hander went 8-1 with a league-low 2.24 ERA in 64.1 innings. The NECC Pitcher of the Year and all-conference first team selection struck out a career-high 57 batters and held opposing lineups to just a .242 batting average.
DelaCruz, a starter in all 42 games in left field, batted .379 with 48 RBI and 44 runs scored in his first collegiate campaign. He led the Mariners in hits (53), doubles (13), homers (6) and total bases (88) en route to becoming the first rookie in league history to be named NECC Player of the Year. He's also Mitchell's first field player to earn all-region honors as a freshman.
Cochrane, a starter in right field, batted a team-high .382 with 52 RBI and 49 runs scored in his debut season with the Mariners. The all-conference second team selection led the NECC in RBI and triples (3) and also ranked among the leaders in runs, hits (50), doubles (13), home runs (5), total bases (84), batting average, slugging (.641) and on-base percentage (.462).
Solimine made a major impact in his debut season with the Mariners, posting a 9-2 record in 11 starts while striking out a team-high 70 batters over 71.0 innings. The NECC Rookie of the Year and all-conference first team pick led the league in wins and innings pitched and also ranked second in strikeouts and ERA (2.28). He is the fifth Mitchell pitcher to earn ABCA all-region honors and the second to do so in his rookie season.
Mitchell (34-8 overall, 15-1 NECC) posted the most wins in school history and finished atop the conference standings for the seventh year in a row. The Mariners also posted winning streaks of 19 and 10 games, the former being the longest in school history.