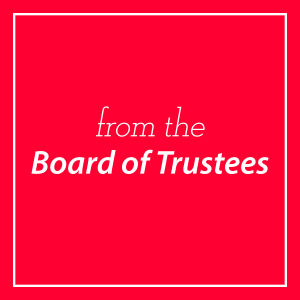 May 20 | I am very pleased to announce that the Board of Trustees has selected Catherine Wright, Vice President for Academic Affairs, and Dean of the College and Mary-Jane McLaughlin, Chief of Staff, to serve as interim co-Presidents of Mitchell College beginning July 1st.
While it may not be typical to have interim co-Presidents, the Board feels strongly that this is right for Mitchell College as we continue on our current path.  With their complementary skills and backgrounds, Catherine and Mary-Jane are well suited to keep Mitchell's current momentum going under the Campus Master Plan, further developing and improving the Mitchell Ability Model, and honing our plans for the New BLC.
The Board is also fully committed to implementing a nation-wide search for a permanent president to lead Mitchell College.  The Trustees are dedicated to an inclusive search process that will involve numerous members of the Mitchell community likely including members of the Board, Cabinet, Faculty, Staff and Student Body.  We will keep you informed as this process develops.
Catherine has been with Mitchell for almost 40 years. She served as Chair of the Department of Behavioral Sciences for 16 years, and has served as Dean for the last five years.  Dr. Wright was key in implementing the Mitchell Ability Model and our flexible 12-3 pacing model, and in developing our counseling into Centralized Advising.  Catherine has previously served on committees for Strategic Planning, Promotion, the SAIL Task Force, Curriculum, and several institutional searches.
Mary-Jane is a lifelong member of the southeastern Connecticut community who joined Mitchell in 2018. She has worked closely with the community in developing our Strategic Frameworks and our multi-year financial plan. Previously, Mary-Jane served for 23 years as Chief of Staff at The Day Publishing Company and led operations for human resources at Lawrence + Memorial Hospital. She has served in a number of community organizations, including United Way of Southeastern Connecticut, the Women & Girls Fund of the Community Foundation of Eastern Connecticut, and the Martin Luther King, Jr. Scholarship Trust Fund.
Please join me in congratulating Catherine and Mary-Jane on their new roles.  I look forward to working closely with them and everyone else as we continue to propel Mitchell College forward together.
Kind regards,
Kevin Hennessy
Board Chair