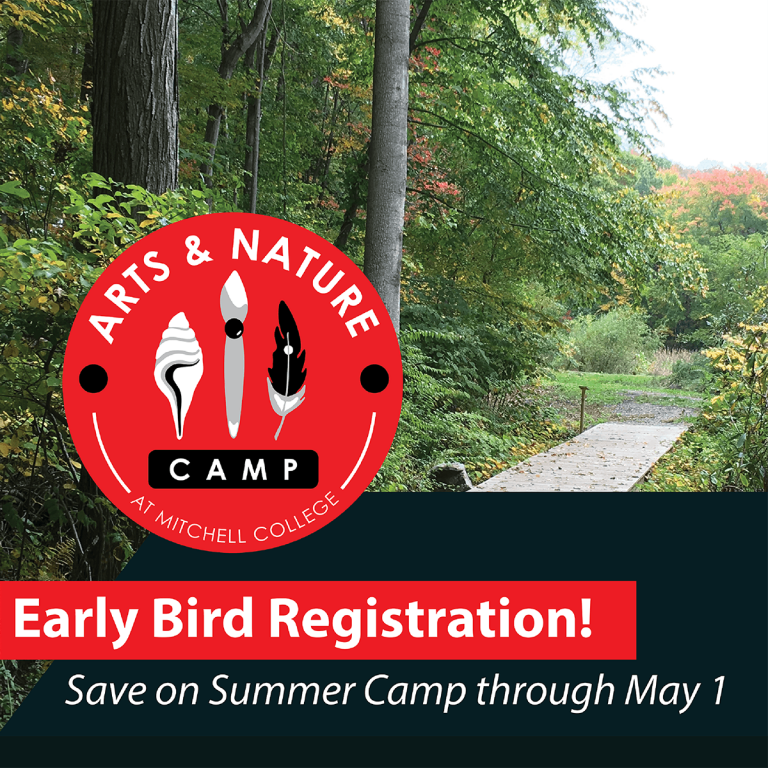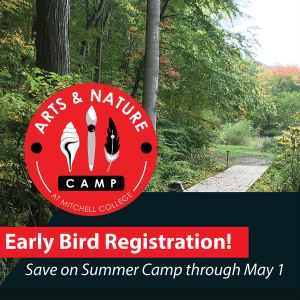 Explore the Arts, Science and Nature This Summer! Registration Now Open.
Nature meets the arts in this thoughtfully designed summer camp! Designed for children ages 3 to 12, the Arts & Nature Camp at Mitchell College in New London, CT blends the arts with science and the natural setting of woods, pond and shoreline in one of the most creative camps you will find in the region. Click here to register.
Camp Philosophy
We believe that children are partners in their learning and that learning should be driven by each child's unique curiosity. Your child's unique interests will help shape the camp experience in this hands-on program. Throughout the summer your child will be exposed to new and exciting nature experiments, arts appreciation, exploration, and science.
Camp Dates
Camp runs weekly, from June 17 – August 16, Monday-Friday, and you may register your child(ren) for one week, every week, or something in between. Discounts available.
Half Day: 8am-1pm
Full Day: 8am-4pm
Extended Before Care: 7am-8am
Extended After Care: 4pm-6pm
Camp Rates
$205 per week per child for Full Day (8am-4pm, M-F)
$155 per week per child for Half Day (8am-1pm, M-F)
$10 per hour per child for before and/or after care (7-8am and/or 4-6pm, M-F)
$35 non-refundable registration fee per camper

Discounts for military, multiple children and Mitchell College faculty and staff are available; see registration.
2019 Camp Weeks
Week 1 | June 17-21
Week 2 | June 24-28
Week 3 | July 1-5 (closed July 4th)
Week 4 | July 8-12
Week 5 | July 15-19
Week 6 | July 22-26
Week 7 | July 29-August 2
Week 8 | August 5-9
Week 9 | August 12-16
Earth, Water, Wind, Fire
Join us for a Week or for the Summer as we explore the elements!
This year our summer curriculum will encompass the four elements: Earth, Water, Wind, and Fire. During each week of camp we will explore multiple concepts within the four elements framework. Your child is invited to join us for a week, or for the summer!