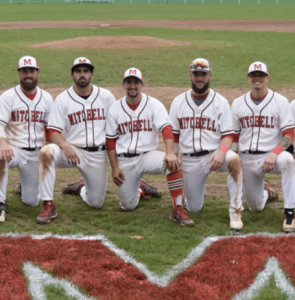 Top-seeded Mariners Men's Baseball will host the 2019 New England Collegiate Conference Championship. The top-seeded Mariners will face fourth-seeded Eastern Nazarene College on Thursday, May 2 at 3:30 p.m.
The tournament will continue throughout the weekend at Mitchell College with games on Saturday and Sunday. Visit http://mitchellathletics.com/landing/index for more information.
The NECC Championship follows their regular season win at the U.S. Guard Academy on March 30. The Mitchell College baseball team scored seven runs in the eighth inning, all with two outs, to rally past Coast Guard Academy by a 14-5 final on Tuesday afternoon in the regular season finale for each program.
Mitchell improved to 32-6 overall and tied the school record for the most wins in season. The Mariners also won their 18th straight game and went 19-1 in the month of April.