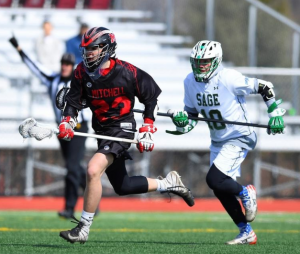 It was a typical fall morning on the Mitchell College campus.
Jacob Anderson shook off a case of the post-weekend blahs and headed to English class on Oct. 22 last year, the beginning of a new week.
A few lacrosse teammates sat near him.
Nothing seemed out of ordinary.
"It was just a regular day," said Anderson, a freshman from New Milford.
Hours later, Anderson would be rushed by helicopter from Lawrence + Memorial Hospital to Yale New Haven after suffering a life-threatening stroke.
Thanks to a smart decision by his alert teammates, Anderson survived and gradually recovered, eventually returning to school and the lacrosse team.
"They basically saved my life," Anderson said.
Anderson talked about his remarkable comeback earlier this week.
"It's an amazing story," coach Rich Petillo said. "We're so happy and fortunate that it has a happy ending."
Troubling signs
Sitting in English class, freshman Jake Karnes noticed something strange about his friend. Anderson slurred his words when answering a question from his professor. And what he said made no sense.
Karnes grew concerned.
"Are you all right? Because I really don't think that was English," Karnes asked Anderson.
Anderson didn't even notice his speaking problem. He remembers feeling a little light-headed and tired, which he thought was normal for that time of the day. It was nothing a nap wouldn't cure, so he returned to his dormitory room to lay down.
His condition worsened.
When his friends checked in on him, they noticed one side of Anderson's face looked droopy. Anderson wasn't alarmed because he once experienced something similar when he contracted Lyme disease.
But something obviously wasn't right.
His teammates, including Karnes and Ethan LePain, insisted that Anderson go to the hospital, so they drove him down the street to the Lawrence + Memorial emergency room.
A doctor delivered shocking news.
Anderson, 18, had suffered a stroke.
"I broke down in the waiting room," Karnes said. "My friend, Ethan, tried to calm me down. In my head, I was like, no way, he's 18 years old. He's not having a stroke. He's going to be fine."
Somehow, Anderson remained calm.
"I really thought I was okay," Anderson said. "I was really surprised. I felt normal still. There wasn't much wrong with me. My facial droop was getting better. I wasn't even nervous really."
A terrifying ordeal
Anderson's ordeal was just beginning.
He was airlifted to Yale New Haven. His parents left work and met him there.
Tests confirmed that Anderson experienced a stroke. That night, he underwent surgery to remove a blood clot in his brain.
Petillo visited him after the procedure.
"I was terrified," Petillo said. "But when we went to the hospital to see him after he had the procedure, I was shocked that he was sitting up and chatting. He was like, 'I've got to get out of here. I can't wait to play.' "
Anderson remained in the hospital until Oct. 27, then returned to his New Milford home to recover.
Before being discharged, he had one question for his doctor.
"I asked if I could continue playing lacrosse," Anderson said, "because it's my life. I love it."
He was soon cleared to exercise and immediately began his comeback.
A week after surgery, Anderson went for a run.
"He's a tough kid, man," Petillo said. "Tough as nails."
Anderson gradually recovered athletically and academically from a two-week absence from school. He returned after the winter break and has become a major contributor in his first season on the college level. He has 14 goals and six assists in 11 games. He's been New England Collegiate Conference Rookie of the Week twice.
In his fifth game, Anderson scored the game-winning goal in a 9-8 overtime win over Northern Vermont University on March 16.
A week later, he struck again in overtime in a 12-11 victory at the College of Mt. St. Vincent in the Bronx.
"How crazy is that?" Petillo said.
Anderson cherishes every moment at practice and in games. He realizes he almost lost his ability to play a sport that he loves dearly.
"I feel like if I wasn't able to play lacrosse again, I'd be heartbroken," Anderson said. "I think about that. But I feel like I try a lot harder now considering it can end, especially since I had a stroke. It's my second chance."
Anderson remains thankful that his caring teammates were there for him on Oct. 22. He can't imagine where he'd be without them.
He's developed a tight bond with Karnes and LePain, whom Petillo refers to as heroes for their actions that day.
"It's a miracle," Karnes said. "I didn't even think he was going to be able to come back at all to school, let alone play lacrosse. The way he's been playing, with two game-winners, that's insane as a freshman. I love it."
Originally published in The Day on April 19, 2019