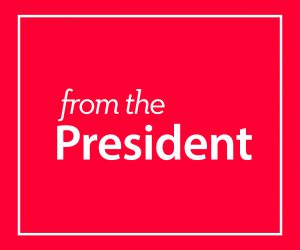 I'm writing to share a difficult personal decision that I have been grappling with for some time. After five incredible years as President of Mitchell, I will be stepping down at the end of June to become President of Lesley University in Cambridge, Massachusetts.
This decision was not taken lightly, and is bittersweet for me. Being part of the Mitchell community has been one of the most remarkable experiences of my life. Working alongside such a talented group of individuals and getting to know so many exceptional young people has not only been rewarding, but has also shaped me professionally and personally. Mitchell truly is a special place.
I take comfort in knowing that I am leaving Mitchell at a time of strength. We have made a diversified, unique educational experience accessible to many who may have not had this growth opportunity otherwise. We have established a clearly differentiated curriculum tailored to our students' strengths, interests and learning process – and have developed strong partnerships within our community to give our students real opportunities to learn skills and abilities relevant to today's workplace. We have built a strong financial foundation and made progress on a comprehensive Campus Master Plan. You have only to be at an Open House in the Red Barn, or sit in an Adirondack chair to feel how embracing the campus has become.
So why would I leave such a place?  There is really only one opportunity that could draw me away, and that is Lesley. Similar to Mitchell, Lesley is a unique and special place. I have been involved with Lesley as a Trustee for over a decade and have deep personal connections to the institution. My son graduated from Lesley's Threshold Program, which is a major factor as this new role will allow me to be closer to him. So this was in many respects a personal decision to embark on an opportunity that was presented to me and, while difficult, is the right path forward for me.
Over the next few months, I assure you nothing will change. We will finish the school year on a high note and celebrate the pride and accomplishment of graduation. Together we will also adopt our multi-year financial plan, review and enhance the Mitchell Ability Model, continue to execute on our Campus Master Plan, and prepare to welcome the class of 2023. We will also undertake important facility upgrades over the summer to continue to give our students the best college experience.   The Board of Trustees will be meeting in early May regarding next steps and will be keeping you informed as their thoughtful process proceeds.
I am filled with gratitude for all that Mitchell has given me, and I will deeply miss you all. Thank you for all of your support and for our work together as part of this truly exceptional community. I will continue to admire and celebrate all of your future success.
Warmly,
Janet L. Steinmayer