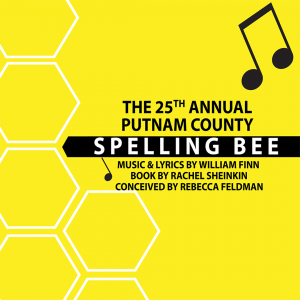 April 25-28 | Tony award-winning The 25th Annual Putnam County Spelling Bee is coming to the Mitchell College Red Barn stage, and you are definitely going to want to "bee" there! The show will run at 7pm on April 25-27 and 2pm on April 27 and 28. To purchase tickets, visit Mitchell.edu/Bee.
In this fresh production by the Mitchell College Players, an eclectic group of six "tweens" vie for the spelling championship of a lifetime. As they compete, we get a bittersweet front-row seat to the spellers' home lives — sometimes painful — sometimes hilarious. And if you think this show is just about spelling and adolescent angst, find the nearest dictionary and look up c-h-o-r-e-o-g-r-a-p-h-y and i-r-r-e-v-e-r-e-n-c-y, both of which are present in droves and promise to dazzle and entertain.
Who will beat the bell and emerge the Queen (or King) Bee? Join us April 25-28 at the Red Barn to find out!
Additional material by Jay Reiss. Originally directed on Broadway by James Lapine. Originally produced on Broadway by David Stone, James L. Nederlander, Barbara Whitman, Patrick Catullo, Barrington Stage Company, Second Stage Theatre.