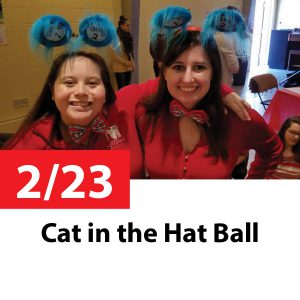 February 23 | 10am Celebrate Dr. Seuss's birthday on Saturday, February 23, 10 a.m. – 2 p.m. with children's games, crafts, and story times! Enjoy performances by the Community Dance Ensemble and a reading and book signing with well-known local author Tish Rabe, best-selling author of "The Cat in the Hat's Learning Library."
Presented by the Mitchell College Education Department and Early Childhood Education Club, the event is open to the public and free with a donation of one new children's book or $5 per family. The event will be held at Clarke and Weller Centers on the Mitchell College Campus (437 Pequot Ave. New London, CT 06320), and refreshments will be available for purchase. For more information, please contact catinthehatball@mitchell.edu or 860-701-5015. Snow date is February 24, 10 a.m. – 2 p.m.
Tish Rabe is the best-selling author of The Cat in the Hat's Learning Library, a series of rhyming science books for early readers. These books were a pet project of Theodore Geisel – the real Dr. Seuss – but he died before completing the first book. Ms. Rabe has written over 160 children's books.