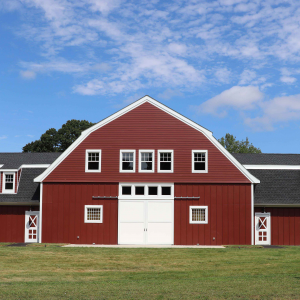 The opening of the new Red Barn on the Mitchell College campus will be celebrated at a ribbon-cutting ceremony at 5 p.m., Oct. 11.
The iconic building, dating back to 1889 when it was part of the former Mitchell estate has been a longtime Montauk Avenue landmark and gathering spot for customers who enjoy an ice cream cone or sundae from the nearby Michael's Dairy, now operated by Mitchell students.
Starting in 2016, Mitchell launched an ambitious campaign to raise funds to rebuild the structure in its original footprint and likeness. The ribbon will be cut by Luci Arango and her son, Paul Graham `14, on behalf of the Aramont Foundation, that gave $1.1 million toward the Red Barn project, what is believed to be the single largest donation in Mitchell history.
The Mitchell College Select Chorus will perform at the opening, and Mitchell President Janet Steinmayer, Chair of the Board of Trustees Kevin Hennessey and Student Government Association President Nathaniel Bowe, will make brief remarks.
"This is a milestone for the College," said Steinmayer. "We look forward to many years of performances by the Flock Theatre, Mitchell College Players and Select Chorus and to the Red Barn being an exciting meeting place for college and New London community events."
To register for the ribbon-cutting ceremony and other Fall Weekend events, visit Mitchell.edu/Fall-Weekend.