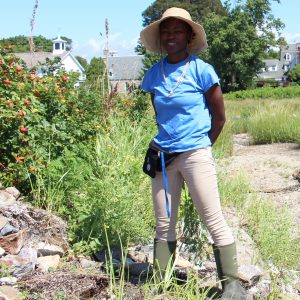 One of the first paid Research Assistantships in Mitchell College history has been awarded to former AmeriCorps member and senior, Sharmaine Gregor, whose passion for caring about our world motivated her to enroll in classes as a part-time student in 2015.
Gregor's is one of two new paid Research Assistantships awarded to Mitchell College in the area of environmental conservation, allowing students to receive stipends and on-campus housing, thanks to over $32,000 in grant funding from Southeastern New England Educational and Charitable (SNEC) Foundation. Gregor's research began in June 2018 and will continue into the fall.
"This research has given Sharmaine real world experience for future scientific and environmental careers paths, and she has taken this opportunity to inspire other students to do the same, both in conducting scientific research and becoming dedicated and involved members within the community," said assistant professor Christine Ramsay, Ph.D.
This restoration project is being done in partnership with Avalonia Land Conservancy and under the guidance of the CT Department of Energy and Environmental Protection, CT Sea Grant, and Mystic Aquarium, one of Mitchell College's Integrative Career Development (ICD) partners.
"How do we foster curiosity without destroying the environment?" asked Gregor, environmental studies major and East Lyme local.
The fourth costliest United States hurricane, Superstorm Sandy, caused massive amounts of destruction along the east coast in 2012. To this day, there are areas along Long Island Sound where its effects can be seen, including Connecticut's Stonington Borough at the Dodge Paddock and Beal Preserve. Under the direction of Dr. Christine Ramsay, Gregor's research focuses on re-marshing the coastal preserve, where a clear difference remains between the restored and unrestored sections.
Gregor emphasized the importance of Dr. Ramsay's role in helping her develop scientific research and communication skills – not only as a professor the past few years, but also as a trusted advisor.
"We talk about real things," said Gregor.
Salt marshes are incredibly biologically productive places, which have a number of economic and ecological benefits, including as nursery grounds for shrimp, crabs, and other commercially and recreationally important fish species, as well as nesting habitats for birds and mammals. Also serving as natural buffers, similar to sand dunes, salt marshes protect coastal developments from sea level rise and storms.
A typical research day for Gregor includes a walk-through of the marsh, picking up trash, weeding, and checking flat areas to see what might be growing. This helps her understand first-hand the unique areas of the marsh and their characteristics – leaded areas, high salt levels, and flood plain sections. In particular, there is a salt pan dead zone without enough drainage, and she is investigating what can be done to prevent this build-up. One of her goals is to learn as much as she can about marsh restoration, including primary and secondary succession, and human impact.
Cord grass, or Spartina alterniflora, is one of the primary inhabitants of native New England salt marshes and is vital to the overall health of the marsh. Its complex root systems help prevent erosion and create stability in the marsh, which allows for the proliferation of other marsh plants and animals. Gregor plans to harvest cord grass, grow it in an on-campus lab, and plant more at the marsh to help further the restoration process.
Community service has been a long-time passion of Gregor's, participating in AmeriCorps in Corning, NY, until 2012. Since 2013, she has worked with F.R.E.S.H. (Food, Resources, Education, Security, and Health) New London, tending to plots of land in the city and teaching youth and adults in community about the importance of growing food and protecting the environment. Gregor now utilizes those skills on-campus at the Mitchell College Community Garden, located between Mitchell Woods and the Children's Learning Center.
After graduation, Gregor plans to pursue a master's degree studying ecology and continue her research on the anthropogenic, or human-caused, impact on the environment.