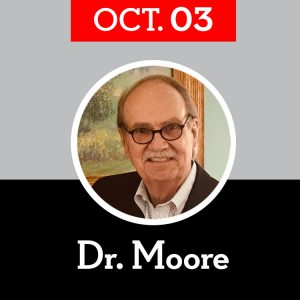 Dr. Walter Moore `62 will share his personal journey from Mitchell College Freshman to Professor Emeritus on Wednesday, October 3, 7-8:30pm at the Red Barn at Mitchell College. While there were peaks and valleys along the way, the perseverance and confidence he learned during his two years at Mitchell allowed him to stay the course of pursuing his goal regardless of obstacles or criticism. Mitchell was not simply a stepping stone it was a launching pad to a profession and life that he could not have imagined in the fall of 1960 when he first moved into Moorings Dormitory.
Dr. Walter "Skip" Moore is the Professor Emeritus of Communicative Disorders and Psychology at the California State University in Long Beach, California and has held prominent positions throughout his career, including consultant to the National Institute of Health in Washington, D.C., and associate editor and editorial consultant for scholarly journals and publishers, all related to his area of expertise, Communicative Disorders and Psychology. For over 30 years,
he has worked in higher education as a professor and researcher, publishing over 200 articles, papers, and presentations. Dr. Moore began his education at Mitchell College, graduating with an associate's degree in Business Administration. He earned his bachelor's in Psychology and master's in Communicative Disorders and Audiology, both from the University of South Florida, and continued his education at Kent State University, where he earned a Ph.D. in Communicative Disorders and Psychology. He and his wife, JoAnna, reside in Southern California and Lake Martin, Alabama.
This event is free and open to the public.