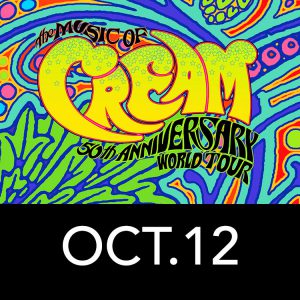 Join Mitchell College for a once-in-a-lifetime opportunity to enjoy the music of CREAM at their 50th Anniversary World Tour Concert at The Garde Arts Centre in New London, CT on Friday, October 12 at 6pm!
Cream was a chemical explosion like no other, the blueprint for every super group to follow and the heavy blues precursor to Hendrix, Zeppelin and so much more. Fifty years since their earth-shaking debut album, the bloodlines of Ginger Baker, Jack Bruce and Eric Clapton come together to pay tribute to Cream's legendary four-album reign over the psychedelic frontier of the late 1960s.
Classics such as "Spoonful," "Strange Brew," "Sunshine of Your Love," "White Room," "Crossroads" and "Badge" will be performed by master musicians whose lives have been steeped in the Cream spirit and legacy. Kofi Baker (son of Ginger), Malcolm Bruce (son of Jack) and Will Johns (nephew of Eric) unite in a rare and spectacular multi-media concert salute to the most innovative and explosive super group of all time. They will interplay with their forefathers on the big screen, and share personal insights and stories, complete with rare, yet to be seen family footage and photographs.
Don't miss this unparalleled concert salute to the most ground-breaking super group of all time! All proceeds will directly benefit Mitchell College and make a difference in the lives of all of our students.