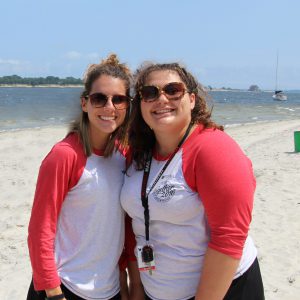 We are excited to welcome new, incoming fall 2018 students and families at our Mariner Family Beach Bash, Friday, August 3, 2018, from 11am-3pm – 374 guests are registered so far! Incoming Mariners will enjoy a day at Mitchell's private beach, complete with a picnic, beach games, water sports, prizes, and more. Parents are also invited to dine on the deck of Henry Hall overlooking the Thames River for "Social, Lunch, and Mocktails."
Designed to give new students a head-start before beginning their first semester at Mitchell College, Beach Bash is a time to connect with classmates, pick up class schedules, set-up technology needs, and enjoy awesome food! Students registered for the event who have not yet attended Mitchell Orientation will be automatically registered for a 9-11am session. Campus offices will be open until noon for any last minute questions.
All day, a custom Mitchell College Snapchat Geofilter will be available for new, incoming students and families to share their Mariner pride! To use it, check to be sure your Snapchat location settings are on, and swipe left until you find the filter. You can also caption photos on social media with #MitchellCollege.
Spend the afternoon here at Mitchell, then explore the area over the weekend if you have extra time! Visit the Mystic Seaport, Mystic Aquarium, New London downtown or Ocean Beach, the Eugene O'Neill Theater Center, Foxwoods, Mohegan Sun, Mashantucket Pequot Museum, historic Stonington Borough, or Essex.
As our area is a tourist destination, we recommend coming in on Thursday night to lessen the chance of getting caught in I-95 weekend traffic. Visit Mitchell.edu/dining-accommodations for a list of local accommodations. For directions to campus, check our online map at Mitchell.edu/campus-map.
Mitchell Beach will be closed to the public on the day of Beach Bash, but it's not too late to receive a beach pass for the rest of the summer! Alumni, faculty, and staff can obtain a free pass simply by filling out a waiver. All others interested can complete the waiver, along with a donation of $125 or more, and choose to pick up the pass or have it mailed. Contact Paula Trebra at Trebra_p@mitchell.edu for more information.
To register for Beach Bash and see complete event details, visit Mitchell.edu/mariner-family/beach/bash.