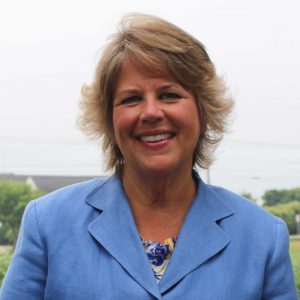 The addition of longtime community participant Mary-Jane McLaughlin to the Mitchell College staff will help Mitchell to grow its community partnerships, benefiting students, staff, and the community at large.
McLaughlin has recently filled the newly created role of chief of staff at Mitchell College, reporting directly to College President Janet Steinmayer.
The former chief of staff at The Day newspaper and more recently director of operations in human resources at Yale New Haven Health-Lawrence + Memorial Hospital, McLaughlin has served in leadership roles at myriad local nonprofits for decades.
She has been vice president of the Dr. Martin Luther King Jr. Scholarship Fund since 2002, is a former director of the United Way of Southeastern Connecticut, a founding member and former trustee of the Women & Girls Fund of the Community Foundation of Eastern Connecticut, a past secretary of the Mystic Chamber of Commerce, past secretary of the Visiting Nurses Association of Southeastern Connecticut, and former vice president of the board of the Garde Arts Center.
"We are delighted to welcome Mary-Jane to Mitchell," said President Steinmayer. "She is multi-talented and brings with her a deep understanding of how to make organizations work best for their communities, as well as broad connections to the southeastern Connecticut area. Given Mitchell's interest in connecting its campus and students to the larger southeastern community, this will become increasingly important in Mary-Jane's – and my – roles at Mitchell."
McLaughlin is a lifelong resident of southeastern Connecticut who makes her home in Stonington. She worked at L+M from 2012 until just recently and was at The Day from 1989 until she took the position at the hospital.
"I'm thrilled to join the team at Mitchell to help build on the excellent work they have already accomplished in enhancing relationships in the community in order to further the mission of the College," said McLaughlin.
About Mitchell College
A small liberal arts college, Mitchell developed its distinct education approach over almost 80 years, blending a tradition of mentoring with an expertise in teaching diverse learning styles to create a highly individualized model that benefits all students. Mitchell is committed to the broader community through building strong, creative and cooperative partnerships. Located on a beautiful waterfront campus in historic New London, it is also home to championship NCAA Division III athletics and the Duquès Academic Success Center which includes the renowned Bentsen Learning Center.
Last Updated: July 3, 2018