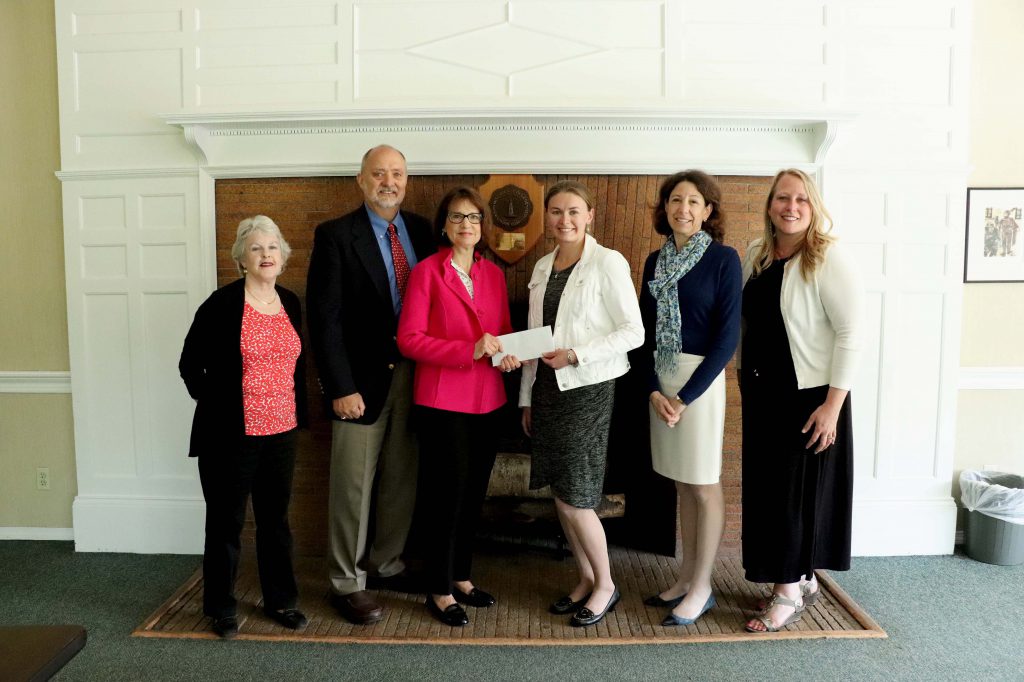 Mitchell College has received two grants, totaling over $32,000, to provide Research Assistantship opportunities for students in the area of Environmental Conservation.
Both projects, led by professor Dr. Christine Ramsay, create opportunities for talented Mitchell students to gain research and hands-on experience in a way that has never been done before at the college – through the creation of paid Research Assistantships. With the support of the Southeastern New England Educational and Charitable (SNEC) Foundation, the College will now be able to provide students with stipends and on campus housing during the summer months when the execution of many components of these projects is ideal.
"We are thrilled to receive these grants from the SNEC Foundation, which will provide new pathways for students to engage in environmental research. Career exploration through real-world experience is a core element of the student experience at Mitchell," said Mitchell College President Janet Steinmayer.
Marine invasive species cause a significant amount of economic and ecological harm to habitats which they invade, and they have become a primary focus of research on global change. The first project, focuses on expanding research on the marine invasive bryozoan, Tricellaria inopinata, a small colonial animal often found fouling docks, boat hulls and other marine infrastructure. This non-native species was first found in Long Island Sound by a Mitchell College student in 2016.
"It is very gratifying to be able to enter into a partnership with Mitchell College in the field of environmental research. The sophistication of the research and the energy shown by of the members of the Environmental Studies department made this partnership, in one of our key focus areas, a natural fit for our Foundation," remarked Sharon Grills Jackson, MAT, President of the SNEC Foundation.
As with many sites along Long Island Sound, Dodge Paddock and Beal Preserve in Stonington, Conn. has faced natural and anthropogenic challenges to its health. The second grant, for a marsh restoration project being done in partnership with Avalonia Land Conservancy and under the guidance of the CT Department of Energy and Environmental Protection, CT Sea Grant and Mystic Aquarium, seeks to restore 2.6 acres of freshwater wetlands, tidal wetlands, and coastal grassland systems that reside at the Preserve.
"Environmental Conservation is such an important area right now and is one of the Foundation's missions. The cutting-edge research proposed in Mitchell College's successful grant application is just the kind of student-focused project we seek to encourage. We are very excited to observe the research and the conclusions," stated Stephen Leal Jackson, PhD, Director of the SNEC Foundation.
About Mitchell College
A small liberal arts college, Mitchell developed its distinct educational approach over 80 years, blending a tradition of mentoring with an expertise in teaching diverse learning styles to create a highly individualized model that benefits all students. Mitchell is committed to the broader community through building strong, creative and cooperative partnerships. Located on a beautiful waterfront campus in historic New London, it is also home to championship NCAA Division III athletics and the Duquès Academic Success Center which includes the renowned Bentsen Learning Center.
About SNEC
The SNEC Foundation is focused on developing partnerships both with higher education institutions in Rhode Island and New London County, Connecticut and with students who reside in those geographic who are interested in the Foundation's target areas of historical restoration and environmental conservation. Founded in 2016 through a gift from the estate of Richard A. Grills of Ashaway, Rhode Island, SNEC is led by his daughter Sharon Grills Jackson of East Lyme, CT.