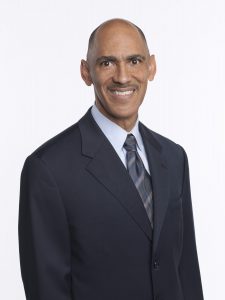 Tony Dungy, former NFL player and coach and current analyst for NBC's Football Night in America, will be the special guest speaker at Mitchell College's second annual event on Saturday, April 28, 2018.  The evening will be a celebration of the College's completion of the Red Barn project and a kickoff of their GameChanger Athletics Initiative which will transform the athletic fields and upgrade existing facilities.
A former NFL defensive back, Dungy is one of only four men in NFL history to win a Super Bowl as both a player and head coach, joining Mike Ditka, Tom Flores and most recently Doug Pederson. In 2007, Dungy became the first African-American head coach to lead his team to a Super Bowl victory as the Indianapolis Colts defeated the Chicago Bears in Super Bowl XLI.  Before retiring from the NFL in 2008, he had successfully made the playoffs in his final 10 seasons as a head coach.  In 2016, Dungy was inducted into the Pro Football Hall of Fame.
"Having Mr. Dungy visit our campus and be part of this exciting evening means so much to our community.  His success on and off the field as well as his charitable work are a wonderful model for our students.  We look forward to him talking with our students about leadership, commitment, winning and family and then joining us for this very special event to share his thoughts and experiences with our guests," said Janet Steinmayer, President of Mitchell College.
This year's theme, "Tailgate & Celebrate", puts a high-end twist on traditional tailgating beginning with cocktails and silent auction at 5:00 p.m., followed by dinner, live auction, dancing and music until 9:00 p.m.  Last year's event sold out and those interested in attending are encouraged to purchase tickets and sponsorships soon by contacting Jennifer Wheelehon, Director of Engagement and Alumni Relations at Wheelehon_j@mitchell.edu or visit mitchell.edu/tailgate-celebrate.