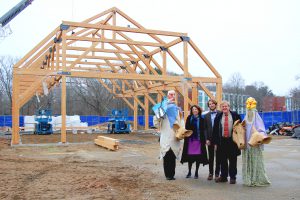 New London's innovative Flock Theatre has found a home at Mitchell College, which will soon have a reimagined and recreated Red Barn, where the theater company can roost while continuing to "fly out" for special performances.
"We are thrilled to have the Flock Theatre bring their expertise and reputation to Mitchell College. We are re-creating the Red Barn into a flexible, multi-use space—including use as a black box theater—and the convergence of these events highlights the College's commitment to partnerships that benefit the New London community and Mitchell students alike," said Mitchell College President Janet Steinmayer.
Beginning in December 2015, Mitchell College began hosting Flock Theatre shows—the two seasonal favorites Halloween's Macbeth and the yuletide Make We Joy—and welcomed Flock Theatre's Artistic Director Derron Wood to teach classes at the College.
"We look forward to coming to roost with our new partner, Mitchell College, and exploring many new adventures together," Wood said.
Stemming from the success of these collaborations, the College sought to develop a mutually beneficial partnership with the theatre.  As the College's resident company, Flock Theatre will continue their adventurous productions of classical theatre and their community-focused mission of bringing the arts to education in collaboration with Mitchell and its students.  Flock Theatre will perform three or four productions throughout the year on campus, ultimately in the Red Barn, providing a flexible and dependable space for their artists and audience members.
Two productions already in the works include Flock's puppet version of George Orwell's Animal Farm, the perfect inaugural show for the Red Barn, and Hijinx Theatre's (UK) production of Meet Fred about Fred the Puppet who loses his PLA (Puppetry Living Allowance) while just trying to be a normal guy. Flock Theatre collaborator, Heather Asch, a four-time Emmy winner for her work on Sesame Street and Between The Lions, is building puppets and masks for Animal Farm.
The on-campus productions will be equally valuable to Mitchell students, who will have improved access to shadow, intern and perform with the talented group through Mitchell's Integrative Career Development partnership program, and as a complement to the opportunities available through the very active and successful Mitchell College Drama Society and Mitchell College Select Chorus.
With many of the collaborative pieces already in place, Flock Theatre will move its operations to the Mitchell College campus located on Pequot and Montauk Avenues in February 2018.