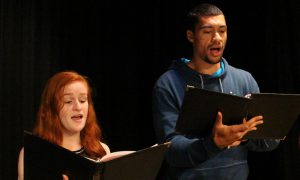 The Mitchell College Select Choral Ensemble, under the direction of Jonathan F. Babbitt, will present a program of seasonal music at 7 pm on Thursday, December 7, on the stage of the Clarke Center. The concert is free and open to the public.
The December concert will feature solo selections by Mitchell seniors Lindsay Deschamps, Zachary Mosley and Mariah Zell, as well as underclassman Gordon Fowler.
The all-auditioned group, established in the fall of 2017, meets for five hours of rehearsal and private voice instruction each week. Their repertoire ranges from 16th-century motets to arrangements of Crosby, Stills, Nash and Young tunes, American spirituals and works by contemporary New England composers. The ensemble performs on-campus in support of College events, and serves as Ambassadors of Mitchell to the New London community and region when performing off-campus.
Mr. Babbitt earned his bachelor's and master's at Yale and Yale School of Music where he directed the Yale Freshman Chorus and was associate director of the Yale Glee Club. Active as a teacher, clinician, conductor, recitalist, and composer, Mr. Babbitt has appeared across the United States and Canada, and toured Europe more than fifteen times as both organist and conductor, performing repertoire from the Renaissance to the contemporary. His compositions have premiered at the prestigious International Contemporary Music Festival in Bonn, Germany, and at Connecticut and Rhode Island Music Educator's Association events here in the United States. Please see his bio for more about his extensive career.
The public is cordially invited to the program; there is no charge for admission. For further information, please contact the Select Choral Ensemble Office at (860) 701-7987, or email babbitt_j@mitchell.edu.