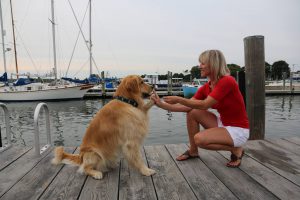 Hollywood animal trainer and founder of Rhodes Collar, Gleanna Doyle joins Mitchell College's Speaker Series to share insight into her 27 years as a dog trainer and her career as a film and television animal trainer on Monday, November 13 at 7:00 p.m. in the Weller Center. She and her canine companion will bring the audience into the experience of working on a TV or movie set.
A lifelong animal lover, Ms. Doyle founded Rhodes Collar in 1990 and has worked as an animal trainer on several high-profile Hollywood films including Manchester by the Sea, Moonrise Kingdom, Ted, and War of the Worlds. Ms. Doyle offers several dog training and obedience classes, with a focus on strengthening the bond between owner and pet. Such classes include on and off leash basics, puppy life skills, off leash hikes, and games all designed to help shape your dog into a fine upstanding member of the community. Ms. Doyle is also a member of the International Association of Animal Behavior Consultants, an organization committed to proper ethical training of animals.
Ms. Doyle along with co-founder Denise Easton, a consultant, author and entrepreneur who works with organizations on complex change and transformation initiatives, created Puppy School Rules, a program that applies the natural and instinctive behaviors found in "puppies" for the development of individuals, teams and organizations. The customized programs for clients range from small team building experiences through corporate-wide employee engagements and culture change.
Ms. Doyle is a Mitchell College alumna, class of 2005.
###
About Mitchell College and the Speakers' Series
A small liberal arts college, Mitchell developed its distinct educational approach over 80 years, blending a tradition of mentoring with an expertise in teaching diverse learning styles to create a highly individualized model that benefits all students. Mitchell is committed to the broader community through building strong, creative and cooperative partnerships. Located on a beautiful waterfront campus in historic New London, it is also home to championship NCAA Division III athletics and the Duquès Academic Success Center which includes the renowned Bentsen Learning Center.
The Mitchell College Speakers Series opens the doors of the College to its local New London family and the Connecticut community, inviting them to engage with acclaimed speakers from all walks of life. Join us throughout the 2017-18 academic year as we discover and celebrate the lives of our guests, learn from them, and explore the world through their stories. For more information, call 860-701-5030 or email speakers@mitchell.edu.