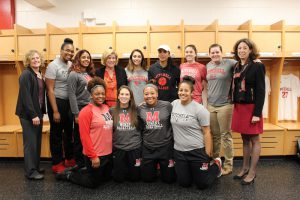 The kick off for Mitchell College's Fall Weekend games was in the locker room.  The College celebrated a generous donation from alumna Donna Leonard Barclay '72 that transformed the locker room top to bottom. The $100,000 project created a space that reflects the excellence of the NCAA Division III Athletics that are a hallmark of Mitchell College, with 13 championships in recent years.
"As a student athlete, Donna was passionate on the court and that passion for sports, life and others continues today," President Janet Steinmayer shared with about 100 students, faculty and staff in attendance. "She took the lessons of athletics – strength, persistence, confidence – and showed how to apply that to the world of finance – excelling there as she did on the court."
Donna Leonard Barclay '72 began her career at Mitchell College with a commitment to collegiate athletics that continues to inspire her to this day.  An enthusiastic member of Mitchell's women's basketball team, Ms. Barclay went on to both teach and coach at the University of Scranton after earning her bachelor's degree from Central Connecticut State College and her master's degree from Ithaca College. Recognized as the Mid-Atlantic Conference Coach of the Year in 1977, she led her teams to both the conference's regular season and tournament championships for three years in a row.
Following her career as a college teacher and coach, Ms. Barclay embarked on a new career as a Financial Advisor with First Union Brokerage which, as the result of various mergers, is now Wells Fargo Advisors. She has achieved the Premier Advisor designation with Wells Fargo Advisors every year since 2001, a designation held by a select group of Financial Advisors within the firm as measured by combined factors of business production, completion of educational components, and professionalism. She was recognized as Financial Advisor of the Year in 2004, has ranked in the company's Top 100 Representatives since 1996, and has been named as one of the nation's top 50 investment advisors in an industry publication.
Ms. Barclay has also been recognized as an active leader in the community and an active philanthropist, having regularly provided scholarships for both high school and college students, including an endowed scholarship at Mitchell. Because of her commitment to student success, she was honored as a distinguished alumna in May 2017.  Ms. Barclay has also supported the mission and vision of Mitchell College through generous donations to the athletic program, making possible the addition of a new gymnasium scorers table and the Donna Leonard '72 Locker Room.  Ms. Barclay's gift will help launch the Game Changer Athletic Initiative, a $2.8 million initiative to raise funds for Mitchell's athletic fields and facilities.