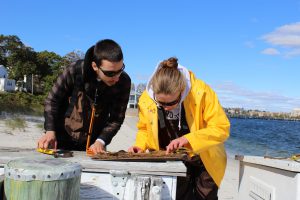 In-depth educational experience leads to identification of non-native species in Thames
When science gets hands-on, it isn't just white coats in a laboratory. It can be pulling "settlement plates" off a dock in cold water with banged up knuckles on numb hands. That's what an environmental studies major would expect when he dives into marine biology.
What he didn't expect as an undergraduate was to make a discovery that could lead to a published paper. "I never expected there would be larger implications" said Zachary Marmo, senior at Mitchell College.
Marmo, studying the Ecology of Long Island Sound with Dr. Christine Ramsay, chose to look at the diversity of marine fouling organisms in the Thames River as his research project. Organisms such as barnacles, bryozoans, algae/seaweed stick to and foul docks and boats.
They discovered a non-native species had settled on the settlement plates. "This new introduced species had been reported as far south as Cape Cod, but to our knowledge, has yet to be reported in Long Island Sound," said Ramsay.
A bryozoan, a small colonial animal, tentatively identified as Tricellaria inoptinata, is a fast growing fouling organism that appears similar to a native species, Bugula neritina.
Marmo's work spawned continuing research. Led by Ramsay, who holds a doctorate in ecology, evolution and marine biology, environmental studies students are designing and conducting further experiments to determine the extent of the invasion and impacts of this new fouling organism.
"While this small organism may seem insignificant, it may have important implications for how we control the fouling organisms that attach themselves to boats, docks, oysters, mussels, or other economically important surfaces," said Ramsay.
Mitchell College has two distinct ecosystems—living laboratories—beach, dunes and docks on the east and woods and a pond to the west. "It is a great experience when you can take a student and show them that science isn't just about sitting in a lab behind a microscope, but about getting into the field," said Dr. Ramsay. "For students, seeing science in action in the world around them cultivates in-depth comprehension of the biological phenomena."
A 2014 Gallup Purdue study showed six experiences in college led to greater fulfillment in life after college. Experiences where a professor who excites you about learning, cares about you, encourages you to pursue your goals and engages in you an in-depth project make the difference in college and beyond. Involvement in extracurricular activities and internships to apply learning round out the six.
According to Gallup's report, "just 3% of all the graduates studied had the types of experiences in college that Gallup finds strongly relate to great jobs and great lives afterward."
Mitchell College very intentionally works with students to connect them with these six experiences. In small classes, professors engage each student with interest in their individual goals and strengths. Advisors and campus staff support student success and push students out of their comfort zones to discover new things about themselves.
Surprisingly a small campus provides more opportunities to take on leadership roles. Marmo found a talent leading tours for prospective students and went on to serve as a presidential intern, resident assistant, Campus Master Plan committee member, orientation leader and peer mentor.  "I've developed close relationships with all my advisors, put all my effort into what I do, and had opportunities I don't think I would have had in a larger college," said Marmo.
Articulating the core philosophy at Mitchell College, Ramsay added, "I believe an effective educator does not stop at providing students with the tools needed to achieve academic success, but goes further to connect with the students and support their future personal success as well."