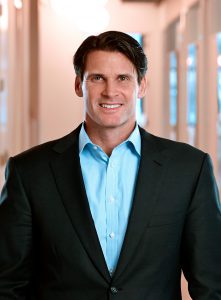 President of Take-Two Interactive Karl Slatoff  joins Mitchell College's Speakers Series with his talk "An Overview of the Video Game Business: Evolution and Opportunity" on Thursday, April 20 at 7:00 p.m. in the Weller Center. Mr. Slatoff will discuss the evolution of interactive entertainment and provide an overview of the current state of the industry.  He will touch on the most impactful milestones and influences in the fifty-year history of video games, as well as provide a glimpse into the future of gaming.
Karl Slatoff was appointed President of Take-Two Interactive, a global leader in the video game development and publishing industry, in May 2013.  In this capacity, Mr. Slatoff is responsible for overseeing the day-to-day operations of the Company and for providing strategic leadership by working with the Board and other management to establish long-range goals, strategies, plans and policies.  Mr. Slatoff previously served as the Company's Chief Operating Officer since October 2010, and prior to that, held the position of Executive Vice President beginning in February 2008.
Since 2001, Mr. Slatoff has been a partner at ZMC, a private equity investment firm focused on the media and communications industry, where he is responsible for originating, structuring and monitoring investments.
Prior to launching ZMC with his partners, Mr. Slatoff served as Vice President of New Media for BMG Entertainment, at that time one of the world's largest music companies. In this position, he was responsible for guiding BMG's online digital strategies, including the development of commercial digital distribution initiatives and new business models for the sale and syndication of online content. He was also responsible for maintaining relationships and leading negotiations with major software developers, consumer electronics manufactures and online retailers / portals, as well as representing BMG's interests in various industry consortia relating to the development of digital businesses.
Before joining BMG, Mr. Slatoff worked in strategic planning at the Walt Disney Company, where he focused on the consumer products, studio and broadcast divisions, as well as several initiatives in the educational, publishing and new media sectors. Mr. Slatoff was also an active member of the integration team for Disney's 1996 acquisition of Capital Cities/ABC. Prior to Disney, Mr. Slatoff worked in the corporate finance and mergers and acquisitions units at Lehman Brothers where he focused on the consumer products and retail/merchandising industries.
Mr. Slatoff received his M.B.A. from the Harvard Business School, and holds bachelor of arts degrees in English literature and economics from Kenyon College.